Host Council: Saint Edward the Confessor Council 14512 Council #14512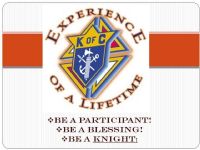 Darryl Majeski is the Event Chairman for this event
E-mail Me


KofC Council Admission Degree Team will perform an Exemplification ceremony at 1:30 PM (November 29 Sunday) for all prospective Knights of Columbus candidates that have been vetted and documented for this admission ceremony. Candidates to wear suit with tie or Sport coat if available.
It would be great, if some of our KC 14512 Knights come out to support our candidates becoming a 3rd Degree Knight at this occasion. Contact Dennis Majeski @ 713-249-4446 or ddmajeski1206@gmail.com for information.
Council #6557 Knight In A Day
Sunday, November 29, 2020, 01:30pm - 03:00pm
Contact

FS Mike Cox 337-349-9948 megnmick@gmail.com
Council #6557 will be hosting a Live Knight in a Day at their Council Hall in Spring.
Registration begins at 1:30 pm and the Degree ceremony will start at 2:00 pm. Each Council must bring their Constitutional Roll, and a form #100, 3rd Degree lapel pin, and a KC Rosary for each candidate. Be sure the form #100 is completely filled out, including the Grand Knight's, the FS's, and the Candidate's signatures.
Refreshments and a light snack will be served afterwards.
The Council #6557 Hall is located at 29327 S Plum Creek Dr, Spring, TX 77368.
Please be sure to RSVP so that the Council can plan on having enough food available for the participants and can set up the hall appropriately.