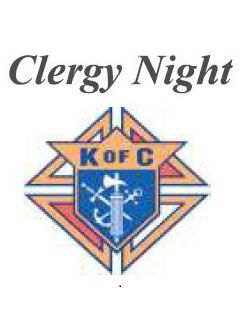 Jordan J. Dillon O.P. Council
1675 Douglas Ave, North Providence, RI
Cocktails 6:15 pm
Dinner 7 pm
Join us on October 11th to celebrate our local clergy. This is an opportunity to give recognition to our parish priests for their important collaboration with the Knights of Columbus. Without them, the great work we do would not be possible!
Click here for more information...
Click here to buy tickets online...
Contact Bob Lynch for tickets
(401) 524-2674
programskofcri92@gmail.com
REMINDER: Tickets/Reservation Deadline October 1st.
About this event: This is a fraternal event open to brother knights and all clergy. Jacket and tie required, jewels and badges suggested. Councils are expected to invite the priests and deacons they support. Invite them early – they are very busy men and their calendars fill quickly! This is a great opportunity to reconnect with parish leadership and showcase what the Knights of Columbus has to offer. Clergy do not pay for tickets and need not be a member. Councils should order tickets for their representatives and guests as soon as possible.
Click here to buy tickets...
Click here for the latest Events and Updates...
Share the link for this event...
http://uknight.org/StateCouncilSite/article.asp?ID=690