IMPORTANT NOTICE TO ALL MEMBERS
You can pay dues at the January 2022 Meeting!
**************************************
HONOR GUARD EVENTS
New Uniform or Tuxedo or Dark Suit with Social Baldric and White Gloves.
Old Regalia No Longer Allowed
****************************************************************************
Early Christmas Present!
Next Assembly #2740 Business Meeting
Thursday, January 20, 2022 7:00 pm
at St.Elizabeth Ann Seton Carmel, IN.
All Spouses and Family Members 18 Years or Older Are Invited!
*************************************
Day trip to Shrine of Christ Passion, St. John, IN.
POSTPONED to a later date
*****************************************
Memorial Chalice Program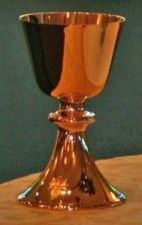 This Program memorializes deceased 4th Degree Sir Knights of Assembly 2740 by presenting a chalice, with his name engraved on the Chalice base, to a bishop, priest, parish or mission. The Chalice is presented to the family at the Annual Memorial Mass.
Following the family's recommendations, the Chalice is then presented to the chosen recipient after the Mass Memorial. The deceased Knight is remembered by the Celebrant in every Mass in which the chalice is used.
The Program is funded with contributions from Knights and other sources. An annual assessment of Assembly members is made if needed.
The deceased Sir Knight must have been a practicing Catholic and in good standing as a 4th Degree Knight.
After the memorial service, the departed Sir Knight's name and appropriate dates will be engraved on the chalice base as in the following example: In Memory of SK John P. Sample 1939-2007.
The chalice may not be replaced with any other memorial; however other memorials may accompany it if desired.
The donated chalice is set on display near the head of the casket during the wake service.
Family members of the deceased Sir Knight may recommend the chalice placement to a bishop, priest, parish or mission of their choice. If the family needs assistance with the placement of the chalice, the Assembly may assist.
The placement of the chalice must be deemed appropriate by the Lt. General Timothy J. Maude Assembly #2740.
*****************************
Show Your Friends
The Flag Program Shown Below
*********************