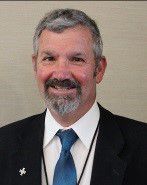 By Invitation Only
Brothers, What do you think of when you see those words? By invitation only. It sounds like it must be something special? I hope I'm one of the few to get invited? Something exclusive? All of these and more, I would imagine. That's why I think we need to change the way we are talking to prospective members. Instead of asking, "Hey do you want to join the Knights of Columbus"? Let's try something a little different. When you greet a man at church, instead try something like this – "I see that your Catholic faith is important to you, because you've brought your wife and your family to Mass. We would like to invite you to be part of the Knights of Columbus." After all, we really are a special organization. We do so much in our parishes and communities. We think that we are relatively exclusive; faithful Catholic adult men. Try your best to make these prospec-tive members feel like they will be part of a select group—of which they will be! The strong right arm of the Catholic church.
Reminder
Brothers, Just a little reminder to all the Councils. With so many Councils now doing very well with inviting in new members, you don't want to forget the other requirement beside the mem-bership intake to reach Star Council and Star District. I think the one of the things that people for-get is the Fraternal Benefit Nights. Our new General Agent, along with Supreme, is coming out with some new ways for us to cross that one off our required list. Please take notice of the emails sent out by our Executive Secretary, Pat Rice, so that you don't miss out on all the important infor-mation. The Fraternal Leadership Advisory that many receive will also have some important infor-mation, so be sure to open those up from Supreme. Also, those having access to it, make sure to use the Excel spreadsheet directory put together and sent out by Mike Pranger. If you have any questions about any form or activity, there are people who are listed in the directory who can help you. We have just under 5 months to go, with several Councils nearing their Double Star Council membership intake requirement, and quite a few closing in on the Star Council membership re-quirement.
It's not too late, for every Council to still reach Star. Let that be the Legacy that you leave your Council. Ask your State Council or your Membership Director if you would like help putting on a Delta drive. Every faithful Catholic man deserves an invitation into the largest Catholic Fraternal organization in the world.
...................Because—If not us, then who?......................
Vivat Jesus (Jesus Lives)
Ray Prom, State Deputy
Oregon Knights of Columbus