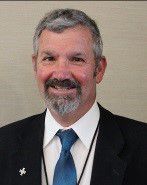 A Brand-New Year
Brothers All,
One of the reasons people enjoy New Year's Day so much is the chance to kick off the bad from last year and hope in a better year to come. The new fraternal year is like that also. We have thrown out the old, quarantined, closed church, closed council, of the past fraternal year. Now we look forward to the opportunities and challenges for an exciting new year.
I am very excited about what the Knights of Columbus in Oregon can accomplish. And I want to share with you some thoughts about what direction Oregon will be taking.
Our number one task is to work with our bishops and our pastors to help ensure that our parishes open fully, and that as many of our fellow parishioners and council brothers return. To help with that, we want to put our best foot forward, and make sure that our relationships with our priests, is a supportive and appreciative one. I am asking all our councils throughout Oregon, to show our appreciation to our priests by hosting a Pastor Appreciation event in July, whatever that looks like. Take your priest out to dinner or invite him to a council BBQ. Maybe a gift, or a bottle of wine. Something that shows that we appreciate his vocation and the sacrifice that he made to become a priest for us.
Along with that, sit down and talk to him. Ask him what he would like the Knights to do for him, and for the parish. Then follow through. Be his support system. Be the men that he can count on. Volunteer to help with the spiritual side of the parish. Be the extraordinary ministers, be the lectors, be the RCIA instructors, and the religious Ed teachers. Be the example to the boys and young men in the parish, and show them what a Catholic man looks, and acts like.
This year, to help nudge councils back into program and membership activity, the State Council will identify one or two sample programs. We will conduct the programs at the state level, and council can choose to conduct similar programs, in coordination with the state or independently. This month's example will be a jump-start membership drive. My home parish in Astoria will host an exemplification in Astoria, on July 11, at 4pm. This exemplification will be streamed virtually, so any council who may have men ready to join but do not yet
have a new degree team, can bring new members in through this virtual exemplification. We want every council to start heading in the right direction right from the start. Along with this, we are offering some interesting incentives. These incentives are only for July and August. The total number of new Knights brought into your council during these 2 months only, makes your parish eligible for some incentive money. Notice I said parish. This is another thought that may arouse the interest of your pastor. The parish will be eligible for the incentive money. Here is the incentive: 2 new members recruited into your council=$25, 3=$50, 4=$75, 5=$125, 6=$200, 7=$300, 8=$450, 9=$650, 10=$1000! For some of our parishes hurt in the collection basket during the past year, this will be welcome relief.
So, get the new fraternal year off on the right foot. Show your appreciation for your parish priest, bring men into the "strong right arm of the Catholic Church", and help your parish financially.
Vivat Jesus (Jesus Lives)
Ray Prom State Deputy
Oregon Knights of Columbus