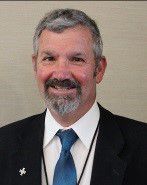 Brothers, By now everyone should have unpacked and unwound from our State Convention and I hope for those who attended, that they will pass on the information and the energy to those who were not able to go.

We were blessed again this year with Archbishop Sample speaking to us—albeit for a short time. His words this year were again so reminiscent of last years' comments. The wording was a little different, but the theme is the same. The message is that this is the time for the Knights of Columbus. We also heard a similar theme from the Supreme Knight. These are tough times, these are troubled times, but these are the times for the Knights of Columbus.

We as Catholic men, need to band together, a gathering of the tribes so to speak. The Archbishop asked us to be a "Band of Brothers" in regard to supporting all of our clergy. The events we read about and see now will pale to what is going to be happening later this year and into the future. If we want moral leadership from our spiritual shepherds, we have to have their backs as they step out of their comfort zone and onto society's gangplank.

The Supreme Knight spoke to us via a video, reminding us of the need for us to become better "Catholic" men. More faith filled, more on fire with the Holy Spirit. He said that "when you get the man right, you get the marriage right, you get the family right and you get the parish right". If we are honest with ourselves, we can all do with a little spiritual housecleaning. We need to make sure that our souls are a place for the Holy Spirit because so much depends on the morality of the men of the Knights of Columbus.

The other message that was expressed by the Supreme Knight and was hinted at by the other speakers during our weekend Convention was that now, more than ever before, it is so very important to share the Knights of Columbus with other men. If this is a great organization, and if we are to hone the man—the Knight—and if our bishops and priests are counting on us, and if there are more evils in society than ever before; if all of these things are true (and they are) we need all the help we can get. We need to grow membership in Oregon from 9,000+ to 20,000, because the work that we are being asked to do is so important.

Another thing we talked about at this Convention was the great efforts exerted this past year by the State Council, the District Deputies and the Chairmen and Directors of Oregon.

I want to thank again all those who gave so much of their time and energy this past year.
As with every year, we still have some positions open and maybe some men will feel that their situation has changed and so they would like to volunteer more. If this happens to be you, I would love to talk to you to see what position you might be qualified or engaged to do.
We have a great thing here in Oregon, and we make a huge difference. But we can make an even bigger impact.
Let's find a way to invite every Catholic man sitting in the pews into the Knights. It's not too late for this Fraternal Year. If every man reading this newsletter will go ask another man, this week, to join the Order, we truly will have an amazing ending to this Fraternal Year. We need more members, because the assignment is so important, the repercussions so serious, and the outcome so critical to become a bigger, bolder and better Oregon Knights of Columbus.

Vivat Jesus (Jesus Lives)
Ray Prom, State Deputy
Oregon Knights of Columbus