KNIGHTS OF THE MONTH
February 2020
Donald Morse


January 2020
Stanley Jones


December 2019
Quartarro Joseph


October 2019
Harold Whisman


September 2019
John Hammer


July 2019
Alvin Aldana

From chipping in with CRHP to stepping up for Italian Fest, Alvin's been a mainstay in the kitchen!
June 2019
Michael Carlson


May 2019
Glenn Hart

Thanks for your leadership on Mother's Day breakfast and the St. Joseph Project
February 2019
Fran Pyne

Congratulations and a BIG Council 9056 Thank You to Fran Pyne for all of his help with Project Joseph - he is recognized as our Knight of the Month for February 2019. Well Done as our GK is fond of saying.
February 2019
Francis Pyne


December 2018
Brian Banazwski


November 2018
Tom Ricapito


October 2018
Michael Carlson


September 2018
John Hammer


September 2018
William Filbert


August 2018
Ryan Hildreth

Thanks for all your great work running the galley for Italian Fest
July 2018
Bryan Newlin

Thanks for all you efforts, especially with the back room, hard work in the kitchen for Italian Fest
April 2018
Lionel Medeiros


March 2018
Alvin Aldana


January 2018
Glenn Hart

Thanks for your support. If there is an event Glen is there
September 2017
Chris Schuck


August 2017
Tom Fletcher

Thanks for your support to the Family Night
July 2017
Dan Nunn

Thanks for your help with both Christ Renews His Parish weekends and Italian Fest. Great job in the kitchen
June 2017
John Hammer


April 2017
Glenn Hart

Thanks for Fish Fryin'
March 2017
Roger Ballou


January 2017
Pete DiNardo

Thanks for your support in the March for Life for the Council and Church
December 2016
Richard Agnello

Thanks for a great Christmas Party!
November 2016
Brandon Womack

Thanks Brandon! A new Knight, you've jumped in with both feet and remind and challenge us to serve our community and Church!
October 2016
John Hammer


July 2016
Roger Cote

Thanks for your great cooking and "galley leadership" for ItalianFest!
FAMILIES OF THE MONTH
January 2020
Rick and Bianca McMahon


December 2019
Tim and Theresa Rarick


October 2019
Mr. and Mrs. Reuben Dieo


September 2019
Mike and Karen Reiger


July 2019
Dave and Marge Lamb


June 2019
The Womack Family


April 2019
Tim and Theresa Rarick


February 2019
SK Larry and Sue Bucher

Congratulations to PGK SK Larry and Sue Bucher for being recognized as Council 9056 Family of the Month for February 2019.
January 2019
Roland Hanssen


December 2018
The Morelli's


November 2018
Tom and Julia Fletcher


August 2018
The Tribble Family


July 2018
Ralph and Patsy Connelly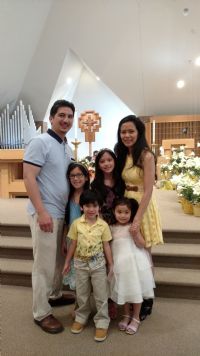 April 2018
Gerry D Reyes Family


March 2018
Humberto and Sarah Mendoza


January 2018
Mike and Susan Picio

Thanks for your help with Christ Renews His Parish and arranging the screening of For Greater Glory for our members and families
September 2017
Mike and Karen Reiger


August 2017
Deacon Darrell and Geriann Wentworth


July 2017
Nathan and Rosellen Fenell

Thanks for your support to Council, Squires, Parish and Country
June 2017
John and Lisa McCabe

Within moments of speaking to John or Lisa, you become very aware of their love for our Lord and the Church. John has been involved with several ministries such as RCIA, Christ Life, and CRHP (Christ Renews His Parish). He has shared his powerful personal journey at the CRHP retreat where it has touched many in a profound way. He is employed by the parish and has been heard by him that "it's one of the best jobs" he's had. Lisa is a recent convert to the Catholic faith and has quickly become an active member in the parish. She is also involved with RCIA, CRHP, and especially Christ Life, where she has led many of the classes. Shortly after Lisa's entry into the Church, John and Lisa had their marriage blessed by Father John which was attended by many in the parish who have been touched by their presence.
April 2017
Dick and Bonnie Green


March 2017
Tim and Theresa Rarick

Thanks for being Fish Fry Stalwarts!
January 2017
Eric and Bernadette Kelpinger

Thanks for your support to the Church and School in so many way
December 2016
Ralph and Patsy Connelly

From Church to Council, this couple has been a mainstay for us, and an inspiration to all
November 2016
Greg and Tracy Fick

The Fick family is a familiar sight to anyone who has been around St. Gregory the Great Church, School and Catholic Charities. Thanks for all your good works to community, school and Church!
October 2016
Ben and Stefanie Salazar

Thanks to the Salazars for all their efforts in support of Council activities and our members
July 2016
Joe and Andrea Bernotas

Thanks for your time, guidance and leadership as Chariman- you made ItalianFest a huge success!
July 2015
Bob and Julie Abbate

Thank you Bob for taking care of us Knights!
April 2015
Roland and Lapita Hansen


February 2015
SK Edward W Voorhees


November 2013
SK David Poston

David and his wife Jane Poston are long-standing members of St. Gregory the Great Catholic Church in Virginia Beach. They devote exceptional personal time and resources in a variety of endeavors both as parishioners and as a member of St. Benedict's Council #9056. Dave has kept a very low profile in helping numerous families get through tough situations as a master electrician… often-times forgetting to leave an invoice for his services, just so the benefiting family has one less problem to worry about. They are also significant contributors to the annual Saints Ball – the largest fundraiser that benefits St. Gregory the Great Catholic School. These and many other 'good deeds' more than qualify them as befitting the title "Family of the Month" for St. Benedict's Council #9056.
October 2013
Irving Ferguson

SK Irving Ferguson joined the Order slightly over two years ago. Although confined to a mobile device and certain other limitations, Irving has worked diligently in his best capacity along with his mother Ofelina and brother Phillip at numerous KofC and Church events. His enthusiasm for the Knights is so great that his brother Phillip joined the Order a month ago. Irving became a Guard for Fraternal Year 2013-2014, and is a member of the 2013 Class of Virginia Sir Knights who were brought into the 4th Degree two weeks ago.
September 2013
Dan Krys

SK Dan Krys along with his wife Heather (a teacher at SGGCS) and his daughter Hannah (a student at SGGCS) put a total family effort into the first Council Breakfast held in September. Hannah created table signs that gave a real personal touch to help her Dad out, along with a truly massive effort by the 3 of them to help bring a huge success to this now monthly event.
August 2013
Tom Ricapito

Tom and his family are constantly doing behind the scenes work - typical of the 'Get it DONE' positive enthusiasm they bring to everything they do. Here you see Tom with some of his grand-kids during the recent Italian Fest held to help us raise funds for St. Gregory the Great Catholic School.
June 2013
James McLaughlin

The McLaughlin Family was so excited about Jim deciding to become a Knight, they volunteered to help with Council 9056's fun-loving Fish Fry Crew of Knights and Squires on Fridays during Lent, BEFORE he could take his First Degree. Jim became a member of our Order at the end of April, moving on to his Second Degree shortly thereafter. You will usually find them at the 9 AM Mass, and helping out wherever they can around the Parish. Originally from the greater Boston area, the McLaughlin's are thoroughly enjoying their new home in Virginia Beach.
September 2008
Ed and Nancy Voorhees