KNIGHTS OF THE MONTH
November 2022
Dennis Grogan.

I always enjoy seeing the courage of a man's convictions. It always reminds me of a solitary preacher that used to show up on my college campus on Thursday afternoons and in the middle of the quad would be surrounded by students on their way from or to class. Some would listen and others would mock the man as he warned us about the degradation of morality and read scripture from his worn copy of his bible warning us to be mindful of our actions and repent whenever possible. I would always stop and be in awe as he never backed down and went about his business. The knight I am recognizing tonight is such a person. Taking over for the knights of our council past who worked the task diligently, he is no exception. Being recognized last year I am recognizing him again this month. Though it was a brief report during the meeting, he chose to tell us to keep our eyes open to the problem of empty shelves and the needs of many. It hit me personally and to me it was a call to action. For organizing the holiday food drives at the Jewel Stores and many hours at the CHS food pantry to feed the hungry, the Knight of the month for November is Dennis Grogan.
October 2022
Bob Jahnicki

When one person joins a new group or a new job, there is a period of transition. You introduce yourself, maybe take stock of who is in the group, in short get used to the new surroundings. Perhaps someone in the group may step forward, make a show of faith, and show you around. This knight has only been with us a few years, and may be too humble to admit it, but they have made an impact on our council. He has been one of the ones to step forward and shepherd more to our numbers. Some may say it may be jumping ahead as the next activity may be days away and nothing is for certain, however I know that his efforts never waiver. Not only is he one of our chairmen, but he has also become one of my teachers. This knight teaches us all to cast away the doubt, show faith and promote fraternity. I award Knight of the month to our membership chairman, Bob Jachnicki.
September 2022
Jim Childress Sr

When the officers were installed earlier this year I had mentioned one of the elements I would like to have as a goal for our council during the fraternal year. During my commencement speech I had mentioned that I wanted our council to renew our vow of brotherhood. During the last week I had the opportunity to see this first hand. Me and several brother knights of this council last Thursday morning had the honor to be at the Mass and Memorial services for SK Jim Childress. The services took place in Bolingbrook at St. Dominic Church and then a final service at Abraham Lincoln National Cemetery where Jim was laid to rest with his wife Corrine. It was an honor to have known Jim and it was an honor to be a Knight of Columbus with him. James Childress was my petitioner who signed my form 100 to join this council. Not only did he get me to be in the knights, but his work with setting up our Patriotic Degree helping the BBQ for the Troops sparked me to come up with other ideas to carry the degree forward. In short he inspired me to do more for this council and more for this country. It was at his services that he showed me one more lesson, and it was not one just for me but for all the 16 Knights of this council who were there that entire day. It was this lesson of brotherhood. I do not know of that many people who on less than a week's notice would move their schedules to be there for me. But they were there for Jim. Not only were they there, they acted in unison in order to make sure others could be there too. So in one last act by this council, I award the Knight of the Month award to SK Jim Childress.
August 2022
Mike Suletnic

Knight of the Month for August. When most people retire from a job, they plan to relax and maybe take a vacation, maybe spend some time doing more hobbies or spend more time with family. However this knight has decided to stay active and even take over other responsibilities as their previous ones have ceased. The Knight of the month has not only chaired our community yard sale, our efforts with the St. Joseph Icon at the beginning of this month and draft a proposal for our new benevolent fund. He has also taken over duties to be our new blood drive chairman and culture of life chairman. The saying goes that there is no rest for the wicked, but I think it also should be said that there is no rest for the saintly either. Please join me in thanking PGK Mike Sulentic for all of his efforts and being the recipient of Knight of the Month for August 2022. Mike if you could also return to the front as I am also happy to report that due to your efforts as Grand Knight and the hard work of our council, 6964 has received Star Council for the 2021-2022 fraternal year
June 2022
Dick Lambke

Knight of the Month – June 2022 – DICK LAMBKE Dick has been a tireless leader for our Council and the Knights this past year! His support of our Council as our District Deputy has been phenomenal. He stays on top of all the various statewide activities of the Knights and updates our Council timely. He has been our "voice" at the State level, when needed, giving us the support to make things happen. He has pushed me and our Council to be better, not letting us sit back, but encouraging us to accomplish all our goals for the year. This month, he will lead our New Officer Ceremony, plus those of the other five councils he supports, along with all his normal duties for the month. Tireless! Thank you and congratulations Dick!
May 2022
Tim Sweeney

Knight of the Month – May 2022 – TIM SWEENEY Tim always finds a way to keep our Council entertained! Despite his goofiness, Tim is one member you can count on to step in when needed. At the St. Hubert Confirmation Masses, we were in need of an Honor Guard to attend and assist. Tim not only volunteered, but attended both services taking up most of his Saturday. He even got his picture taken in his Knight's uniform for the Flocknotes communication! Tim can also be seen on Sundays at the 10am Mass, flying around and helping out as one of the ushers. You can see him hugging and shaking hands with many parishioners, putting smiles on their faces! Thank you and congratulations Tim!
April 2022
Larry Arquilla

Not only is Larry heavily involved in his parish activities at Church of the Holy Spirit, but he single-handedly invited half of the attendees to the St. Pat's Party! In fact, one continuous table was set up to house many of the CHS attendees who bought their tickets from Larry. During the event, one could see Larry canvassing "his" crowd to make sure everyone was enjoying themselves. He worked his ticket sales magic once again! I personally heard many words of thanks from the CHS crowd, all of whom said they truly had a wonderful time at the Party. Thank you and congratulations Larry!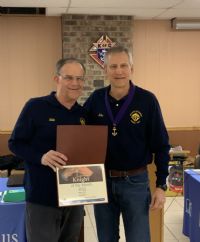 March 2022
Bill Gulik

Bill is one of the most faithful volunteers and active member in our Council. He tends to be one of the first guys to raise his hand when there is a need. In fact, just this past week he was one of the first to set up a blood donation appointment when the email went out asking for donors. You can count on Bill to be at most of the events we host or work, including dine-to-donates, Women at the Well, honor guards, ID Drive, Memorial Mass, recruiting events, and many more. Bill is also very active at CHS and has helped at several of the Jubilee events this year. Recently, Bill has been on the St. Pat's Party Planning Committee, spending countless hours planning and tracking the expenditures, plus he will be working at the event next weekend! Bill is a model Sir Knight and the nicest person I have the privilege to know! Thank you and congratulations Bill!
February 2022
Jon Mucker

Jon has been a hard-working member of our Council and the Assembly for years. Over the last two years, Jon has run the Vocation Raffle for the Council. This was not an easy task due to the complications of COVID. Jon had to think outside the box to ensure we could find ways to sell raffle tickets when Council members were not meeting in person. We were also restricted from selling tickets at the churches due to COVID. Despite the roadblocks, Jon found a way to make the program successful in both years, enabling us to continue to support three worthy seminarians each year with $500 gifts. Thank you and congratulations Jon!This is his 45th anniversary as a knight!!
January 2022
Dennis Grogan

Dennis is like the Ever-ready bunny, he just keeps going and going and going! Not only is he our Council Warden, preparing our room for all of our meetings, but he is heavily involved in many other Council events. He recently helped at the Pizza with the Pastor event, Processional Cross assembly and blessing Mass, and signed up for multiple Masses for the upcoming recruitment weekend. Dennis always helps with the Poker Nights, usually taking the late last shift. He also works one or more days per week at the CHS food pantry, and has just volunteered to take over as our Council's Food Pantry Coordinator when Tim leaves town. These are just a few of the things Dennis does for our Council. Thank you and congratulations Dennis!
December 2021
Kevin Minogue

Kevin took my initial request to make our Coat for Kids Drive as successful as possible this year. We had to be more proactive in getting the coats into the kids' hand before the cold weather hit, plus use it as a recruitment tool for the Knights. He was a one-man action team! He received the coats at his house, organized them and got them out to CHS, St. Matthew's, St. Al's and St. Hubert School. He ensured signage was present and photos taken. Kevin also helped with the Blood Drive and the Recruitment Drive. Thank you and congratulations Kevin!
December 2021
Vince Wroblewski

Vince finally decided to resign from the Chairman role for the Blood Drive this fraternal year. I told him I would take over and run it going forward. I told Vince he was the "Chairman Emeritus" and should sit back and relax. Well, that didn't happen! Vince went full steam ahead, even though he was experiencing some serious health issues. He stayed in contact with Vitalant, sent me pertinent details about past Drive, updated some event signage, made numerous calls to past donors and worked the event for six hours! The Blood Drive was once again successful because of Vince. Thank you and congratulations Vince!
November 2021
Bill Clark

Bill is one of the hardest working Knights in the Council. He steps up each and every time we need someone to help out. His role as our Church representative for St. Matthew has been a huge help this year. He was instrumental in working with Fr. Glab to identify the need for funding of the parking lot. For the ID Drive, Bill worked the entire weekend to coordinate the cash receipts and to organize the efforts at St. Matthew. He has also ensured we always have space in the bulletin for Council events such as the Blood Drive. Now Bill has stepped up to help plan the Christmas party! We are lucky to have him in our Council! Thank you and congratulations Bill!
October 2021
John Vlnka

John is very deserving of this special award. He has been a leader in our Council for years and is not afraid to speak his mind. He brings professionalism and holiness to our Council, with a perfect mix of lightness and laughter! He never fails to volunteer when needed and can always be counted on in a crisis. John has been taking many hours of his personal time to take pictures for the Council, including throughout the entire ID Drive weekend, the Track-a-thon and the FMSC event. Thank you and congratulations John!
September 2021
Fr. Mike Scherschel

This Knight is a true leader. He could have taken the easy way out as COVID hit last year and the churches were closed, but instead jumped in and did even more for his parish. He spent numerous hours each week putting together a full video mass for his parishioners to watch from home when the churches were closed. His goal was to keep the faith alive and his parishioners engaged and connected to the church. He has continued that practice to ensure those uncomfortable coming back to church right now can still attend mass. In the midst of all of this, he has kept his church and school moving forward in a positive direction, even with a reduced budget. We would like to thank and recognize Fr. Mike Scherschel as the Knight of the Month.
August 2021
Tom Van Havermaet

For all of his guidance with all the changes in the Knights of Columbus, and his long time guidance and advise thru the changing of the guard each and every year. Thanks Tom for all the years of dedicated Service.
July 2021
Pete Stresino

For leading us through the pandemic and keeping our spirits and activities going when others stopped, now Past Grand Knight Pete has been selected the knights of the month. Some of the things he did are too much to list here.
November 2020
Tom Senese

For his chairing our ways and means committee, for his work on our fabulous dine to donate programs all year long and his work in getting our poker work started and working, Tom Senese is November Knight of the month
January 2020
Pete Stresino

Next man up is appropriate for DGK Pete. Our Grand Knight had an emergency and could not make it to the December business meeting. Pete stood up and lead the meeting, including our last 1st degree installation. Thanks for taking control of the wheel Pete. Our December knight of the month
October 2019
The co chairs For the ID drive

Mike, Tom & Tony had numerous hours of planning, pre sales and worked hard at the ID drive. Great work gentlemen.
July 2019
Pete Skinder, Jim Elder, Pete Stresino

Looking to put together a council officer installation at the last minute? Call these three and rest easy. We lost our normal restaurant due to no a/c so we switched gears and our Gk put out three calls. They got some friends together and got it done.
June 2019
Tom Senese

As chair of our ways and means committee, he finds inventive ways to creat funds for the knights. Thanks for your tireless efforts Tom.
May 2019
Daniel Marquis

For his work in helping sell tickets and many other things from our pancake breakfast. Congratulations Daniel. All this work done before he became and official 1st degree knight.
April 2019
Al Goy

For a Past Faithful Navigator, Past Grand Knight, current involved knight. And he just nominated us for Volunteer of the year for Schaumburg. Thanks Sir Al.
March 2019
St. Pat's party Committee

For their tireless work in organizing, getting prizes, entertainment and volunteers, the committee is the Knight of the month. One of the things we do best is work together. Jerry Bromley, Craig Smith, Joe Tuccori, Pete Munnich, Mike Sulentic, Tony Colucci, Pete Stressino, Bill Gullik, Vince Wroblewski & Bill Clark.
February 2019
Victor Martinez

This is how you become a knight. You show up to our pancake breakfast, spend 6 hours helping and the following week you become a knight. We are honored to have you with us Victor. Keep working.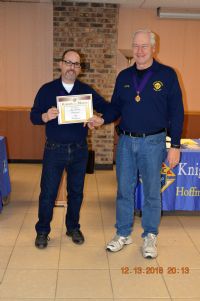 December 2018
Jerry Bromley

Our Deputy Grand Knight, co chaired the kids christmas party and brought life and the true meaning of Christmas to the event as well with his co chair Jails
December 2018
Greg Bertagna

For stepping in for several months as lecturer for the good of the order. And always being at many of the events ready to serve
November 2018
Pierre Zermatten

Space limits our thank you and congratulations for this knight of the month. Pierre is there to help with honor guards, recruitment and most importantly providing insurance. He helps members to meet their pre-needs and then being with loved ones throughout the disbursement of funds after the unfortunate happens. We are very honored and pleased to have Pierre as part of our council
November 2018
Jim Elder

For his work behind the scenes and Updating the look of our council and our marketing to the community and the web.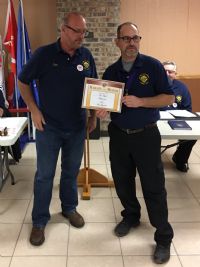 October 2018
Tim Figiel

Tim Figiel, what does he not do! He helps with friendship village and their events. He is our community director and all around community activity guy. Thanks Tim
September 2018
Kevin Thomas

Is this an accumulation award for all he has done for our council? No it is for his excellent effort in putting together a great knights family picnic and saving some money also. Thank you Sir Knight.
August 2018
Tony Colucci

For his work on the pre sales for the ID drive, Tony tirelessly worked with many business in the area to place tootsie rolls in their offices with a donation from the business. Our maiden voyage to selling in a corporate setting, Tony has helped us set the bar high for sales. Way to go brother knight. Well done
August 2018
Joe Tucorri

What an amazing Past Grand Knight. Always willing to lend a hand, and many times he runs events. For instance, our 200 raffle. This year Joe went to every Mass and sold tickets. He is dedicates and always serving the community. What an example to the brotherhood. Congratulations Sir Knight.
August 2018
Pete Skinder

For his work in, wait there are so many things he does how do we award him? For his work in coordinating social night, the presidency of the Knights of the Sword, as commander for our fourth degree honor and color guard and so much more. Thank you worthy Sir Knight.
July 2018
Tom Van Havermaet

Tom V. First our financial secretary. And he also organized the dine to donate for three councils at Lou Malnati's. He then organized the trip to FMSC to pack food. We packed 157 cases of food which will feed 94 kids for a year. The donation we made from our dine to donate paid for 4954 packs of food. Well done brother
June 2018
Tim Figiel

Have some need in our community, you are likely to see Tim attending to it. A frequent volunteer at Knights events and also working the food pantry. Tim is akways there to help those in need.
June 2018
Vince Wroblewski

Vince has been a frequent donor and a long time organizer of several blood drives throughout the year. For this and so many more thing, congratulations Vince.
May 2018
Nick Calderola

For his tireless protection of our door, the 50/50 raffle and passing the bucket which he does so well. A job well done for the year Sir knight.
March 2018
Sir Kevin Thomas

For all Kevin does for membership and as a good steward of the flag collection! He is our March Knight of the month
October 2016
Jerry Bromley

For his work on the Dine to Donate Programs
September 2016
Pete Stresino

Co-Winner for his work at the September Fest Water booth.
September 2016
Joe Tuccori

Co-Winner For his work at the September Fest Water booth
August 2016
Tom Senese

For his work chairing the Ways and Means Committee
July 2016
Voting for Knight of the Month. Coming soon!

Check the "Recognition" link on the left!
July 2016
Pete Skinder

Organized the patriotic pins and wristband giveaway at churches, and the family night parties
June 2016
Kevin Thomas


June 2016
John Vlnka


May 2016
Pete Munnich

Excellent effort coordinating the St. Patrick's Day party/fundraiser
May 2016
Brian Parziale

Excellent effort coordinating the St. Patrick's Day party/fundraiser
May 2016
Vince Wroblewski

Excellent effort coordinating the St. Patrick's Day party/fundraiser
May 2016
Craig Smith

Excellent effort coordinating the St. Patrick's Day party/fundraiser
April 2016
Dick Lambke

Many council contributions
January 2016
Jim Manfre


FAMILIES OF THE MONTH
October 2022
The Manfre Family

As far as awarding Family of The Month this should come at no surprise. It seems year after year and fundraiser after fundraiser this family has become as regular and consistent as one of the four seasons. Some people like to think that traditionally the end of summer is Labor Day weekend. I beg to differ and say it is a little more towards the middle of September. Not only do they put in a tireless effort all year to maintain places to raise funds physically, but increased our efforts tenfold by now having the fundraiser virtually as well. Then even as the event gets closer this family not only clears out their garage to help in the effort, but opens up the doors of their house. Maps and locations hang on walls that should have pictures of family or portraits to decorate the house. The kitchen table is open to knights who become accountants and bankers and seem to stay there for 48 hours straight. The table is not only the only thing, however. The rest of the kitchen is open as well as beverages and award winning chili is served by the gallon. They will always tell us that it is not just them but all the efforts of the council. However with their sacrifice it fullfills all duties of a knight. Charity, Fraternity and Unity. I award the family of the month award to the family of Joyce and Jim Manfre.
June 2022
The Malinski Family

Family of the Month – June 2022 – ROGER & ZEE MALINSKI Roger and Zee Malinski are the "Can do" couple! They are both heavily involved with the church and community, striving hard each day to make both better places. At St. Hubert Church, Roger and Zee are Parish Pastoral Council members, Mass Coordinators, Eucharistic Ministers, and Stewards. They are also part of Marriage Ministry and the Welcome Home Committee, which has hosted several events. In the community, they have both been heavily involved with Boy Scout for years, making leaders of the young men they mentor. Just last month they ran the Scouts/Postal Service food drive, plus led the collection of household items at church. Our parish and community are both better places due to the Malinskis! Thank you and congratulations to the Malinski Family!
May 2022
The Bratt Family

Family of the Month – May 2022 – BARBARA & NICK BRATT Barbara and Nick are two if the nicest and caring people you will ever meet! They are regulars at Sunday Mass, and all the holy day Masses, assisting wherever needed and many times being asked at the last minute to help. They both are the models of selflessness and Christian love, caring for and raising their special-needs granddaughter, plus helping out their own adult children wherever needed. Nick is a leader in our Council and volunteers on a regular basis to participate where needed. Nick continues to fill the roles of Parish Coordinator and Life Director, working hard this year to make the Bridges for Life and Ultrasound donation a reality. Thank you and congratulations to Barbara & Nick
April 2022
The St Patrick Party Committee

The Committee, led by Co-chairs Pete Munnich and Craig Smith, along with members Bill Clark, John Vlnka, Pete Stresino, Bill Gulik, Brian Parziale and Walter Watts pulled off the comeback of the year! The St. Pat's Party was cancelled in 2020 and 2021 due to COVID. This Committee started planning in December, with hopes of squeezing it in this year. Of course, COVID got in the way once again causing further shutdowns in the middle of planning. But this group was not deterred, and instead carried forward with resolve to make the party a reality. They were more successful than any of us imagined, with close to 200 attendees and a profit of $3,000, which will be used to help many more people in need! Thank you and congratulations to the Committee!
March 2022
Bertagna family

Greg and his wife Luisa have participated in many Council events this past year, including the Pro-Life March, Chili cook-off, FMSC, ID Drive and the upcoming St. Pat's Party, to name a few. Greg and Luisa have been faithful members of St. Hubert Parish since the early 2000's and are involved in various St. Hubert Parish ministries, including the Parish Pastoral Council, serving as lectors, ministers of care and mass coordinators. They recently volunteered to run two evenings of the Stations of the Cross and took the initiative to get the Knights involved as the sponsoring ministry for tomorrow night. Thank you and congratulations Greg and Luisa!
February 2022
Hoppesch Family

Family of the Month – FEBRUARY 2022 – DEAN HOPPESCH FAMILY Dean and his wife Paulette are heavily involved in various St. Hubert Parish ministries. Dean volunteers on a regular basis with the Knights, including the Welcome Home, Adopt-a-Highway and Helping Hands projects. He also recently stepped in as the Interim Bookkeeper at St. Hubert, spending time weekly to assist the Business Office. Paulette sings at multiple masses each weekend as a member of the choir, plus serves on the Respect Life ministry. Both participated in the Chicago March for Life in January with other members of our Council. They also provide rides to church on the weekend for parishioners who need transportation. Thank you and congratulations Dean and Paulette!
January 2022
The Watts family

Walter and his wife Laura once again completely organized the Kids Christmas Drive-thru event for our Council this year. They bought, wrapped and distributed the gifts to the children bringing smiles to many little faces! Walter also has the very important role of Recorder for our Council. He attends each meeting and carefully documents our meetings via the minutes for those members who cannot attend. He is a member of the Exemplification Team, helped with the Pizza with the Pastor and Processional Cross blessing Mass, plus has signed up for multiple recruitment Masses this weekend. Walter and family are always there when needed! Thank you and congratulations Walter and Family!
December 2021
Deacon Larry Smith and his Parish Family

Deacon Larry is a tireless worker for our Council and St. Hubert Parish. Besides his role as Assistant Chaplain of our Council, which takes a lot of time, he also handles the monthly food drives held at St. Hubert. He pulls teams of parishioners together to fill the necessary roles to make the events successful. Of course, Larry is right there in the middle of the action working hard to make sure everything goes as expected, despite his recent health issues. The recent Thanksgiving Food Drive was a huge successful, feeding many hungry people of St. Al's and those in our community. Thank you and congratulations Deacon Larry and your Parish Family!
November 2021
The Varela Family

Juan "Charly" was the first Knight in our Council to request to attend the exemplification ceremony held last month. He successfully attained his 3rd degree and is now a full Knight! His wife and two sons attended the ceremony to witness the special event. I could see how proud all of them were to see Charly participating in the exemplification. Charly and his family are active at CHS and Council events, recently signing up to volunteer at the upcoming Jewel Thanksgiving dinner event. Thank you and congratulations to Charly and his family.
October 2021
The Skinder Family

Pete and his sons Ryan and Sean have been heavily involved in volunteering their time for our Council. They all participated in the ID Drive, spending time on the corners and at St. Matthew Church collecting funds. They also stepped up to help collect and organize the food and housewares drive for WINGS recently held at St. Hubert Church. Pete re-ignited the Social Nights in September, spending the time to plan and run the evening event for the Council, and is currently researching new social event opportunities. When Deacon Larry said he needed help with the upcoming Coat Drive for St. Aloysius, Pete quickly responded, "We'll be there!" Thank you and congratulations Pete and family!
September 2021
Jim & Joyce Manfre

This couple has always set the example of a true Christian life for the rest of us. They freely give of their time and talents to help others in need. Most recently, they have stepped up to provide added support to St. Hubert during the pandemic. They have helped keep the church open and operating, by providing the services needed as part of the COVID team. When the business manager was unable to perform her duties due to illness, Joyce stepped in and volunteered her time each week to help run the business office. Jim continues to be a leader in our Council, spending countless hour maintaining our website, running our ID Drive program, which he is in the midst of doing now, and volunteering whenever the need arises. We would like to thank and recognize Jim and Joyce Manfre as Family of the Month.
August 2021
Jim & Lisa Elder

For all there help with logistics of the council. They're consistent help and guidance during the pandemic. And the recorded Mass. Thank you to Lisa & Jim for all the help
July 2021
Council 6964

As we transition back to in person meetings, the Grand Knight announced the council would be the recipient for the family of the month. We are one big family.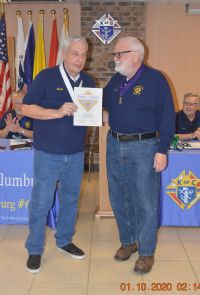 December 2020
Sertich

SK Dave, his wife, kids and grand kids mobilized this Advent to promote, purchase and distribute many things. First, they did our 2nd annual Keep Christ in Christmas program which grew from last year. If that was not enough, they spearheaded the Advent calendar program which sold out quickly and made the lives of those kids who received a calendar so much more special. Thanks to the Sertich family.
October 2019
Manfre

Joyce and Jim Manfre for the tireless work on the ID drive. From planning the day to turning their home over to tootsie roll central. And providing some sustaining food for the days of the drive. What a great success. Thanks Joyce & Jim.
July 2019
Bill, & Eileen Clark

A man who stands head and shoulders above most people. He always goes above to help the knights as well. In this case, he and Eileen gathered the food and made all the arrangements for the dinner after the council officer installation.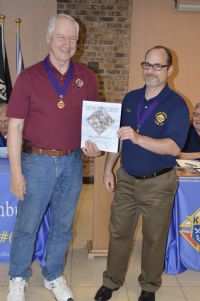 June 2019
Bromley

Loretta & Jerry Bromley. Perhaps you have heard of them. If there is an event or something for the council to do, you will find both of them working tirelessly and many times behind the scenes. Thank you Bromley's.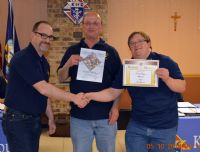 May 2019
Marquis

The family that works together grows in faith together. Don, Sally & Daniel are our family of the month for their tireless work at the pancake breakfast.
March 2019
Blum

Shirley & Leon Blum for their consistent work at church of the Holy Spirit and their help at the knights events
December 2018
Babu

Julie and Jails who ran and revived the Kids Christmas party. Stepped in and made this an event to remember. A great success with their attention to detail and knowing how to make kids get into the spirit.
November 2018
Kutylo

Congratulations and thanks to Charlene and Paul Kutylo. Through the efforts of going out of their way to help a handicap woman at their church get around and function after the loss of her husband we say thank you from all the brother nights
October 2018
Joyce & Jim Manfre

For their work in organizing and pulling off a great Id Drive this year, and for a great administrative location with refreshments and the famous chili, we honor them with family of the month
September 2018
Holly & Dick Lambke

When we need someone to take extra effort to support a brother knight, call the Lambke family. Brother Joe Pruetting needed help getting to the airport for his flight to his new home in California. Thanks to Holly & Dick for taking such good care of him.
August 2018
Helga & Gene Niewiadomski

Find an event that Helga and Gene are at and see if they do not do everything they can to make people feel welcome and happy. Gene also is our 4th degree District Marshall. We are proud to have him in our council.
August 2018
Sertich Family

For the last year, Dave served us for the good of the order. This July, he brought out his family to lead us in the parade. His grandkids carried the banner the entire parade and really showed us that being a knight is more than the man. It is about the entire family involvement. Thank you Dave
July 2018
Joyce & John Vlnka

Joyce & John Vlnka. What else can we say. He takes pictures, gives support and is always there. Joyce on the other side. She is lovely and inspiring. Congratulations on being selected family of the month.
June 2018
Mary Ann & George Noonan

For their co chairing of our blood drives, and for Mary Ann's assistance as our registered. Nurse for the event, congratulations.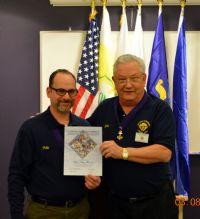 March 2018
Patty & Pete Munnich

Pick an event. Now try and see if the Munnich's are there! Pete as deputy grand knight, and Patty as the outgoing and always helping person. They are so deserving.