KNIGHTS OF THE MONTH
April 2023
Dr. Louis Shallal

Br. Louis has been awarded the Knight of the Month Award for March 2023 by our Grand Knight. He has served as our Council's Lecturer for the last 2 years attending all Executive and General Meetings and providing valued input at both levels. He also has brought to this position a regular presentations of interest while being a strong supporter of supporting our website, facebook and twitter postings.
March 2023
Mark Danelon

Brother Mark Danelon has been named as our Knight of the Month for is chairing our Basketball Free Throw competition which made it's return after a 2 year break due to Covid. We had a very successful event again this year a result of Br. Mark's commitment to the program, an event in which he participated in as a youth growing up in South Windsor. Brother Mark has also served as our Council's Treasurer for the last 3 years.
January 2023
Alexander Berg

Congratulations to Br. Alex Berg for being named Knight of the Month at our January General Meeting. Br. Alex serves our Council as one of our Guards and has had to do 'double duty' often in fact he recently stood in as our Warden who was away.
December 2022
SK Br. Clyde Labonte

For his on going support of our Council's parish and fundraising events Brother Clyde is deserving of this recognition. He has also been helpful in the training of newer members of our kitchen staff as well as assisting other groups operating out of our parish hall. Brother Clyde in addition to this support is a regular Usher on Sundays at the 9 am Mass.
October 2022
SK Br. Marc J. Morneau, PGK

For his continued support and leadership that makes our council stronger Brother Marc is deserving of this award. His wealth of experience has been a resource for advice and direction tha has been appreciated by our last 3 Grand Knights. In between 2 of the PGKs', Brother Marc led our Council through 2 terms as our Grand Knight and is our first PGK to serve as the Faithful Navigator of the 4th Degree Dean Wagner Assembly
September 2022
SK Br. Lawrence E Coleman

Presented to our DGK Larry Coleman. We are in need of experienced support and experienced Officers to serve and assist our Grand Knight, and SK Br. Larry has stepped up in a big way. During the transition period over the summer months his guidance and support to our GK has been respected and appreciated.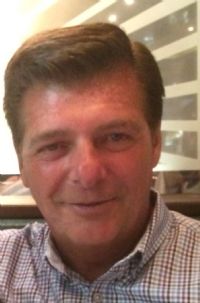 May 2021
Marc Morneau PGK

For his on going support and contribution to our Council it was the Grand Knights pleasure to present the Knight of the Month Award to our Past Grand Knight - Br. Marc Morneau. Br. Marc as been a mentor for the Grand Knight has continued to serve on our Executive as our Lecturer and manages our Website. He helps in many ways to make our Council better!
April 2021
Terry Bachmeirer

Congratulations to Br. Terry Bachmeirer in being awarded with the Knight of the Month for April, 2021. Brother Terry is a Past Grand Knight and although he stepped away from the Executive a few years ago, he none the less remains a very active and engaged member of our Council. He serves as a member of our Retention Committee as well as chipping in when phone calls are necessary. He has continued to act the lead for the OLGH - one of our standing committees. A true example of a proud and loyal Catholic gentleman and true credit to his family, his parish our Council! Congratulations Brother Terry!
March 2021
Daniel Lovell

Congratulations to our Worthy Recorder Dan Lovell on being selected as our Knight of the Month for February, 2021. Brother Dan transferred his membership to our Council two years ago and in very short order became a supporter and active member of our Council. This started by attending our regular meetings, helping at breakfast events, attending and supporting fish fries and St. Patrick's Dinner - Dance. He agreed to join our team of Executive Officers this year as our Recorder, becoming even more involved and showing his commitment to our Council, our Order and our Parish.
February 2021
Luis Rincon

The Knight of the Month Award has been presented to Brother Luis Rincon. Brother Luis has to deal with on going health challenges and despite this, he was a key member of our team of Knights who assisted with 5 Confirmation Masses while dealing with restrictions due to COVID 19 regulations. Beyond supporting this event which covered a month long commitment, he offered his help at our first ever bottle drive and has assisted in our recruiting efforts. Brother Luis has been humbled by this presentation as always, but he is a true example of a Knight of 'gives what he can' to serve our Council and our Parish. We know that everyone joins our Grand Knight in congratulating Brother Luis for this well deserved recognition.
December 2020
SK Brother Chris Kowalsky PGK

Brother Chris chaired our first ever bottle drive in November 2020 and the results exceeded all expectations. Beyond the funds raised, the involvement and support secured from our membership was a reflection or his organizational and leadership skills. Brother Chris is a Past Grand Knight of our Council and is also presently serving as a Trustee. His continued support of council and parish makes a valuable asset to our fraternity.
February 2020
SK Brother Anthony Osula

It is my pleasure to present our Knight of the Month Award to our Worthy Financial Secretary, Brother Anthony Osula. Brother Anthony is quiet by nature but is a very humble, decent, a true Catholic gentlemen in so many areas. He supports our parish as an Usher, acts as a driver for one of our elderly members who cannot drive, and frequently visits members who have been in distress. He most recently has become our master pancake maker at our breakfast events. It is with pleasure that I present the Knight of the Month to Brother Anthony Osula.
December 2019
Marc Vallee

I am pleased to present our Knight of the Month Award to our Lecturer, Brother Marc Vallee. Beyond his duties as our Lecturer, Brother Marc has steadily increased his active participation in our Council since transferring to Council in 2015. He continues to manage the Ontario State Lottery, is a regular supporter of the Youth Dances and is a steady resource of help at selling tickets for our Fish Fry events. This recognition is overdue, Brother Marc since his arrival here has jumped in and become one of our Councils more involved and active members and is truly a valued asset to our Parish and our Council.
October 2019
Silvio Carlini

I am pleased to present the Knight of the month award for October to Brother Silvio Carlini. Brother Silvio has been a Knight since October of 1989. At some point he re-activated his membership and joined our Council and has served in the past as one of our Guards as well as one term as our Chancellor. He has continued to be active he works at every breakfast, fish fry and is a resource to me as a back up to fill in when an Officer is unable to attend a function. Beyond all of this, Brother Silvio is our official photographer as he provides pictures following our events which are posted on our website, Facebook, Instgram and Twitter applications. Congratulations Brother Silvio!
May 2019
SK Brother Garry Hawco

Sir Knight Brother Garry Hawco for his leadership and management of our Fish Fry program this year. We held 3 events this year capped off by Good Friday. This program is a major contributor to our Councils bottom line and this allows us to support our parish building fund as well as our many charities. Brother Garry quietly goes about his business and through his leadership we continue to get the help we need as well as the support we secure from our parish. We served approx. 500 dinners this year – no small feat and for his commitment and support I am pleased to present this award of recognition to Brother Garry.
March 2019
SK Chris and SK Mark Kowalsky

For their continue work and contribution to our Council and our Parish, I am pleased to present the Knight of the Month for March to the Kowalsky Brothers – Chris and Mark. For taking on the role of co-chairs for our second annual St. Patrick's Dinner Dance as well as their continued support as members of our Council and important roles on our Executive. Br. Chris is one of our Trustees and has served as our Grand Knight, and Br. Mark has served as our Council's Advocate for the last 2 years, continues to support our Youth Group's monthly dances and provides energy and enthusiasm to any project we take on.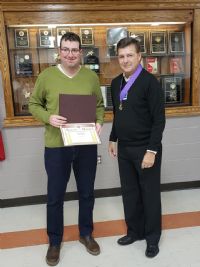 February 2019
Br Mark Dandelon

Brother Mark Dandelon for his work in chairing our Council's Basketball Free Throw and helping at the Regional Championships. We had 31 children from both parish schools participate this year – the largest turnout in recent memory for this event which we didn't even run last year due to a lack of support and interest. A very nice turnaround this year under the leadership of Brother Mark!
December 2018
Brother Ron Meloche

For his continued contribution and support Ron Meloche has been presented the Knight of the Month Award for December, 2018. At events such as our Parish BBQ, Fish Fries, and following every General Meeting, Brother Ron has made every effort when called upon to work in the kitchen for us. Remarkable commitment, and support for our Council and love for our Parish. A well deserved award for a real great Knight!
November 2018
Terry Bachmeier

I would like to recognize our PGK Terry as the Knight of the month award for a couple of very good reasons. As most of you know I am away from the city for most of the months of June through October. While most of this time is 'down time' for our Council, Terry stayed the course to ensure a smooth transition of responsibilities took place between the two of us. Beyond this, I cannot say enough about the diligence, commitment capped by many phone calls and emails to the Ontario State and Supreme Offices to overturn their original position to not award us Star Council for the last Fraternal Year. This is a Council Award that less than 20% of Councils receive, and I know Br. Terry felt strongly on behalf of all of us to ensure that the powers to be had a good, second look. With the help of our own PDD Mario, and with the support and intervention of our current DD Alan Sims, we received confirmation that Supreme overturned their decision and that we are a Star Council. I saw the many emails, letters and constant follow up Terry put into this, and this is a testament of his deep conviction towards our Council, and the well being of our members. It is with pleasure that I present our PGK Terry with the Knight of the Month Award for November.
October 2018
Brother Murray Harris

Knight of the Month Award – October 2018 Presented to Brother Murray Harris In the last year, Brother Murray has assumed the role of our lead in supporting our Parish Youth Dances which are held here the first Friday of the month from September through June. Brother Murray has also assumed the responsibility of managing our parish breakfast this year. This provided some relief for our Treasurer Br. Jonathan, and Brother Murray's organizational skills and 'hands on' approach to getting the job done is already evident after only 1 breakfast. Brother Murray also played an active role in supporting our Parish Family Day in early September by attending all pre planning meetings and was the lead in the purchasing of the food which fed approx. 400 members of our Parish. For his continued support of our Parish, and our Council I am very pleased to present Brother Murray with the Knight of the Month Award for October, 2018! Marc J. Morneau, Grand Knight
September 2018
Thomas and Robert Brownlie

Our Knight of the Month for the month of September goes to the team of Tom and Robert Brownlie. They co-chaired this year's Parish Picnic and Family day event which drew close to 400 people from our parish community. This effort stated in June and required a lot of organizing and pulling some 40 workers together to make the event a success. While in the middle of this effort, Brother Robert took the time to get married - so congratulations again to the Father - Son Team of Tom and Robert.
May 2018
David Blain

The Knight of the month award goes to Brother David Blain. Brother Dave acts as our Council's Membership Chair, and is the lead contact on our retention Committee. We have achieved 175% of our membership quota as assigned by Supreme under Br. Dave's watch and this alone is worthy of recognition. Brother Dave also has become a member of the St. Joseph's Partners and helping our at GH home by cutting the grass and doing yard work this summer. Congratulations Brother Dave for a well deserved reward!
March 2018
SK Br Mark Kowalsky

Our Knight of The Month, this month it is Sr Knight and our Advocate, Mark Kowalsky. Brother Mark has been a stanch supporter of our council and it's activates. He is usually one of the first to offer to help when and were ever it is needed. He has been consistent with the clean up after our youth dances usually bringing his two children with him. Mark takes his roll as a husband, father, parishioner very seriously and is a true model of a Christian man who lives his faith right on his shirt sleeve for all to see. Mark is our council's Advocate and has been diligent to learn his responsibilities and quick to act on them. He is the co-chair of our first St. Patrick's Day Dinner Dance on March 17th. As a successful business man in our community and owner of Beaver Ice, Mark puts God first and leads his employees in morning prayer before starting their day. And his company makes Damn good coffee.
November 2017
Dennis Sylvester

For his tireless efforts in support of our Council, and our Parish Brother Dennis has been awarded 'Knight of the Month' in November, 2017. Grand Knight Terry is shown presenting Brother Dennis with his Certificate of Appreciation.
October 2017
Keith Brown

Our Knight of the month award recognizes a brother Knights considered to exemplify the values taught by our Church and our Order and who have made a particular contribution to their parish, community or council. We recognize here the Knight of the month in the current year, chosen by the Grand Knight. Although new to our Council, this Award is widely presented by Councils and Brother Keith is certainly deserving of this award.
FAMILIES OF THE MONTH
April 2023
The Brother Tom Brownlie Family

For their continued support of our Council and Parish Family events the Brownlie Family led by Brother Tom and his wife Linda have been recognized. Tom has been a Trustee of our Council for the last 4 years and is also a former Financial Secretary. His family is a force within OLMC parish as they support a number of ministries, and their grand daughter is also an Altar Server. Their son Robert is also a Third Degree Knight rounding out a true commitment by Brother Tom and his family to our Order and our Parish
March 2023
Mark Kowalsky Family

Brothers Mark and Kyle Kowalsky have been awarded as members of their family as the family of the month for March this year. Beyond the family taking lead roles in our St. Patrick's Day event, the entire family is active within the parish as well holding several support roles at the 11 AM Sunday morning Masses. Brother Mark supports our Parish as a member of the Finance Committee and has served as our Advocate for several years. Missing from the photo is Bianca, the daughter of Br. Mark and sister to Br. Kyle.
January 2023
Br. Lorne Clark and Christine

For their on going support and in particular for chairing this year's Children's Christmas Party this long serving couple of our Council and Parish is duly recognized.
December 2022
SK Br Murray and Lady Kitty Harris

Br. Murray is active is many ways in service to our Council. He co-chairs both the Breakfast and Fish Fry Committee and serves as our Council Chancellor. He steps in and assist with other Parish events where his contact with local food service suppliers is a big help. His spouse Kitty is equally busy as an active member of the OLMC Ladies Mission group in support of the fine work they do in helping the poor.
September 2022
SK Phil and Lady Barbara Campbell

For their continued support as our Pro Life Couple, a valued position that supports a key cornerstone of our faith - that is the protection of life.
December 2020
Brother Marc Vallee and Family

For their continued support of Council and Parish our Deputy Grand Knight Brother Marc Vallee and his wife Katherine have been recognized. They both are very active within our parish family, Kathy has assisted in many ways helping with the baking of needed to support our breakfast and fraternal events, helping with the Mission group. As a couple they have been cleaning and sanitizing the church following the 5 pm Masses for several months. They also recently started serving as Sacristan Ministers.
February 2020
Brother Mark Danelon and Family

I am now very pleased to present our Family of the Month Award to the Family of Brother Mark Danelon. Brother Mark for the last 2 years has chaired our Basketball Free Throw event. By working with our 2 Parish Schools and through their Principals we have had over 60 participants the last 2 years. Brother Mark has involved his entire family in the running of this event including his wife, his parents and his children. One of all Council's objectives today is to focus on Family involvement, and any youth programs we can support. We see this now with the recent change on our Degrees can be run – in front of proud family members! Beyond the active family role in our Program, Tanya is assisting our Parish Youth Co-coordinator at our Parish level in working with children in preparation for First Communion. I am very pleased to present the February – March 2020 Family of the Month Award to Brother Mark Danelon and the entire Danelon Family and I know everyone will join me in congratulating them!
December 2019
The Campbell Family

I am very pleased to recognize Brother Phil Campbell and his wife Barbara with the Family of the Month Award for December. This team has been our Pro Life Couple for the last 2 years, taking on the role when the late Brother Denis Sylvester and his wife Lillian were forced to step down. With vigour and enthusiasm they represent our Council very well at this level, and Brother Phil provides our Council with regular updates and information as it relates to this cause. They are active within our parish as well, Barb a member of the Ladies Aux is a regular at the Youth Dances as well. Congratulations are in order to the team of Phil and Barbara Campbell!
October 2019
The Brownlie Family

The family of the month for September 2019 is presented to Brother Tom Brownlie and his wife Linda. Brother Tom agreed to chair the Annual Parish Family Day BBQ and Picnic for the second year in a row. While this is a parish event, our Council none the less is responsible to the running, organizing and extensive planning of this annual activity. During the summer months when most other Council activities are quiet, Brother Tom quietly went about chairing organizational meetings and engaging the necessary help to ensure a successful day. Linda in no stranger to helping out as under her leadership as the President of the Spirit of Mt. Carmel Ladies Aux., a full team effort was in play leading up to and including the busy day where about 500 members of our parish family had a great day. It is a deep appreciation on behalf of our Council that I present the Family of the Month Award to the Brother Tom Brownlie and his wife Linda and their son, Brother Robert who of course is always present to give a helping hand.
June 2019
The Brown Family

I am pleased to present the Family of the Month Award for the months of April and May to Brother Keith Brown and his wife, Denise. The Brown family is no stranger to volunteerism and this presentation is being made not for a specific program or project, it really exemplifies and recognizes the on-going support our Council and Parish receives from them as a team! Brother Keith and Denise work hand and hand at every breakfast, fish fry – that's a lot of hours at each of the 8 events we hold between September and April. Brother Keith works with our Chairman (Br. Murray Harris) to ensure the support staff is in place and also tends to a number of supplemental duties such as cleaning the oven, fryer etc., following each event. This allows our Chairman to focus on food purchases, ticket sales etc, a significant relief and help. Denise is always there in apron and hairnet, working in the kitchen, doing dishes, cleaning up or serving. They have been both doing this for years now, Brother Keith joined the Knights 12 years ago, it's remarkable that at age 87 he can keep up this pace! Beyond this support, they are also active within the St. Vincent de Paul Society, and Brother Keith continues to volunteer on a weekly basis at St. Clair College where he once taught and is a regular at OLGH. I know everyone will join me in congratulating Brother Keith and Denise Brown in receiving this well-deserved Award.
January 2019
Lorne and Christine Clark

I am pleased to present our Family of the Month Award to Lorne and Christine Clark. Volunteerism is something certainly nothing new to the Clark family. In October we had nobody to chair our Children's Christmas Party and Lorne when asked, agreed to do so. With the help of Christine the word got out and we had a record number of children, parents and grand parents attend this year – over 200 which almost tripled our event from last year. There was a lot of organizing, countless phone calls, emails to be answered not to mention the extended and countless trips to the a number of stores to do the shopping needed to run this event. There is no better place to put our time than with the children and young families of our parish community. Lorne and Christine, for your valued and appreciated service to our Council and Parish Family, I am very pleased to present to you this small token of appreciation.