KNIGHTS OF THE MONTH
September 2021
Joe Respecio

For his service as the Council Membership Director
August 2021
John Flinn

Selected for his excellent documentation & reporting on Council activities that he participated in.
July 2021
Tom Risso


February 2016
Luis Class


January 2016
PFN, PGK, SK Michael Cousino


FAMILIES OF THE MONTH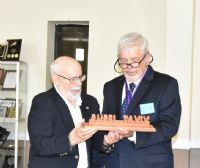 September 2021
The Ron Snyder Family

the Family of the Month is SK Ron Snyder and his wife Ann for their efforts in several council activities and for coordinating the September social.
August 2021
Frank Strunk Family

Selected for their heavy involvement in many Council activities including charity programs, fundraising & socials.
July 2021
John McCauley Family

John & Lynn McCauley- As outgoing Grand Knight & spouse John & Lynn were most helpful in mentoring the incoming Grand Knight & his spouse. They were very enthusiastic & encouraging & continue to provide that support
February 2016
SK John and Cheryl Mallon


January 2016
SK Steve & Bridget Ekhaml