KNIGHTS OF THE MONTH
October 2023
Dan Ostermeyer

First - Dan is a new addition as Director of our Life Programs, and in his first 60 days he helped coordinate a Blood Drive and Holy Families participation in the Right to Life March. Dan is also our hot beverage manager at the Cafe. Thanks to Dan for Stepping Up, and Stepping Quickly into his new duties!
September 2023
Deano Dalaly

For his work coordinating money and other logistics for the Intellectual Disabilities Drive. This required lots of hours over two weekends for a guy who is very busy already! The council thanks Deano for his outstanding effort!
August 2023
Glenn Yamamoto

For his great work on the Vocations Drive and Adoration Schedule.
July 2023
Steve Scheifers

For Steve's work on the Marian Ministry, promoting devotions and adoration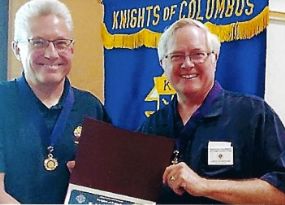 June 2023
Rick McMahon

For Rick's work on the council website.