Welcome to our Award Winning Sts. Brigid & James Knights of Columbus Council 16179. Check out our Website for our most recent activity, including Announcements, Photo Gallery, Video Gallery, Twitter Page, Links of Interest and more. Interested in becoming a Knight? See info towards the bottom of the Home Page! Vivat Jesus!!
Rest in Peace Fr. Joe Voor!! 11/6/22
Sanctity of Life Mass at St. Gabriel! January 14, 2023!!
Sam DunLany, Kathy DunLany, Patsy Bourke, Ted Kremer representing the parishes and our Council for the Rose Presentation!!
November 2022 St. Vincent Open Hand Kitchen - Council in Action!
Our Council is on Twitter. Check us out @KC16179 for daily / spiritual quotes and more. We are Tweeting "All Things Catholic". Come and be a FOLLOWER of our Council!!
"Tweet others as you would like to be Tweeted"
Our Council Twitter Profile!!
2021 - 2022 Star Council Award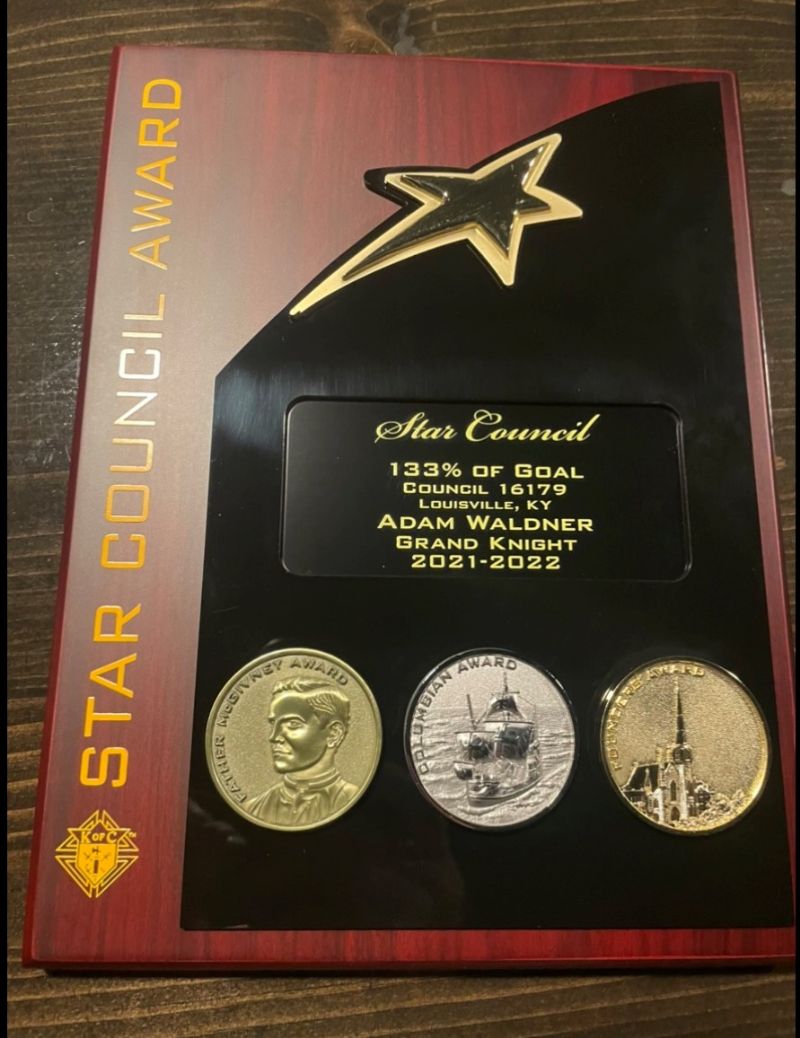 2021 - 2022 Polaris Award
2021 - 2022 Star Council Award Group Photo
2022 Officer Installation!
Congratulations to our newly elected Council Officers and those who will remain in their current position for 2022-2023. This is effective July 1st.
Chaplain – Fr. Gary Padgett
Grand Knight – Zak McKinley (newly elected)
Financial Secretary – Ted Kremer (2nd of 3 year term)
Deputy Grand Knight – Stephen McGuire (newly elected)
Chancellor – Bruce Gambrell (newly elected)
Recorder – Terry McDonald
Treasurer – Kevin Brian
Advocate – Phil Rich
Warden – Andrew Chowning
Inside Guard – Joe Weis
Outside Guard – David Martin
One Year Trustee – Kenny Howe
Two Year Trustee – Tony Marconi
Three Year Trustee – Gregg Fowler
Congratulations to David Martin who completed his 4th Degree in February!!
......David is also one of our Council Officers serving as our Outside Guard
Check out our new St. James School Website at www.stjamesbluejays.com/school
.Thanks to these Brother Knights leading our Monthly Rosary Recitations!
.
Our Council Officer Installation, July 31st, 2021 w/ District Deputy Joe Carter!
Star Council!!
.
.
August 12, 2020 - Congratulations to ALL Brother Knights for receiving the 2019-2020 Star Council Award. This is the top honor for local Councils. Congratulations to Adam Waldner, Our Grand Knight, for leading the charge. Below is the letter we received notifying our Council of this distinguished award. (Click on News and Announcements to see the news release)
Worthy Brother Waldner,
Congratulations!
Council 16179 has earned the 2019-2020 Star Council Award, recognizing excellence in program activity, membership growth (200.00%% of quota), insurance promotion, fraternal reporting and Safe Environment compliance.
During this challenging year, your council adapted and continued to stand in the breach; serving your brothers, families, parishes and communities. The Supreme Council is pleased to recognize these achievements and acknowledge the hard work of you and your brother knights.
Your council's award plaque will be shipped to your District Deputy for presentation. Due to the COVID-19 pandemic, production and delivery of awards is currently estimated at 10-12 weeks. Additionally, to help celebrate this accomplishment and promote your council, attached please find a bulletin announcement and press release for your use. These are great tools that will highlight your good works in the community.
There is still much to be done and we need your council to lead the way. Keep the momentum going and start planning now for another successful fraternal year! The new 2020-2021 Star Council requirements, which can be found at KofC.Org/Star, will help guide your council to excellence in the year to come.
Thank you and Vivat Jesus!
Fraternally,
Daniel Isabel
Manager, Fraternal Operations
Knights of Columbus
1 Columbus Plaza
New Haven, Connecticut 06510
Experience the Fruits of the Rosary!
Join us live or in-person on the 2nd Sunday of the Month at St. Brigid 9:45am
& the last Sunday of the Month at St. James 8:00am
Our 2nd sunday and last sunday rosary schedule!!

Check out our Parish Website sbsjlou.org!
Click on Links of Interest at left and you can go directly there!
.
Check out our Video Gallery to see the welcome message from our Pastor Father Gary Padgett!
.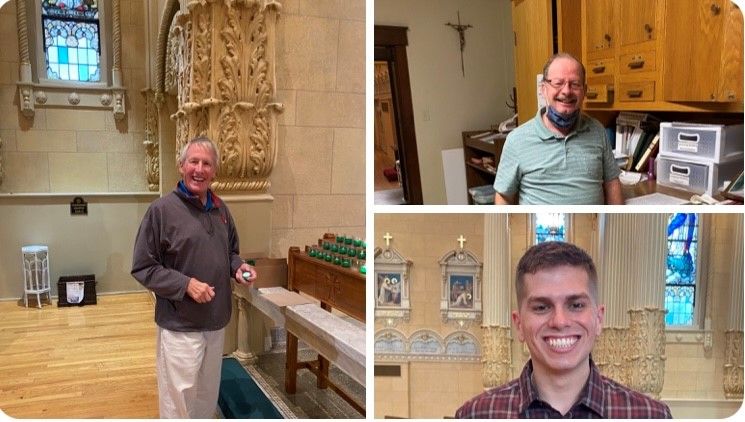 Thanks to Bill Northcutt, David Martin and Zak McKinley for handling the Sunday 8:30am duties at St. James each and every Sunday. They greet, usher, and anything else that needs to be done. Thank you Brother Knights!
Men of Our Parishes and Visitors to this site — Have you Considered Being a Knight?

Our Knights of Columbus Council #16179 serves the Catholic Community of the Saints Brigid and James parishes located in the Original Highlands community in Louisville. Charity has always been the first principle of the Knights of Columbus. We are Catholic men of faith and men of charitable action. Talk to a Knight about joining today or see contact info below.
If interested in joining our Council contact Zach McKinley at zm0429@bellsouth.net or 502-338-4722
Check out the Video Gallery Link to the left to see the updated video of our beautiful St. Brigid Church using a drone and high definition cameras.
St. Brigid & St. James Parish on YouTube!
St. James is Live streaming Mass each morning Monday thru Friday for the 8:30am Mass and all Sunday Masses at 8:30am, 11am and 7pm. St. Brigid is livestreaming as well for the daily Noon Mass at 12pm, Saturday Evening Mass at 5pm and the 8am and 10:15am Masses on Sunday. If you miss the Live streaming you can catch the replay on the website, YouTube or Daily Mass buttons located on the Parish App. Click Links of Interest on the left side of the home page and it will take you directly there.
Click the icons at the top of the page for direct access to the Twitter and Facebook Pages
Don't forget to download the parish app for all things St. Brigid and St. James. This includes daily announcements, direct access to our Website, rosary with Archbishop Kurtz, Our YouTube channel, weekly homilies from Fr. Gary, music from our choir, live streaming of daily Mass and much, much more!