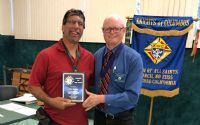 2019 - 2020

Mark Zankich

Brother Mark Zankich was awarded Knight of the Year for the 2019-2020 Columbian year for his chairmanship of the pancake breakfast and his help in many events


---
2017 - 2018

SK Mike Olson

SK Mike Olson has been an outstanding member of our council and very active serving our Council, and Parish activities. He has led two very successful PID drives, served as our Chancellor, and was instrumental in supporting our future priest in their journey to priesthood. He is always willing to volunteer to his time to make sure our programs are successful. He just finished serving as our DGK, and now was elected Grand Knight of our Council. His passion for our faith serving those in needs has been an excellent example of being a Knights of Columbus Brother.
---
2016 - 2017

Arnie Knipp

Brother Arnie served as our Worthy Financial Secretary, for two years and at the same time took on the Wheelchair Program Chairman position. He raised over $14,000.00 for those in need of a wheelchair. He volunteered at many of our events and always offered to help more. Did I mention he also sings in the Choir too.
---
2015 - 2016

Joaquin Mederios

Congratulations DGK Joaquin Medeiros

Joauin has been an extremely active Knight, He is a Knight who literally is at every event. He will start early in the morning and stay late at night. If he is not volunteering at one of our events, you can find him participating at his son's school events, or helping a family from our parish with just about any request they may have. Congratulations DGK Joaquin.
---
2014 - 2015

Dario Sanchez

Brother Dario Has been a dedicated Knight to our Council, Parish and School.
His outgoing personality and willingness to serve our Catholic faith is a great example of our order.

He has served as our Youth Director, for the substance Abuse awareness, and poster essay contest along with many hours of volunteering for our many events.



Served as Ambassador for Catholic Charities of the East bay.
Participated in many fundraisers, and with his family served as greeters and ushers at our Parish.

Congratulations Brother Dario!