2022 - 2023

Del Durham

Del has been outstanding in his participation with several programs this past year.
He was the chairperson for the 40 cans for lent, he was the Fish Fry breader at every fish fry,
he helped at numerous kettle corn sessions and helped whenever asked.

Great job Del and congratulations for being named "Knight of the Year".
---
2021 - 2022

Ron Krentz

Ron has been instrumental in coordinating our Kettle Corn program. He has assisted our Grand Knight in whatever he has been asked to do for the councils various activities.

As our Newsletter chairperson for many years, he makes sure that the newsletter is done and distributed monthly for our members to view.

Thanks for all you have done for council 12022.
---
2020 - 2021

Carl Williams

Carl was instrumental in transitioning into the Program Director position. He also helped with many activities throughout the year and especially assembling the picnic tables at the pavilion.

Thanks go out to Carl for all you do to make Council 12022 a success
---
2019 - 2020

John Butler

Thanks for all the assistance you have given to our Grand Knight in his transition phase. All your efforts are very much appreciated.
---
2018 - 2019

Jim Ringland

Congratulations to Jim for all his work in growing our Council Membership during 2018.

Great job Jim
---
2017 - 2018

John Butler

Thanks John for all your assistance during the transition phase during the past year. John has assisted or been in charge of many of the council events during the past year.

Thanks John!!!
---
2016 - 2017

Bob Maryas

Bob has been active in many of our programs. He spearheaded the parish fish fry, coordinates the Adoration times for our council, is always available whenever help is needed, worked the Golf Tournament, and many many more.

Thanks Bob for a being such a great example.
---
2015 - 2016

Michael Mueller

Congratulations Mike.
---
2014 - 2015

Earl Albers

Earl always demonstrates a willingness to volunteer his help whenever needed. Earl's pleasing personality and smile is ever present when he is approached and asked for assistance in council activities. When an event needs help and the council asks itself "who could we ask", Earl's name comes up consistently.

Earl is a great role model for all council members to aspire to.

Congratulations Earl.
---
2013 - 2014

Michael Annunziata


---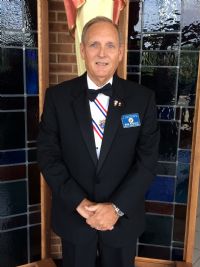 2012 - 2013

Ron Krentz

Congratulations Ron