August 2022

Zach Bevins


---
August 2022

Dan Koskovich


---
July 2022

Joe Booth

PGK Joe Booth was recognized for his efforts in guiding Council 2117 during the COVID-19 pandemic. Juggling new technologies to meet remotely and ensure the safety of all members, he was still able to keep the Council active and productive through a period of unprecedented chaos and uncertainty.

Under his leadership Council 2117 relaunched the charitable BBQ and continued to reach out and support numerous community efforts during the various lock-down stages of the pandemic.

Joe and his wife Terry have always been dependable volunteers when it comes to supporting various Council activities.

Congratulations, Joe for being Knight of the Month nearly every month for the past two years!

---
May 2022

Mark Ryan

Mark Ryan was recognized for his regular attendance at Council meetings and dependable assistance with the monthly Man-the-Can efforts at St Peter Church.
---
March 2022

Keith Beardslee

Keith was recognized for his dependable involvement in nearly every activity the Council undertakes.

Keith created the role of Communications Director for the Council and has been instrumental in developing a strong connection with our served parishes, coordinating parish bulletin insertions, announcements from the altar and our presence in parish emails and vestibule video displays.

In addition, Keith regularly taps his incredible network of family and friends, making his fundraising efforts the largest part of the success of the charitable BBQ and nativity set seminary fundraiser.

Keith now serves as Deputy Grand Knight of the Council and will assume the position of Grand Knight at the start of the Columbian year on July 1. He is a Knight of the Month many times over and we are pleased to recognize him this month!
---
February 2022

Zach Bevins

Zach Bevins (right) is recognized for his dependable leadership of every cooking activity (BBQs, Men Night of Reflection, Pancake Breakfasts, etc, etc) and his gracious gift of space in his warehouse to safely assemble and store the 250 nativity sets for this season's seminary fundraiser activity.
---
January 2022

John Modder

Council Advocate John Modder is recognized for being such a dependable member in support of our many activities! During this last year, with all the pandemic restrictions, John could be counted on to jump in and help…tapping beer at Greentree, running the cashier table at St Peter Fest, assembling Nativity sets…you name it and John was there.


---
December 2021

Tom Foy

Tom Foy (left) was recognized for his readiness to answer any call to service, especially during this past year. Tom, a Past Grand Knight, still stepped up to take on the duties of Council Treasurer when the position recently needed filling. His cheerful enthusiasm and commitment to Council 2117 makes him an undeniable Knight of the Month!

---
November 2021

Tim Leitner

Tim was recognized as a recent new member of the Council who quickly become active in several activities and enthusiastically volunteered to assume the important role of Recorder when the position recently opened up. Tim quickly mastered the Council Minute Book processes and has become an integral member of the Council Officer team.

---
October 2021

Ben Krueger

Ben was recognized as a recent new member of the Council that, in his short time with us, has become active in several activities including helping with the Drive Thru BBQ event and the after-Mass reception for St Peter's new pastor Fr O'Toole. Ben is a great example of a new Brother Knight getting quickly involved whenever his busy schedule with his young family duties allows.

---
September 2021

Kevin Miller

Kevin is a recently joined Council 2117. After several years of helping with the St Peter Fish Fry dinner team, Kevin shared his culinary skills at the KofC Drive Thru BBQ fundraiser and he is being recognized for his efforts procuring, preparing and serving the very popular side dishes that accompanied the BBQ main courses.

---
August 2021

David Anderson

Past Grand Knight David Anderson was recognized for his prolific efforts as the lead Knight at St Gerard Majella for the Nativity Set and Drive Thru BBQ parish sales efforts.

Even with the many restrictions presented by the ongoing COVID pandemic, David can be counted on to be the face of the Council at St Gerard Majella parish.
---
July 2021

David Renard

GK Joe Booth presented the Knight of the Month award to Brother David Renard (right) in recognition for Dave's excellent work as Financial Secretary for many years and most especially during the difficult COVID pandemic.

His enthusiastic involvement in nearly every activity of the Council is most appreciated. Congrats to David Renard!

---
June 2021

Dan Koskovich

In recognition of his ongoing efforts to improve the Council website and newsletter, database management and the success of the Council 2117 Scholarship Program.

Dan started the Scholarship Program two years ago and the 2021 program was the largest yet: 31 applicants competed for ten $1,000 scholarships which were awarded to the winning graduating 8th graders at St Peter and St Gerard Majella Schools.
---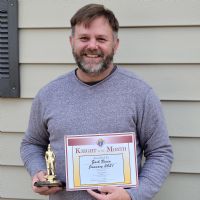 December 2020

Zach Bevins

In recognition for his efforts in arranging all cooking details for the 1st Annual KofC Council 2117 BBQ. Zach arranged the menu, procured the food and organized and led the food preparation, recruited the cooks (Knights, St Peter Fish Fry team and entire Bevins family!) and led the meat grilling efforts that resulted in a delicious BBQ meal enjoyed by all and a very successful fundraiser.
---
November 2020

Keith Beardslee

In recognition for spearheading the communications and solicitation efforts for the 1st Annual KofC Council 2117 BBQ and for his excellent work increasing awareness of the Knights of Columbus through prominent website, Facebook, and parish Sunday Bulletin placements.
---
September 2020

David McCoy

In recognition of his efforts chairing Sts Teresa & Bridget Food Pantry fundraising and for establishing critical online collection program during the cancellation of Masses during the pandemic restrictions.
---
February 2020

Tom Foy

In recognition for the many months of effort coordinating and planning the 100th Anniversary Mass and Celebration for Council 2117.
---
November 2019

David Renard

In recognition for organizing the annual Tootsie Roll campaign and Green Tree Festival member participation recruiting and scheduling in addition to his faithful service throughout the year as Council Financial Secretary.
---
August 2019

Joe Booth

In recognition of leading Council 2117 efforts in support of Birthright.
---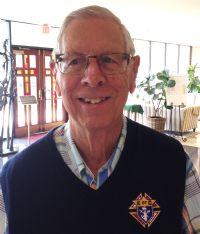 July 2019

Jerry Meier

In recognition of his dedicated efforts in chairing the Man-The-Can program at St Peter Church to benefit the food pantry at Saints Teresa and Bridget parish.
---
May 2019

Ray Buehler

In recognition of the work being done to audit and update the member database information and for stepping up to co-chair the Man-The-Can efforts at St Peter Church in support of Saints Teresa and Bridget food pantry.
---
April 2019

Dan Koskovich

In recognition for work creating and launching Council 2117 website and for designing and producing the inaugural Council 2117 High School Scholarship Program.