April 2023

St Patricks Committee

What is a family? It is the question that I was asking myself to give out this award the month. It may be a cheat, or a work around, but I do know at the end of the day a family is what you make it and in this council we are all brothers.
This band of brothers came together when an activity our council does looked like it may not even happen this year. I for one am very happy that they did. After many months of planning, organizing, calculating, requesting and even pleading they pulled it off. Not only doing so, but making it one of the most successful St. Patrick Day parties that this council has ever had.
Please join me in thanking them all. The "Family" of the month award goes to St.Patrick's day planning committee. Thank you very much gentlemen!
---
October 2022

The Manfre Family


As far as awarding Family of The Month this should come at no surprise. It seems year after year and fundraiser after fundraiser this family has become as regular and consistent as one of the four seasons. Some people like to think that traditionally the end of summer is Labor Day weekend. I beg to differ and say it is a little more towards the middle of September.
Not only do they put in a tireless effort all year to maintain places to raise funds physically, but increased our efforts tenfold by now having the fundraiser virtually as well. Then even as the event gets closer this family not only clears out their garage to help in the effort, but opens up the doors of their house. Maps and locations hang on walls that should have pictures of family or portraits to decorate the house. The kitchen table is open to knights who become accountants and bankers and seem to stay there for 48 hours straight. The table is not only the only thing, however. The rest of the kitchen is open as well as beverages and award winning chili is served by the gallon.
They will always tell us that it is not just them but all the efforts of the council. However with their sacrifice it fullfills all duties of a knight. Charity, Fraternity and Unity. I award the family of the month award to the family of Joyce and Jim Manfre.


---
June 2022

The Malinski Family

Family of the Month – June 2022 – ROGER & ZEE MALINSKI
Roger and Zee Malinski are the "Can do" couple! They are both heavily involved with the church and community, striving hard each day to make both better places. At St. Hubert Church, Roger and Zee are Parish Pastoral Council members, Mass Coordinators, Eucharistic Ministers, and Stewards. They are also part of Marriage Ministry and the Welcome Home Committee, which has hosted several events. In the community, they have both been heavily involved with Boy Scout for years, making leaders of the young men they mentor. Just last month they ran the Scouts/Postal Service food drive, plus led the collection of household items at church. Our parish and community are both better places due to the Malinskis!

Thank you and congratulations to the Malinski Family!
---
May 2022

The Bratt Family

Family of the Month – May 2022 – BARBARA & NICK BRATT
Barbara and Nick are two if the nicest and caring people you will ever meet! They are regulars at Sunday Mass, and all the holy day Masses, assisting wherever needed and many times being asked at the last minute to help. They both are the models of selflessness and Christian love, caring for and raising their special-needs granddaughter, plus helping out their own adult children wherever needed. Nick is a leader in our Council and volunteers on a regular basis to participate where needed. Nick continues to fill the roles of Parish Coordinator and Life Director, working hard this year to make the Bridges for Life and Ultrasound donation a reality.

Thank you and congratulations to Barbara & Nick
---
April 2022

The St Patrick Party Committee


The Committee, led by Co-chairs Pete Munnich and Craig Smith, along with members Bill Clark, John Vlnka, Pete Stresino, Bill Gulik, Brian Parziale and Walter Watts pulled off the comeback of the year! The St. Pat's Party was cancelled in 2020 and 2021 due to COVID. This Committee started planning in December, with hopes of squeezing it in this year. Of course, COVID got in the way once again causing further shutdowns in the middle of planning. But this group was not deterred, and instead carried forward with resolve to make the party a reality. They were more successful than any of us imagined, with close to 200 attendees and a profit of $3,000, which will be used to help many more people in need!

Thank you and congratulations to the Committee!
---
March 2022

Bertagna family

Greg and his wife Luisa have participated in many Council events this past year, including the Pro-Life March, Chili cook-off, FMSC, ID Drive and the upcoming St. Pat's Party, to name a few. Greg and Luisa have been faithful members of St. Hubert Parish since the early 2000's and are involved in various St. Hubert Parish ministries, including the Parish Pastoral Council, serving as lectors, ministers of care and mass coordinators. They recently volunteered to run two evenings of the Stations of the Cross and took the initiative to get the Knights involved as the sponsoring ministry for tomorrow night.

Thank you and congratulations Greg and Luisa!
---
February 2022

Hoppesch Family

Family of the Month – FEBRUARY 2022 – DEAN HOPPESCH FAMILY
Dean and his wife Paulette are heavily involved in various St. Hubert Parish ministries. Dean volunteers on a regular basis with the Knights, including the Welcome Home, Adopt-a-Highway and Helping Hands projects. He also recently stepped in as the Interim Bookkeeper at St. Hubert, spending time weekly to assist the Business Office. Paulette sings at multiple masses each weekend as a member of the choir, plus serves on the Respect Life ministry. Both participated in the Chicago March for Life in January with other members of our Council. They also provide rides to church on the weekend for parishioners who need transportation.

Thank you and congratulations Dean and Paulette!
---
January 2022

The Watts family

Walter and his wife Laura once again completely organized the Kids Christmas Drive-thru event for our Council this year. They bought, wrapped and distributed the gifts to the children bringing smiles to many little faces! Walter also has the very important role of Recorder for our Council. He attends each meeting and carefully documents our meetings via the minutes for those members who cannot attend. He is a member of the Exemplification Team, helped with the Pizza with the Pastor and Processional Cross blessing Mass, plus has signed up for multiple recruitment Masses this weekend. Walter and family are always there when needed!

Thank you and congratulations Walter and Family!
---
December 2021

Deacon Larry Smith and his Parish Family

Deacon Larry is a tireless worker for our Council and St. Hubert Parish. Besides his role as Assistant Chaplain of our Council, which takes a lot of time, he also handles the monthly food drives held at St. Hubert. He pulls teams of parishioners together to fill the necessary roles to make the events successful. Of course, Larry is right there in the middle of the action working hard to make sure everything goes as expected, despite his recent health issues. The recent Thanksgiving Food Drive was a huge successful, feeding many hungry people of St. Al's and those in our community. Thank you and congratulations Deacon Larry and your Parish Family!

---
November 2021

The Varela Family

Juan "Charly" was the first Knight in our Council to request to attend the exemplification ceremony held last month. He successfully attained his 3rd degree and is now a full Knight! His wife and two sons attended the ceremony to witness the special event. I could see how proud all of them were to see Charly participating in the exemplification. Charly and his family are active at CHS and Council events, recently signing up to volunteer at the upcoming Jewel Thanksgiving dinner event. Thank you and congratulations to Charly and his family.
---
October 2021

The Skinder Family

Pete and his sons Ryan and Sean have been heavily involved in volunteering their time for our Council. They all participated in the ID Drive, spending time on the corners and at St. Matthew Church collecting funds. They also stepped up to help collect and organize the food and housewares drive for WINGS recently held at St. Hubert Church. Pete re-ignited the Social Nights in September, spending the time to plan and run the evening event for the Council, and is currently researching new social event opportunities. When Deacon Larry said he needed help with the upcoming Coat Drive for St. Aloysius, Pete quickly responded, "We'll be there!" Thank you and congratulations Pete and family!
---
September 2021

Jim & Joyce Manfre

This couple has always set the example of a true Christian life for the rest of us. They freely give of their time and talents to help others in need. Most recently, they have stepped up to provide added support to St. Hubert during the pandemic. They have helped keep the church open and operating, by providing the services needed as part of the COVID team. When the business manager was unable to perform her duties due to illness, Joyce stepped in and volunteered her time each week to help run the business office. Jim continues to be a leader in our Council, spending countless hour maintaining our website, running our ID Drive program, which he is in the midst of doing now, and volunteering whenever the need arises. We would like to thank and recognize Jim and Joyce Manfre as Family of the Month.
---
August 2021

Jim & Lisa Elder

For all there help with logistics of the council. They're consistent help and guidance during the pandemic. And the recorded Mass.

Thank you to Lisa & Jim for all the help
---
July 2021

Council 6964

As we transition back to in person meetings, the Grand Knight announced the council would be the recipient for the family of the month. We are one big family.
---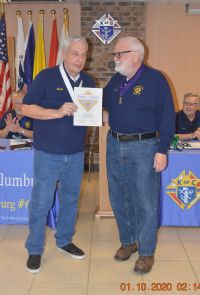 December 2020

Sertich

SK Dave, his wife, kids and grand kids mobilized this Advent to promote, purchase and distribute many things. First, they did our 2nd annual Keep Christ in Christmas program which grew from last year.

If that was not enough, they spearheaded the Advent calendar program which sold out quickly and made the lives of those kids who received a calendar so much more special.

Thanks to the Sertich family.
---
October 2019

Manfre

Joyce and Jim Manfre for the tireless work on the ID drive. From planning the day to turning their home over to tootsie roll central. And providing some sustaining food for the days of the drive.
What a great success. Thanks Joyce & Jim.
---
July 2019

Bill, & Eileen Clark

A man who stands head and shoulders above most people. He always goes above to help the knights as well. In this case, he and Eileen gathered the food and made all the arrangements for the dinner after the council officer installation.
---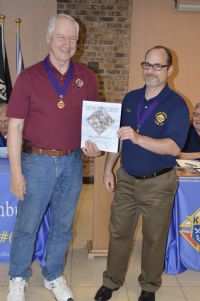 June 2019

Bromley

Loretta & Jerry Bromley. Perhaps you have heard of them. If there is an event or something for the council to do, you will find both of them working tirelessly and many times behind the scenes. Thank you Bromley's.
---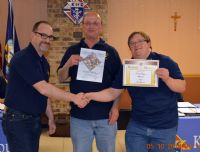 May 2019

Marquis

The family that works together grows in faith together. Don, Sally & Daniel are our family of the month for their tireless work at the pancake breakfast.
---
March 2019

Blum

Shirley & Leon Blum for their consistent work at church of the Holy Spirit and their help at the knights events
---
December 2018

Babu

Julie and Jails who ran and revived the Kids Christmas party. Stepped in and made this an event to remember. A great success with their attention to detail and knowing how to make kids get into the spirit.
---
November 2018

Kutylo

Congratulations and thanks to Charlene and Paul Kutylo. Through the efforts of going out of their way to help a handicap woman at their church get around and function after the loss of her husband we say thank you from all the brother nights
---
October 2018

Joyce & Jim Manfre

For their work in organizing and pulling off a great Id Drive this year, and for a great administrative location with refreshments and the famous chili, we honor them with family of the month
---
September 2018

Holly & Dick Lambke

When we need someone to take extra effort to support a brother knight, call the Lambke family.

Brother Joe Pruetting needed help getting to the airport for his flight to his new home in California. Thanks to Holly & Dick for taking such good care of him.
---
August 2018

Sertich Family

For the last year, Dave served us for the good of the order. This July, he brought out his family to lead us in the parade. His grandkids carried the banner the entire parade and really showed us that being a knight is more than the man. It is about the entire family involvement.

Thank you Dave
---
August 2018

Helga & Gene Niewiadomski

Find an event that Helga and Gene are at and see if they do not do everything they can to make people feel welcome and happy. Gene also is our 4th degree District Marshall. We are proud to have him in our council.
---
July 2018

Joyce & John Vlnka

Joyce & John Vlnka. What else can we say. He takes pictures, gives support and is always there. Joyce on the other side. She is lovely and inspiring. Congratulations on being selected family of the month.
---
June 2018

Mary Ann & George Noonan

For their co chairing of our blood drives, and for Mary Ann's assistance as our registered. Nurse for the event, congratulations.
---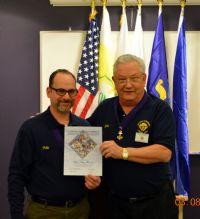 March 2018

Patty & Pete Munnich

Pick an event. Now try and see if the Munnich's are there! Pete as deputy grand knight, and Patty as the outgoing and always helping person. They are so deserving.