April 2023

Joseph M Vagnoni Family

Joe worked several Fish Frys this Lent as part of the cleanup crew. Joe is also an Extraordinary Minister of Holy Communion at the Pearl. Joe's wife, Margaret, is a lector and daughter Abby has participated in Knight's events such as the free throw contest and essay contest.
---
March 2023

Edward D Orr Family

Ed has been active in the Fish Fry as part of the kitchen team for over 20 years. He has been a regular at daily Mass and before his accident an Extraordinary Minister at Pearl. Jill is co-director of HA food pantry and a Protestant minister at Plum Landing Retirement Community. She has been instrumental in many of the recent pantry renovations.
---
February 2023

Roger and Elizabeth Earl Family

Roger regularly attends daily 6:30 AM Mass and often brings one or more of his children with him. Elizabeth is a lector, member of the Bellarmine Ladies, and home schools her children. Their sons, Marek and Roque, are altar servers. The family attends most pro-life events at the parish such as the recent Novena for Life and in the September the National Day of Remembrance.
---
December 2022

Matthew D Guthrie Family

Matt is our District Deputy and faithful purser for Assembly #188 (4th degree). Tiffany has a leadership role in Cursillo, participates in Bellarmine Ladies, and is a lector. Their son Logan is in the Air Force and daughter Brie is an altar server. The family attends weekly adoration together.
---
November 2022

Darrel J Bancroft Family

Darrel currently serves as Warden and participates in activities such as Fish Fry, pancake breakfasts, and is a member of the degree team. Darrel's wife Julie is very active in the Bellarmine Ladies. Darrel's extended family serves in the Aurora community in key areas. Darrel's son Peter has been with the Aurora police department for about 30 years and Peter's youngest daughter Lauren is an altar server. Darrel's daughter-in-law Cindy is a nurse and works at Waterleaf. Her son, Paul, is also a nurse.
---
October 2022

The Nick and Mia Handell Family

The Nick and Mia Handell family are a great example of a practicing Catholic family. Nick is a firefighter and a great father to his five children. Mia finds time outside her family commitments to lead the Holy Angels Moms Group which meets every week to share faith and motherhood.
---
September 2022

James and Denise Power Family

Jim has done a superb job as our council's LIFE director coordinating the many pro-life activities not just with the council but with Holy Angels parish and other local councils. He is a daily Mass participant and also lectors. He is the Chancellor for the council, and he and his wife Denise are very active in the parish St. Vincent DePaul Society where she is the Treasurer and Jim is a home visitor.
---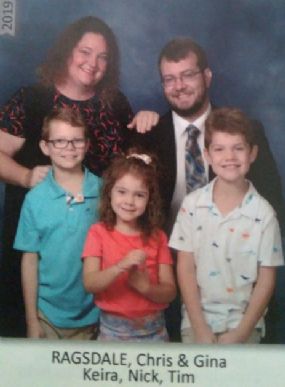 August 2022

Chris and Gina Ragsdale

The Chris Ragsdale Family has been selected as Family of the Month for August. His family includes wife Gina, daughter Keira, and sons Nick and Tim. Chris is in the permanent diaconate program. Currently, he is a regular lector at Sunday Mass. Both his sons are altar servers. Chris is a former Knight who left a few years ago due to outside demands. His wife Chris is active at Holy Angels School.
---
July 2022

Ty and Jane Simmons

Ty and Jane Simmons have been chosen as Family of the month for July. Ty and Jane are the Right to Life Chair Couple for Illinois. Both have been very active in the Knights on Bridges for Life program. Jane is President of the parish SVDP council and works with St. Anne societies. Ty is a regular lector at Sunday Mass.
---
June 2022

Deacon Thomas P White Family

Deacon Tim and his wife Pat are involved in many parts of parish life. Deacon Tim, in his Deacon role does baptisms, pre-marriage formation, and regular visits to the nursing homes. Pat joins Deacon Tim in many nursing home visits and is a eucharistic minister. Pat also serves a part of the Funeral ministry. Deacon Tim is also a regular member of the Saturday morning Men's Rosary group.
---
May 2022

Mr. Robert D. Gatze Family

Bob and Rose provide a wide range of support to the parish. Bob has been a regular cantor for many years and assisted with the Baby Bottle program this year. Rose wears many hats; Religious Education with Mimi, parish Outreach, pro-life organizer for parish activities, and helping at Hesed House.
---
April 2022

Adam Kopcio Family

Adam and his family assisted at the Fish Fry during Lent. Daughter Anna, who attends Rosary, was a runner and helped with desert sales. Adam served meals and also helped with cleanup. Adam was also part of the Honor Guard at Holy Thursday. Adam and his wife Pamela have two sons and four daughters. Their younger children attend Holy Angels School, and their oldest daughter, a recent Rosary graduate, will be attending Loras College next Fall.
---
March 2022

Daniel T Kuttner Family

Dan has been very active in March working the Fish Fry and participating in the Knights on Bridges for Life on March 19. His wife Heather is an active parishioner and is a lector. His daughters, Caroline and Kathryn are altar servers and usually serve at 11AM Sunday Mass.
---
December 2021

Daniel E Wright Family

Dan and Laura are VERY active in the parish. In addition to scouts, Dan also cantors, and Laura coordinates many of the church activities making sure lectors, servers, and readings are ready. She is also a member of the Bellarmine Ladies, our KofC auxilliary. Their son also plays the organ and piano for Masses.
---
October 2021

Joseph N Chavarria Family

I would like to nominate Jose Chavarria and Rose Konieczny-Chavarria for their work and efforts for cooking for the 5K race. Jose also helps cook at various events, including our upcoming pancake breakfast.
---
September 2021

John D Schreiber Family

John coordinated our annual ID Drive again this year, and his family did an outstanding job as well. The Woodman's grocery store has THREE doors to cover, and when we didn't have enough Knight volunteers his family stepped in. With their efforts, we collected almost $3,900 at that location alone.
---
September 2021

Deacon Thomas R Hawksworth Family

Deacon Tom and his wife Pauline are excellent examples of how a married couple can practice their Catholic faith. Deacon Tom has supported our parishioners through his Cursillio work, pro-life leadership, and frequent talks at funeral services. Pauline has been very active with SVDP, Bellarmine Ladies, St. Ann's Society, and other functions such at Fish Fry.
---
July 2021

Matthew D Guthrie Family

Matt and his wife Tiffany and their children are excellent role models for our Catholic faith. The family attends Adoration together, Tiffany is a lector, and several of the children are currently or have been altar servers.
---
May 2021

Joseph D Didier Family

Joe and his wife Mary have worked together on many Knight events. The most recent event was the Mother's Day flower distribution. This year was a challenge due to COVID restrictions and their efforts made the event a success.
---
April 2021

John D Schreiber Family

John and his family were instrumental in a great ID Drive weekend in April as $3197.74 was raised in two days. John contacted Woodman's and with a small Council weekend crew and his family we raised enough money to hit our annual ID target.
---
March 2021

Patrick J Gengler Family

Pat and his family were very active in March. Pat was part of the kitchen team for the Fish Fry plus serving as an usher at Sunday Mass. Pat's daughter Alyssa was a runner for the Fish Fry and worked as a cleaner at Sunday Mass.
---
February 2021

Raymond W Froehlich Family

Ray and Darlene have been long time supporters of many ministries at Holy Angels. Ray has held many leadership roles in our Council in addition to providing short term support to many causes especially the Fish Fry and financial help. Darlene has been involved with the Food Pantry, SVDP, and most recently with volunteer support at Masses six days per week.
---
December 2020

Joseph D Didier Family

Joe and Mary Didier are consistently involved in many Knight's efforts. Each year Joe is a leader in the Id drives with Mary's assistance. Most recently they ran a very successful coat drive. To make it more challenging, they did it while recovering from the COVID-19 virus.
---
November 2020

Phil Brink Family

To Rita and Phil Brink for helping to lead the charge with a most successful Virtual 5K event. It was Phil's idea to make the event go Global with runs potentially coming from anywhere around the world. Thanks to their energy, the event was a great success! Thank you!
---
July 2020

Phil Brink Family

Phil and Rita opened their home their children when their children needed them (moved back in while buying a house). Rita and Phil volunteer at Hesed House and Rita volunteers at the parish food pantry.