May 2022

Ron & Judy Hendricks


---
March 2022

Pat & Ann Boland


---
February 2022

Jorge & Martha Lopez-Gonzalez


---
January 2022

Stuart & Gwen Conser

For sharing their time, talent, & treasure! Stuart has really helped in many ways: as a spiritual motivator, he leads our Monday night Men's Study & Prayer Group; as the parish Financial Advisor Committee Chair, he leads and helps move along the meetings smoothly! And his Beautiful wife Gwen allows him the ability to be here with us! Thanks Conser Family!

---
December 2021

Bob & Fran Pace


---
November 2021

Jim & Peggy McDowell


---
October 2021

Gary and Birdie Siewell


---
September 2021

Jorge and Martha Luquin


---
August 2021

None Selected


---
July 2021

Anselmo and Maria Nunez


---
June 2021

Joe and Nicole Krebs


---
May 2021

John and Margie Harshberger


---
April 2021

Emmet and Mariann Jones


---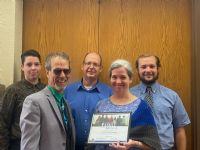 March 2021

Dan and Lisa Freeman


---
February 2021

Patrick and Teresita Parson


---
January 2021

None Selected


---
March 2020

IMPORTANT ANNOUNCEMENT

ALBANY COUNCIL SUSPENDED THE FAMILIES OF THE MONTH PROGRAM DUE TO THE COVID-19 PANDEMIC UNTIL FURTHER NOTICE.
---
January 2020

Daniel and Brittany Franco


---
December 2019

Anselmo and Maria Nunez


---
November 2019

Chris and Jenny James


---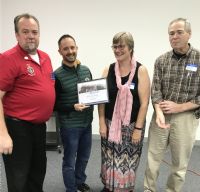 October 2019

Bill and Anne Kinkley

For their works of faith in the parish specifically the Marriage in Christ Program
---
September 2019

Jorge and Norma Luquin

September Family of the Month
---
August 2019

Richards and Ramona Medina

August Family of the Month
---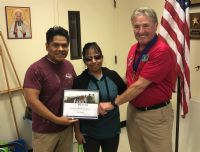 July 2019

Honorina and Marciano Lopez

Marciano and Honorina have contributed time, talent and treasure for the renovation of the Parish Center. Marciano has been the leader providing coordinated efforts and instruction to the numerous volunteers. He has donated supplies, and staffing from his business to support the renovation. He works his full day with his business, Seven Points Painting, and then come to the parish to work on the renovation. Honorina has provided meals to the workers while also volunteering on several Hispanic ministries. Ishmael, their son volunteers as an altar server and as a leader at the Vacation Bible School.
---
June 2019

Juan and Heather Sauceda


---
May 2019

Michael Hayes Family

For their work with our Scouting program.
---
April 2019

Konopa Family


---
March 2019

Steve and Marcello Correia

Support of the St Patrick's Day event. Steve and Marceillo were responsible for putting up the decorations and for bring joy and happiness to many attending though his photo booth and photos.
---
February 2019

Nushia and Kevin Lake

For their support of the Music Ministries at the Parish.
---
January 2019

Nicole and Eric Hammond

Nicole is one of three leaders of the Little Flowers. She and Eric are also leaders for the Religious Education and coordinates Little Flower support from the Catholic Daughter. Eric support Nicole's efforts.
---
December 2018

Bowers


---
November 2018

Matt Hellman


---
October 2018

Nguyen


---
September 2018

Krebs

Krebs Family, Joe, Nicole, Isabel, Cal, Max, Luci, Gabby, Teddy, Benny and Emilia contribute to the Parish through their loving and caring family. Isabel, Cal, Max Luci and Gabby participate as Altar Servers, Nicole supports Vacation Bible School with their older Children.. The Parish started a Little Flower Program and was over-run with the number of girls who responded, the Krebs stepped up to provide the support to keep the program under control. Joe is our Family Director and worked the Soccer Challenge with Max and Luci.
---
August 2018

Alonzo Gutierrez

The Gutierrez family supported the 1st Annual Golf Tournament For Special Olympics.
---
July 2018

Richard and Ramona Medina


---
June 2018

Jon and Terri Keefer


---
May 2018

Chris and Jenny James

Sir Knight Chris James and his family are exceptional examples of Christian family and Christian values. Chris is our council's current Warden and Family Director. He participates on our Admissions Exemplification Team. His wife, Jennifer is a Catholic Daughter and teaches religious education. Chris Jr is a Student at Oregon State Univeristy and works with the Newman Center youth programs helping young men and women stay connected to the Church. Larissa helps teach religious education with her mom and dad. All the children help on Knight projects such as hosting Coffee and Donuts after mass, parking cars at the Veterans Memorial Day celebration and assisting disabled Veterans as they arrived for the celebration.
---
April 2018

Marciano and Honorina Lopez-Cortez

Marciano and Honorina Lopez-Cortez are exceptional stewards of oue faith.. They both are involved in the religious education of our Latino youth. They are active in the building of the domestic church, teaching,and mentoring and preparing our youth for the sacrament of Confirmation. The community has a large number of youth accepting this sacrament. They worked together to coordinate the mass with the Bishop and to rehearse the families prior to the actual mass. Their son, Ismael, is an Altar Server who servers regularly and at all special masses like confirmation and first eucharist. The family is an excellent role model for all families.
---
March 2018

Bob and Joanne Aldrich

Sir Knight Robert "Bob" Aldrich and Joanne are an outstanding selections for Family of the Month. They support our council and the parish as much as they are able. On a routine basis they are present at most everything the council does. Joanne is a greeter at the parish ensuring al visitors and families are welcomed to the parish each and every Sunday. Bob is our Vocations Director, and coordinate with our adopted Seminarian to ensure Bret knows we are supporting him through prayers, and finances. Bob and Joanne are an inspiration to all they touch.
---
February 2018

Richard and Ramona Medina

Richard and Medina are the two hardest working people of the Our Lady of Perpetual Help Parish. Ramona is a Catholic Daughter and works hard at their events as well as supporting the parish. Richard works hard as all the knight events. They support each other by working together. as a team. They are extremely dependable and reliable.. Richard and Ramona are normally the first to arrive and last to leave. Ramona and Richard supported the Shrove Tuesady Pancake Dinner Fundraiser to raise money for painting the Parish. As ususal they were one of the first to arrive and last to leave. Their hard work, charity of time and effort made the event a great success.
---
November 2017

Jack Gall

Jack was one of the true stalwarts of our council but, due to health issues, has been slowed. This month Jack helped with the Pancake Breakfast, demonstrating that Knights are asked only to contribute what they can, when they can. His wife, Dorothy is the Court Regent of the Catholic Daughters. She worked with our council and the Lebanon Council preparing for our annual Christmas Party for our Council, her Court and the 906th Assembly. They are great support for the parish and council.
---
October 2017

Patrick Parson

Patrick and Teresita are our Culture of Life Couple as well as the State Council of Life Couple. Patrick and Teresita have created videos and Newsletters to encourage our Knights and the community at large to stop abortion, euthanasia of our elderly. They have been champions to the "stop the public funding of abortion" campaign to get a petition on the ballot to bring the public funding to the a vote of the people. Both Patrick and Teresita have been prayerfully standing outside a Eugene abortion clinic on Fridays of October as part of the 40 Days of Life campaign. Their leadership and efforts have been inspirational to the council, parish and state.
---
September 2017

Fernando Palencia Gonzalez

The family of Fernando Palencia Gonzalez is our selection for the month of September 2017 for their participation in the Our Lady of Perpetual Hope (St Mary's Albany) parish. Fernando and his daughters Jazmin and Alina sing in the choir. Gloria and Fernando Jr teach religious education education. They prepare the youth for their first communion. Alina and Jazmin also dances with a troupe for the Kermes celebration as well as Palm Sunday. There love of the church and community reflect the charity principals of the Knights of Columbus.
---
August 2017

Pam and Bob Weiler

Bob and Pam are stalwarts of our Parish. They serve when and wherever asked. Pam is a lector and Bob is a Eucharistic Minister. She volunteers to help with funerals. Bob is a member of the Chamber of Commerce as well as the Northwest Steelheaders. He volunteers with the Knights as the Council Program Director, and Deputy Grand Knight for his Council. When our new Administrator arrived, he requested help with furnishing the Rectory. Pam and Bob immediately volunteered to provide a Love Seat, Couch, recliner and chair. Bob hauled the furniture from his home and unloaded it into the Rectory. Bob and Pam's charity ensured our new Priest felt welcomed and comfortable asking Knights for assistance when ever needed.
---
July 2017

The Radels

The Radel Family have been a stalwart of our council this month. Fred, Steve and Tom are all Knights of Columbus. This month they exemplified themselves and stood out by their work at the State Special Olympics games. Tom coordinated the Knights Support for the Olympic games, Steve, Fred and Beverly all worked through the entire weekend at various stations.
Beverly also created an auction basket to donate for a church auction. The anticipated proceed for the basket is projected at $400.00. Beverly and Fred also work on the social committee to serve coffee and donuts after the 11 am Mass. There dedication, hard-work and charity demonstrate the principles of our order.
---
June 2017

The Hayes Family

The Michael Hayes family are outstanding selections for Family of the Month. The chief avocation of the Mike Hayes Family is scouting. Mike is the scoutmaster of Troop 7322 sponsored by St Mary's in Albany. He has such a great plan for the Troop that recently he welcomed 6 scouts who transferred due to dissatisfaction with other troops. His wife, Richelle, supports him in all scout activities and gets involved with Troop Committee activities as Camping and High Adventure Chair and other special projects. Recently she led the effort to develop a smart phone app that facilitates communication between scouts. Their oldest son Dylan is the Senior Patrol Leader, the youth leader of the Troop. He is working on his Eagle rank and recently earned the Ad Altare Dei Catholic badge. Their youngest son Luke actively participates in all Troop activities. Mike and his sons participated in the cleaning of the Gathering Space kitchen as a service project. Their dedication and commitment to the principals of Scouting are in keeping with the principals of the Knights of Columbus.
---
May 2017

Dan Freeman Family

The Freeman family are stalwarts of Our Lady of Perpetual Help Parish. Dan has been a Knight since 2013 participating in Council, Church and Family projects. Lisa trains our Altar Servers and coordinated the Knight's Annual Altar Service award ceremony this month. Richard and William serve as Altar Servers each weekday mass and fill in on weekend masses when needed. The family participates in Scouting at both the Cub Scout and Boy Scout level. During our Pancake breakfast, this month, we were short staffed, Dan, Richard, and William stepped up to work to shifts and support the Knights effort. Due to their charity, unity and fraternity the Knights were able to raise funds for the scouting program to help support their efforts for the coming year.
---
April 2017

Humberto Martinez-Medenz

Humberto and Susana are instrumental to the St. Mary's Parish. As a couple they lead Baptism classes, Catechist, marriage preparations, bible studies and the Follow me Retreats.Miguel is an acolyte and helps train other acolytes, He participates in Bible Studies and helps with the retreats. Bonze is also an acolyte and participates in the bible studies. Bretny helps with the catechists with children 3 to 6 years old. The entire Martinez family works hard for Our Lady of Perpetual Help parish and serves as an example of Building the Domestic Church through Families.
---
March 2017

Jesus Magana

Jesus Magana's family is a major contributor to the Latino community and to the Spanish Masses. Jesus is one of two Sacristans and set up for each Mass. He and his daughter, Jennifer, teach the Latino RICA and Religious Education. Jesus and Maria both serve as Extraordinary Ministers. Maria also sings in the choir and Jennifer is an acolyte. They are heavily involve in all celebration and our parish relies on their service.
---
February 2017

Terry, Travis and Dustin Brillon

Terry, and his two sons, Travis and Dustin, are all Knights of our Council, Their support of the Council projects have been outstanding. The Knights had volunteered to clean our gathering space kitchen Terry, Travis and Dustin (along with a neighbor) came to help. Terry had completed a night-shift before arriving. All worked exceptionally hard for the four hour project. They were first to arrive and last to leave. Terry and Dustin have served as acolytes to support the mass and provide an example for building the domestic church. The Brillon's are exceptional examples of Charity, Unity and Fraternity.
---
January 2017

Alonzo Gutierrez

Alonzo and his wife, Sandra, provided major contributions to our Mercy Meals Fundraiser for Religious Education for our youth. Alonzo and Sandra own the Taqueria Alonzo restaurant. In the month of our worth snow storm in many years, as he's moving one of his restaurants to another location, he cooked a Chicken Fajita meal for over 250 parishioner families on a Sunday afternoon. Alonzo and Sandra prepared most of the meal at his restaurant working hours before anyone else and transported the food to the parish. They prepared the tacos at the parish kitchen while the Knights were serving. This Mercy Meal was a bridge for our Anglo and Latino communities to build trust and show how we can serve both communities. Their charity exemplify the tenants of our order.
---
December 2016

Patrick and Teresita Parson

Patrick and Teresita are new to our council having moved to our City from Roseburg, OR. Teresita and Patrick jumped in straight away to help and be involved. Within weeks of joining our council, Patrick and Teresita agreed to be our Culture of Life Couple. Patrick and Teresita are leading our council participation in the Roe v Wade Memorial Rally and Walk for Life. Patrick has jumped in to assist in projects and has helped with our Keep Christ in Christmas Poster Competition. In the short time they have been in the council, they have made an impact to the council.
---
November 2016

Anselmo Nunez

Anselmo Nunez Martinez' family is very active in our parish and is deserving of recognition of Family of the Month. Anselmo and is family are very active in Catholic formation. He and his wife teach Baptism classes, are Catechist educators and lead a bible study which their two daughters attend. Anselmo is a member of the Choir and Maria is a Eucharistic Minister. Both daughters are also acolytes. The entire family not only live their faith, they evangelize and share their faith with the entire community.
---
October 2016

Dane Campbell

Dane Campbell's Family our Family of the Month for October 2016. Dane is a new member of our council. In short order he has been instrumental to the family program in the Council. Dane helped with our Soccer Challenge held on October 1. He took our proposal to the Albany Youth Soccer Organization and arranged for us to be part of their games schedule. His family helped support the Challenge by recruiting players after their games to participate and helped with the running of the stations. Christian helped retrieve the balls after shots were take. Zander participated and won his age group, then helped his brother at the station. Their efforts where were directly responsible for the best Soccer Challenge our Council ever coordinated.
---
September 2016

Terry, Travis and Dustin Brillon

Terry Brillon is an excellent father and family man. He is a dependable Knight of the 4th Degree. His sons are or about to be Knights of Columbus as well. Travis is a 4th Degree Knight and Dustin who just turned 18 is about to be exemplified at the end of the month. Travis and Dustin have been active in the church serving as acolytes, and participating in youth group activities. Terry as an example to other fathers, has served as an acolyte with his sons. Always looking for ways to serve, Terry and the boys can be counted on to participate in any project. Terry is an avid motorcyclist and rides in support of Veteran and Law Enforcement memorials. He and Travis can be counted on to be in full regalia and serve in the honor guard when needed.
---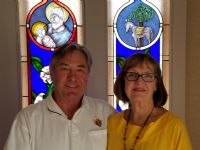 August 2016

Robert and Pam Weiler

Bob and Pam are stalwarts of our Parish. They serve when and wherever asked. Pam is a lector and Bob is a Eucharistic Minister. Pam is involved as a sponsor for RCIA , She volunteered for vacation bible school and helps with funerals. Bob is a member of the Chamber of Commerce as well as the Northwest Steelheaders. He volunteers with the Knights as the Council Program Director, and Deputy Grand Knight for his Council. He is a 4th degree and am the Faithful Admiral for Pope John Paul XXIII Assembly 906, He has participated with the Color guard at memorial services for veterans, and other church honor guards. He is an active participant in a Men's Bible Study Group and works on projects for Coats for Kids, Church Drive, and blood drives. Bob and Pam are very deserving of this honor based on their contributions every day.
---
July 2016

Ken, Suzi, Jake, Mackenzie, and Owen Duda

The Duda Family are a staple in the parish of Our Lady of Perpetual Hope, in Albany, OR. The entire family is extremely musical. Suzi leads our youth Choir as well as sings in the adult choir. She is the Early Elementary Religious Education Coordinator for our Parish and she works hard with the youth and families. Mackenzie and Jake now sing with the adult choir as they've grown into young adults. Owen serves as a alter boy and sings in the youth choir. The family is always there to support event at the parish with music, or leadership. What ever is needed the Duda family willingly gives of themselves to serve the parish.
---
June 2016

Michael and Linda Quinn

Michael Quinn is a very faithful head of his family. He is always involved with his extended family. He is actively involved in his family sharing experiences, helping with and attending weddings, birthdays, campouts and many other family events. He's taken his granddaughters to many fun event to spend time with them and to mentor them. He ensures his granddaughters go to religious education by taking them himself. Michael is a leader in the community and St Mary's parish. A father, husband, grandfather and Knight.
---
May 2016

Ron and Judy Hendricks

Ron and Judy were nominated for they leadership as our Culture of Life Program Directors. They coordinate all our activity with right to life, post right to life material on our culture of life bulletin board in he hallway of the Parish. Additionally, Ron and Judy helped build the flower box and fill it for Father Cit. They can be counted on to support the council at every turn
---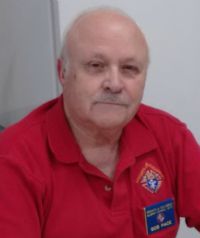 April 2016

Bob and Fran Pace

Bob and Fran service the parish at so many levels, Bob recently helped with the Membership drive and brought four new members into the Council. Fran is involved in the Parish Prayer Change, and Catholic Daughters.
---
March 2016

Family of Alonzo Gutierrez

Alonzo and his family supported the Mercy Meals for providing a fundraising meals for the 11 AM and 1 PM masses, bringing together the English and Spanish Mass congregations. Building trust and community through the meals, Alonzo and his family purchased the food, prepared the food and cooked much of it prior to delivery. They delivered the materials then taught our Knights how to prepare it for future meals.
---
February 2016

Gary Haworth

Gary and his wife Penny are strong members of Our Lady of Perpetual Help in Albany, OR. This month, Gary and his granddaughter, Lit, helped serve the coffee and donuts at the social hour after mass. Gary also served soup and sandwiches for dinner before the Stations of the Cross sponsored by our council. Gary participated in the Stations leading/reading at stations. Gary is a member of the parish Nurses Organization as the Parish Pharmacist. He is also in the choir and plays in the brass groups on holidays. His granddaughter, Lita, also sings in the youth choir, His wife, Penny has been to retreats and led group meetings. They execellent examples of building the domestic church through families.
---
January 2016

Terry Brillon

Terry, Travis and Dylan are stalwarts of the St Mary's Parrish and the Albany Council. Dylan serves as an Acolyte nearly every week and sometimes multiple masses. Travis is also one of our Youngest Knights who was away serving in Americorps. Terry serves as our Council Director as well as a Eucharist Minister. He is an excellent example of serving the Parish through Charity while being a family man and father.
---
December 2015

Chris James

Chris and Jenny James and their three loving children are very active with the St Mary's Albany Church, the Knights of Columbus and their community. Jenny works for Oregon State University and volunteers as a catechist for St Mary's youth. Chris owns his own business and is an active volunteer for the Knights working on numerous projects. Chris has coached youth soccer and basketball for the community as well. Larissa is a high school senior at South Albany High School competes in cross country and sings in the youth choir. She along with her brother, Robert, a Junior at South Albany, are active in the St Mary's Albany Youth Group. Christopher and Robert help their father serve at the social hour after mass as well as at the KofC Pancake Breakfasts. The family is a great asset to St. Mary's Albany and Council 1577.
---
October 2015

Lopez-Gonzalez

Congratulation Jorge. Your family has been chosen September 2015 Family of te Month.
---
April 2015

Jonathan P Keefer

Terri and Jon met at Youngstown State University as college students. Terri was a cradle Catholic. She led Jon to the Catholic faith prior to their marriage. They have six children, Jennifer, Christina, Jon, Frank, Mike and Matt. The children have all completed college degrees, and three have Masters. Four of the six are married, and one is planning his wedding this July. They are proud grandparents of 6 grandsons; Jethro, Wilson, Kevin, Jason, Toby, and Nathan and one soon to be spoiled granddaughter, Juliet. Only Mike and his wife live in Oregon, and Jon and Terri love to travel to see the grandchildren as often as finances allow.
Terri not only raised all six children, often on her own, but she served as the head of a Family Support Group. She worked as a teacher at St Patrick's Catholic School in Fayetteville, NC, and also worked as a bank teller for Key Bank and Umpqua bank until her retirement in 2013.
During these years, Jon and Terri nurtured their faith and the faith of others through numerous Catholic programs.
Jon and Terri attended Marriage Encounter and Cursillo weekends. They were presenting couples for Marriage Encounter until they realized their children were apostolic orphans. They changed their efforts to Marriage Preparations, having provided Marriage Prep classes for the last 30+ years, through numerous dioceses and states.
Jon and Terri retired in Oregon and joined St Mary's Church when they arrived in 1994. They watched their children work through the sacraments at St Mary's until they became empty-nesters. Jon and Terri believe in the strength and holiness of their marriage and attempt to function as a couple in all things. They serve as Eucharistic Ministers and as a couple on the Parish Council. They continue to work with engaged couples and are now heading up the Marriage Preparation Training for St Mary's.
Terri was elected to the Archdiocesan Parish Council, representing two Vicariates, for Archbishop Sample.
Jon joined the Knights of Columbus in 2014 and is a 4th Degree Knight. He serves the Albany Council 1577 in whatever capacity he can. His favorite program is the Building the Domestic Church. Jon serves with the Council Exemplification Team and enjoys working with brothers serving others.

---
March 2015

Covino

The Covino Family for Family of the Month for their dedication to making the Albany Council the best it can be, for being an example of a family that prays together and honors the elderly, and for doing everything possible to integrate the Albany Council into the life of St Mary's Parish.


---
February 2015

SK Jack Gall

Albany Council 1577 recognizes the SK Jack Gall and his entire family as February 2015 "Family of the Month"
---
January 2015

Radel Family

Thanks and congratulations to the Radel Family for all you do to support our parish and the Albany Council 1577 of the Knights of Columbus.
---
November 2014

Terry Brillon

Congratulations to Terry and his entire family. Voted "NOVEMBER 2014 FAMILY OF THE MONTH".
---
September 2014

Freeman

The Freeman Family

After moving around a bit with his Navy doctor father, Dan Freeman grew in North Bend, Oregon, one of seven children. Lisa and her one sister were raised in Hawaii. They met at Oregon State University when both were studying Mechanical Engineering. After graduating from college, Dan began working at the Albany Paper Mill, where he worked until its closure. Lisa did graduate work and afterward worked at Hewlett-Packard. They were married at Dan's home parish, Holy Redeemer, in North Bend. When their first son, Richard, was born, Lisa left work to become a full-time mother. Eventually a second son, William came along.

Both Dan and Lisa were raised Catholic, and they were married in the Church, but they were mostly cultural Catholics during college. Their re-conversion was a gradual process. In graduate school, one of Lisa's fellow students announced that he was not going to finish his engineering degree; he was leaving to enter seminary. He later sent a rosary, and Lisa began praying it daily on the way to work. Dan and Lisa began attending mass more regularly, but primary out of a sense of duty.

When a child was born, Dan and Lisa suddenly realized their duty to teach the Catholic faith to their children. But first, they needed to learn about the faith themselves. Dan and Lisa both grew up "having to go to mass," and, as parents, didn't want to fight that battle themselves. Lisa wanted her boys to know why they went to mass and to love God and his Church with their whole hearts. Being schooled at home allows the boys to attend mass daily. The family also prays the rosary daily and attends adoration.

When Richard was small, the family began attending an annual Catholic Family camp. This camp has liturgy, community, and fun. The other families, many of them large, are such an inspiration: they are all trying to live out their faith in their daily lives. Thanks to this small community, the Freemans have Catholic friends up and down the valley, and are inspired to imitate them to be witnesses to the world.

Dan is a Knight and enjoys helping with breakfasts. Lisa helps with RCIA, Into the Deep, and Confirmation. Richard and William serve mass as often as they can. The family is active in scouting, and always looks for opportunities to serve others.

---
August 2014

James Conser Family

Jim Conser is active in the Albany Council and has made great efforts to recruit new members. He and his wife Mary Kay are both active in ministries at the parish level.