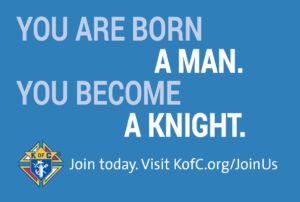 Click here to download latest file
Online Membership In Saskatchewan
What is online membership?
Members can sign up online on the following website: www.kofc.org/joinus
Online members become members of the Saskatchewan State Council and receive the following:
information every two weeks to educate them about the Knights of Columbus

an online membership card

all the Insurance and other financial benefits

Columbia magazine.
Online members can attend meetings as online member visitors in any council, but cannot vote or hold any council position.
Online membership is a first step to become part of a council. When online members are ready to take their ADMISSION DEGREE, the Admissions Committee would meet with them to determine where their interests lie and make the necessary arrangements for the online member to become part of the council.
Members online pay their dues to Supreme. Supreme is responsible to collect their yearly dues as long as they remain online members.
To date, Sask. has 57 online members. Saskatchewan is in the process of converting online members to become members of a council.
Saskatchewan State Council communicates with the online members by sending them the Knightline and other information about the council activities in their particular area. Online members can participate and assist in local council projects.
Further information on online membership can be obtained from State Online Membership Chairman Adam Desa or phone 306-717-3694