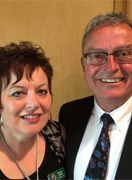 Family of the Month

Councils are encouraged to participate in the Family of the Month Program. We have only 1 council at present participating in the program—Denzil Council 3920.

Each month, all councils in Saskatchewan should nominate a family in their parish (any family including non-knights) that would be worthy of being recognized.

Each month, Supreme randomly selects 100 families from the entries submitted and sends a beautiful statue of the Holy Family to each family selected.

Entry forms can be accessed, filled out and submitted on www.kofc.org/forms

State encourages all councils to participate in this program.

This program is a great way to recognize 12 families each year for their contribution to the parish.

For more information contact State Family of the Month Chairman Tony Dakiniewich at 306-576-2432 or Ron Denis- State Family Director- 306-280-9863