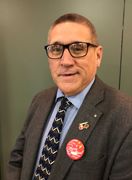 Click here to download the full report
MEMBER RETENTION
The Knights of Columbus is not just a fraternity in name. It is a brother-hood of Catholic men who each play a part in improving the world around them, one Council, parish and community at a time. They stand together in faith dedicated to uphold the principles they cherish while lending their sup-port to fellow Brother Knights.
Member Retention is a very significant part of every Council's activities throughout the Columbian Year. The task of Council member retention be-gins as soon as the admission (First Degree) ceremonial is conferred upon a new member. To inspire new and current first degree members that have been inactive for more than one or more years the Council should promote the Shining Armor Award.
THE SHINING AMOR AWARD
To qualify for the Shining Amor Award new and current Knights must during their first or second year of membership
Be involved in at least three Council service programs

Attend at least three Council business meetings

Receive their Second and Third Degrees

Meet with their Council's insurance representative

Recruit at least one new member
The main focus of the program is to get new and current members actively involved with their Council.
At the Mid-Term Meeting held in Saskatoon from December 1-3, 2017, I personally invited the District Deputies to go back to their Council`s and in-vite the Council's Trustees to become "Mentors" for the new and current members. The Trustees are very worthy trusted and responsible members of every Council.
Here are some ways the Trustees can help new and current members alike to become active participants in their Council.
Telephone members and remind them of the date and time of Council meetings and activities.

Offer to provide transportation to members who would like to attend Council functions.

Answer any questions members will ask why Council activities are done in a certain way and if things can be changed. Provide them sufficient information.

Inquire about the particular interest of the members through mem-bership surveys.

Help new members make new friends in the Council by introducing them to fellow Knights.

Do all you can to help members feel important to the Council.

Accompany this member to his Second (Formation) and Third Degree (Knighting) Exemplification and remain with him throughout the day.

Introduce him and his family at Council events and encourage him to involve his family in Council sponsored activities.

If a new member becomes inactive in Council activities try to find out why.

If a member becomes in danger of being suspended his proposer should work with the Retention Committee to find out why. With a little personal effort you can help the member, not only to become an active member of the Knights of Columbus but a member for life.

By showing this interest in new and current members alike your Council will confirm its commitment to all members and will increase their willingness to assist in programs for the Council, family, Church and communities.
Worthy Brother Knights, on behalf of my wife, Pat, and our family, I would like to extend special greetings to all during this Advent Season as we await the coming of our Savior Jesus Christ. Wishing all of you health, happiness and prosperity in 2018.
Vivat Jesus
Ken Dumont
State Retention Chairperson