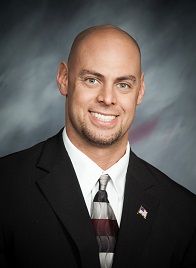 Ronald Sneller is a General Agent for the Knights of Columbus, serving Brother Knights & their families in the Lansing-Flint-Metro Detroit area. A member of the Knights since 2008, Ron became an agent in 2013.
A lifelong resident of Michigan, Ron was raised in Flint and currently resides in Clarkston. He graduated from the University of Michigan-Flint in 2003. Before beginning his career with the Knights of Columbus, Ron was a Senior Mortgage Banker with a large Michigan-based lender, and he has also worked in Catholic Education & Youth Ministry.
Ron and his wife Diana have a 2-year old girl named Alexa, and are expecting their 2nd child in July of 2019. They are active members of St. Daniel's Church in Clarkston, where Ron serves as a Lector. He is a 4th Degree member of Council #15967 at St. Dan's, where he has participated in many community & council events, including the Tootsie Roll Drive and St. Vincent de Paul clothing drive.
As a General Agent, Ron leads a team of Knights who are dedicated to promoting financial education and helping families plan for the future. Committed to excellence, the Sneller Agency was the top producing team in the State of Michigan in 2018, placing more than $70 million of life insurance coverage on Catholic families in their jurisdiction. A major goal of Ron's is continued growth through the addition of talented, professional Catholic men to the staff – specifically those men who have a passion for helping others.
Ron has enjoyed a successful career himself, providing exemplary service to his clients & his associates. He was the top performer in his Field Agent training class in 2013, and was the #1 Field Agent in Michigan in 2014. Ron strongly believes in continuing education in order to better serve his Brother Knights; he has achieved his FICF industry designation from Kaplan Financial University, and has also received the FSCP designation (Financial Services Certified Professional) from the American College of Financial Services. He is currently enrolled in an advanced course of study to become certified as a retirement expert, the prestigious RICP designation through the American College (Retirement Income Certified Professional).
Ron is also a member of several professional organizations, including the National Association of Insurance & Financial Advisors (NAIFA), the General Agent & Managers Association (GAMA), Michigan's chapter of the National Association of Fraternal Insurance Counselors (NAFIC), and he is a Certified Manager with the Hoopis Performance Network.
In his spare time, Ron enjoys reading fiction, playing No Limit Texas Hold 'Em, visiting various vacation spots of the Great Lakes with his wife & daughter, and is a health and fitness enthusiast. In his "younger days" Ron competed in bodybuilding, and also participated in professional wrestling (a minor league of WWE) working events in Michigan, Ohio, and Canada. He assures us he is now comfortably retired from taking the bumps and bruises, and now focuses on his family, faith, and growing his insurance business with the Knights of Columbus.
"I am dedicated to helping Catholic families enjoy a more secure financial future," Ron said. "It is an honor and privilege to be able to carry on Father McGivney's legacy." Be sure to contact Ron today, and see how the Sneller Agency can help you achieve your financial goals, whether it be exploring a new career opportunity, or creating a solid financial plan to protect your family and prepare for the future.