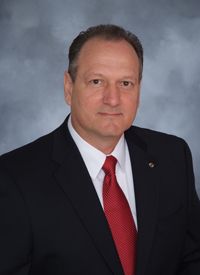 Steve Michlik started his career as a field agent serving Brother Knights and their families in Plano and North Dallas. A Knight since 1989, Steve was inspired to join the Order by his father, Albert S. Michlik, an honorary life member, now deceased. In 2008, Steve took on the role of field agent to advise and educate members on the products and services available to them through the Order.
A graduate of Bishop Lynch Catholic high school in 1976, Steve worked for Dayton-Hudson Corporation While studying business management at Southern Methodist University. In 1982, he started a 23-year career as a restaurateur; he owned and operated five restaurants in the Dallas area. In 2008, Steve became a licensed insurance agent and accepted the most rewarding position of his life, a Field Agent for Knights of Columbus Insurance.
After serving five years as a successful Field Agent in the Dallas area, Steve accepted a promotion to manage the field force in the Archdiocese of San Antonio Texas.
Born and raised in Dallas, Steve has been married to Karen for 34 years. The couple has three children: Jessica, 31 a high school teacher and her husband Danny Fisher; Jonathan, 30 and IT professional and his wife Jessica and the couple's first child Rylee Marie; and Paige 25, working for the Formula One racetrack in Austin, Texas. The family also has an eight year old boxer named Rexie.
Steve understands the value of Knights of Columbus products and wants his fellow members to know this too. I would like each Brother Knight to share in this fraternal benefit."