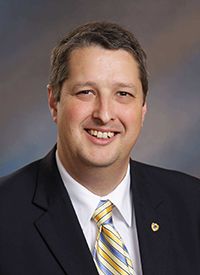 About Daniel Schachle FICF, PGK
Daniel began his dedication to the Knights and it's families just before entering active duty in the US Air Force in 1994 . He went on to serve as Grand Knight of the 80 member St. Mary's Council 8083 in Savannah, TN. As Grand Knight, the membership, fraternal and charitable activities achieved new heights that were previously unheard of for his council.
A few years earlier, while he was serving as DGK, his agent opened his eyes to the phenomenal products available through the Knights of Columbus. Through his research of the Order's foundations and structure he also came to realize that the insurance program's contribution financially to the stability of the Order's families, the Order and the Church was indispensable. This along with Fr. McGivney's vision of care for families left him feeling called to this ministry of service.
Daniel called his general agent about a career of service to the families of Tennessee. During his first three months, he was awarded a trip to the Supreme Council—there he received extensive training to help him better serve our families. He has since won several other incentive trips for top producers and as an agent was a member of the prestigious Million Dollar Round Table.
After extensive study he has obtained the professional designation of Fraternal Insurance Counselor (F.I.C.) with study and testing comprised of courses in ethics, investment, retirement, taxation of life insurance, proprietorships, partnerships, close corporations, business disability plans, key executive insurance and benefit plans, qualified retirement plans, estate planning, estate liquidity, family, juvenile, young adult and college needs, as well as business/farm owner needs and the needs of government employees. Daniel has also completed graduate certifications in Estate Planning, Business Insurance, and Financial & Investment Products which earned him the professional designation of Fraternal Insurance Counselor Fellow (F.I.C.F.).
In 2006 and 2007 Daniel finished the year in the top ten percent of all Knights of Columbus agents in North America. As an agent he was a member of the Million Dollar Round Table (MDRT), the premier association of the world's top 1% of financial professionals and a 2007 NAFIC Gold Production award winner. Daniel currently serves on the board of the TN Fraternal Insurance Counselors and is a past board member of the Chattanoogans for Life.
Daniel was promoted in July of 2008 to the position of General Agent and Manager of the Insurance program covering the entire state of Tennessee.
He and his wife Michelle have been blessed with twelve children, he currently lives in Dickson, TN with his Michelle and the ten youngest children. He was a Charter Member of Council 14079 in Soddy Daisy, TN and a current member of Council 8241 in Dickson. He and his family were Family of the Year in 2004 (Council 8083) and 2006 (Council 14079).