ON THE BORDER GIVE BACK NIGHT
ON MONDAY, OCTOBER 12, 2015
FROM: 11:00 am UNTIL: 9:00 pm
Location:

On The Border
2001 Hwy 287 N.
Mansfeild, TX 76063 US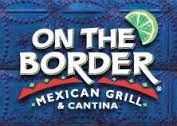 Ferdinand (Speedy) Gonzales is the Event Chairman for this event




MUST TAKE THIS FLYER!!!!


On The Border Give Back Night. Eat lunch or dinner and 15% of your bill goes to Council 7736 charities! Must be at On the Border in Mansfield.

MUST TAKE THE ATTACHED FLYER AND PRESENT IT TO YOUR SERVER.
To PRINT this map, click "View Larger Map" below it and print it from the Google Maps page.
CLOSE THIS WINDOW