FAMILIES OF THE MONTH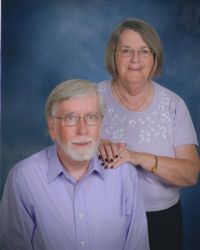 June 2016
Joseph and Brenda Murtha Family

Joe is a Former Master, Former District Deputy, PGK and PFN and continually provides the council, with guidance on protocol. Brenda teaches CCD classes at St. Mary's and was responsible for the Vacation Bible School held in June. Brenda also coordinates for various funeral luncheons at St. Mary's. Joe and Brenda have on several occasions facilitated young Catholic boys and girls to go to World Youth Day in various parts of the world. They are always there to call on and ready and willing to help anyone in need. It is impossible to totally express in a paragraph how valuable Joe and Brenda are to our council and to St. Mary's Church.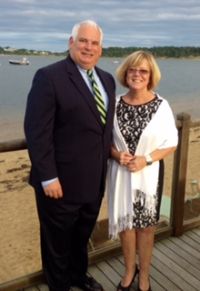 May 2016
Thomas and Barbara Moschella family

The Moschella family is very active in Our Lady of the Visitation Parish. Tom serves as both a reader and an usher at mass. Barbara serves as a musician every Sunday at the 9 o'clock mass. Tom is also active in the OL VP men's club helping out at Tree sales, Family Bingo, and other activities. Barbara also serves as a money counter every week, and has been overseeing one weekend of the kitchen at our tree sales. This year she will chair both weekends. She was recently appointed as a prefect for the Lady's Sodality. Both Jack and Stephen have served as ushers , helped at Bingo, and helped with the Christmas tree sales.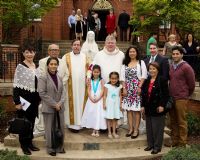 April 2016
James and Elizabeth Abernathy family

James Abernathy has a lovely family and is a recent convert who is extremely interested in his new faith. He is studying for a degree in theology. James was a lector at the recent St. Mary's Parish Mission and he gave a talk on healing and addiction. His youngest daughter Isabella, just had her first communion. The family regularly attends the 9:30 AM Sunday Holy Mass and is fully committed to religious education and helping the parish. James just completed his Knighthood Degree and was elected to the Warden position of our council. Please extend a hearty congratulations to the Abernathy family when you see them.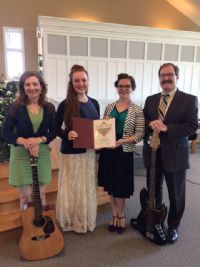 March 2016
Bill and Kathy Rogers Family

The Rogers family is a very active part of Our Lady of the Visitation Parish. Bill and Kathy, serve as musicians every Sunday at the 9 o'clock mass and their two daughters, Jackie and Kathy are there when they are home from college. Both Bill and Kathy provide the accompaniment on guitars and sing with the group. Bill and his daughters are also canters. The family often stays and provides the music for the 11 :00 mass. They have also volunteered at many special masses and services, such as the recent first reconciliation service for the children of the parish. Kathy is a catechist for the faith formation program, instructing the fourth grade class on Tuesdays. She puts a lot of time and effort into planning her class to make it informative and fun for her students.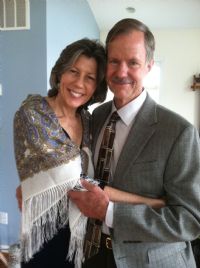 February 2016
Jack and Karen Reid

SK John "Jack" Reid and his lovely wife Karen have been faithful parishioners of St Mary's for over three decades. Their three grown children; Jack Jr, Brian and Jenny are always celebrated as a part of the parish family when they come to visit because mom and dad made faith an integral part of their growing up. Now as grandparents, they are still active in parish life. Karen lends her artistic talents providing music (both instrumental and vocal) for Masses and Funeral liturgies, painting murals and even serving as sacristan. Jack helps keep the grounds trimmed and healthy. More importantly, he has also played a key role in a vibrant twinning relationship for St Mary's with a small rural village in Carcasse, Haiti. Both of them can be found lending a helping hand with the many parish functions conducted each year. Jack has been a Knight of Columbus since 2005. He and Karen are living models of Catholic families devoted to faith, community and service.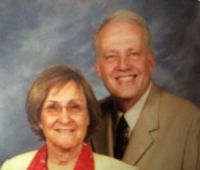 January 2016
Bill and Laverne Stevens

Deacon Bill Stevens joined the Knights of Columbus in Council 6901. He and his wife Laverne raised their children in Poolesville and were active members of St. Mary's parish and also conducted CCD classes in their own home. They became founding members of Our Lady of Presentation parish (OLP) in Poolesville once it was approved by the Archdiocese and continued supporting parish operations there. With their children grown and on their own, Bill discerned a vocation to the Permanent Diaconate, and was ordained several years ago. Bill has been invaluable to OLP ministerial operations, as has Laverne who continues to teach 2nd Grade Religion classes - the class in which the children are prepared for First Reconciliation and First Communion. They communicate openly and honestly and spend most of their time involved with the church.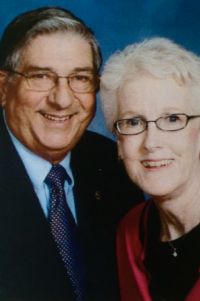 December 2015
December 2015

William Lynch grew up in Darnestown and Gaithersburg and has been a long time member of St. Mary's parish. He and his wife Diane regularly attend the 8 am Mass and help around the parish on a daily basis. Bill is active in the Lion's club, the Holy Name Society, serves as manager for St. Mary's Pavilion, and is a key player in the Annual Chicken and Turkey dinners. Diane can frequently be found helping out in the parish office.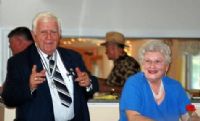 November 2015
Frank and Louise Austin

Frank Austin is a charter member of our Council. He and Louise are always the first to ask, "How can we help". Frank Ushers at St. Mary's 8:00 AM Holy Mass where he and Louise provide flowers for the church altar. They also provided the flowers for our Council's Memorial Mass to honor our departed brothers. Frank also helped with the program during this Mass. Frank currently serves as Chancellor where he setup and organized our Council supply room with cabinets; and organized and provided oversight of the schedule for providing Dinners for the ladies attending a session of classes at the Shady Grove Pregnancy Center, from the end of October to the first week in December. Frank and Louise have been and continue to be a tremendous help to our Council.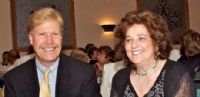 October 2015
Tom and Joy McCartin

Thomas and Joy McCartin were selected as October's Family of the Month. Tom has coordinated traffic control and parking for St. Mary's major fund raisers of the year, our parish Chicken and Ham & Turkey Dinners. Joy is a member of St. Mary's Sodality and worked the craft table at the dinners. Tom is a Past Grand Knight and is our council's Community Activities Co-chair as well as our membership retention chairman. Tom and Joy are always there to call on and ready and willing to help anyone in need. For example, they are opening up their house to the Poolesville Senior Center, St. Mary's Sodality, and our council for a Christmas party on December 13..
September 2015
Stephen and Deborah Waechter

Steve and Deborah arrived early for the Police Mass held in September and helped with set up for the luncheon. Steve served as an usher for the Mass; Debbie baked, decorated, and donated the cake for the lunch. Steve helped sell tickets for the car raffle in addition to his duties as Council Warden and has been a strong recruiter for our council. Debbie is active with the parish Sodality and they both take an active part in various civic activities and parish activities at Our Lady of Visitation Parish in Darnestown.