KNIGHTS OF THE MONTH
January 2018
Jim Halsey

This Month's Knight of the Month goes to Jim Halsey for the exception job his did with fund raising and entertainment. He definitely deserves our gratitude!!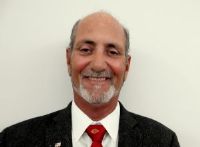 December 2017
Peter Marcellino

Thanks to Pete Marcellino for first coming up with the idea to donate a bench to the Little Egg Harbor Twp Municipal building and then following through and obtaining the bench to be placed in front of the Town Hall. The involvement of our council in the community is displayed at it's best with this bench and plaque. Great job!!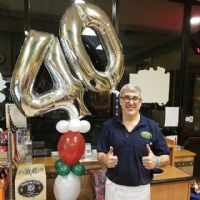 November 2017
Frank Colandrea

Our utmost gratitude goes out to Frank Colandrea and Naples Pizza for the donation of all the meatballs, garlic knots and sauce (gravy) to our spaghetti dinner. It would not have been near the success it was without your support. The food was second to none. Thank you so much!!
FAMILIES OF THE MONTH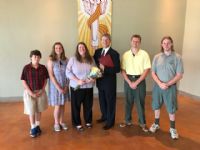 July 2018
The Lund Family

This month we celebrate the Lund family. They consist of Todd and Virginia and their four children Todd, Paul, Victoria and James. They have been members of the parish for about twenty years. Todd Sr. is both a reader and a Eucharistic minister at the 9:00 AM mass and young Todd is also a reader. The men in the family are very involved in the Boy Scout organization with Todd Jr. reaching the rank of Eagle Scout last year and his brother Paul on track to do the same this year. Paul has also made the decision to serve his country in a special way by joining the United States Navy. We wish him well in that endeavor. Thank you again to the Lund family for being a wonderful example of a family that lives out its Christian values.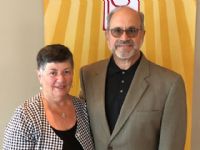 June 2018
The Davide Famiy

This month we celebrate Frank and Barbara Davide. They have been members of our parish for a long time and have been involved in many ministries. Most recently they have been very helpful in the transition of St. Theresa's mission to the food pantry. Thank you for being the loving, caring people that you are!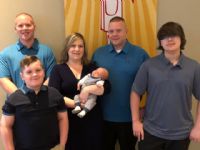 May 2018
The Snyder Family

This month we are celebrating the Snyder Family. Their family consists of the parents, Christopher and Jessica and their four boys, Dylan, Tyler, Nicholas, and the newest arrival Harrison. He is only one month old. The Snyder's have been members of St Theresa Parish since 2003. Chris and Jessica work with the Baptismal Preparation ministry and Chris also works with the RCIA program. The older two boys are part of the parish STAY program and Dylan has also been helping out with some ushering duties at the 9:00 AM mass. Thank you again Snyder family for presenting a beautiful example of a family that shares its Christian values.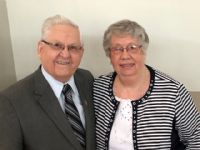 April 2018
The Steiger Family

This month we are honoring Nick and Lucille Steiger. They have been members of our parish for about sixteen years. They are the couple that has taken on the task of putting together the schedule for the Eucharistic Ministers and Readers. A difficult and time consuming task to say the least. Nick also sings tenor in the church choir because he has a real passion for music. They are truly a loving, sharing couple and we thank them for their constant love and support towards our parish!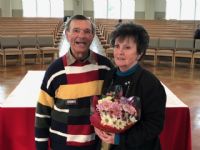 March 2018
The Difilippo Family

Family of the Month This month we honor the family of Bill and Pat Difilippo. They moved to the parish in the 80's and have been here ever since. That is many, many years of volunteering and supporting our church. They are the perfect example of what we are trying to portray in our program. People who care about their parish community and support it anyway they can. Thank you Bill and Pat for the many years you have given to us.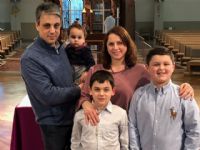 February 2018
The Colandrea family

Family of the Month Meet the Colandrea family. Their family consists of Pasquale and Samantha and their three boys Luca (9), Marco (8) and Antonio (1). Pasquale has been a member of the parish for around thirty years. As a couple they have been here for about twelve years. They are actually one of the first couples to get married in our new church. Marco is preparing to make his First Communion this year. Samantha is part of our baking ministry. They provide baked goods to different parish functions throughout the year. Thank you again for being a beautiful example of a family committed to our parish and to our Catholic traditions.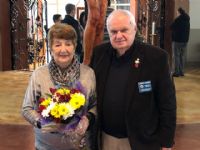 January 2018
The Zabinski Family

Family of the Month Meet the Zabinski Family. Amy and Conrad have been members of St Theresa's Parish for about eighteen years. They both serve as Eucharistic Ministers at the 11:30 mass. Conrad is a member of our local council of the Knights of Columbus. They also happen to be members of our Respect Life Ministry here at the parish and Amy happens to be the chairperson. What makes us particularly proud is that they also represent St Theresa's at the Diocesan level with things concerning the Respect Life Ministry. If you happen to see them around the parish be sure to thank them for being the caring, giving couple they truly are!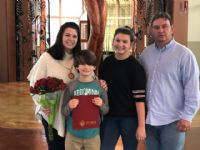 November 2017
The Curtis Family

This month we are honoring the Curtis Family as Family of the Month. The family consists of Brian and Kathleen and their two children Sarah and William. Kathleen has the unique honor of being a lifetime member of St. Theresa's Parish. She was baptized here. She also is one of our teachers in the parish CCD program. Brian is one of people who volunteers his talent to count and confirm our weekly church donations. Thank you for sharing your time and talents with the parish community. Thank you too for being an example to all of a family that supports and strengthens Christian Family Life.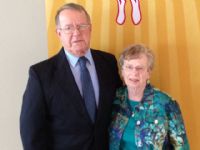 October 2017
Ray and Mazie Wood

Wood. They have been members of our parish community for around 15 years. This has afforded them plenty of time to offer their time and talents to numerous organizations, committees and various fund raising functions. In case you were unaware, Mazie also happens to work in the parish office as our parish data coordinator. Stop by the office someday and say hello! In a recent Sunday Gospel Jesus taught us to "Give unto Caesar what is Caesar's and to give unto God what is God" Ray and Mazie are a beautiful example of giving what is God's to God. Thank you for that.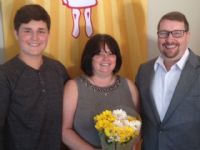 September 2017
The Werling's

This month we honor the Werling Family. The family consist of Jay and Kim and their Son Andrew. Jay is one of our sacristans here at St Theresa. He is also a Eucharistic Minister and a Reader. Jay also belongs to the Knights of Columbus and has held a variety of officer positions within our organization. Kim and Andrew are both altar servers. Andrew has been serving consistently from an early age. Kim not only serves but acts as the master of ceremonies during some of the liturgical "high" events during the year. (Especially Holy Week). This family exhibits a strong commitment to each other and to the church. Thank you again for being examples to us all.