KNIGHTS OF THE MONTH
June 2015
Ralph Arata

Ralph takes on the large task of organizing & coordinating 2 large events annually in the St Raphael Blood Drive. Thanks Ralph!
May 2015
Joe Schroeder

Joe has been active in most if not all of our programs and activities over this past year. He must be a glutton for punishment because he just keeps coming back over and over. He is a very easy Knight to work with and it has been nice to get to know him. He has a very modes manner and I know, like most in this room, he doesn't do it for the glory. Thanks Joe!
April 2015
Mark Leonardelli

The Michael Franzese event was a huge success. Thanks Mark, for all your efforts!
March 2015
Tom Burns

Tom wears many hats at our parish and is a very busy Knight as he takes on virtually everything we ask him to do. He is a real gentleman, and it is very fitting for him to be called a St Raphael Knight. He puts together a real great crew to get the service that is needed to collect ID funds, as well as put on great programs for the kids of our community. He serves our parish with the love he has and shows for our Lord. He is a great maitre d' at our events and has agreed to be a commentator for the membership drive. And, by the way, he is our Free Throw Contest chairman that ran 2 events this year (council and district) and also maintains the Knights' page on the St Raphael website. Thanks for all you do, Tom!
February 2015
Jim Williamson

Jim took over the Valentines Dinner/Dance and agreed to be chairman, even when he and Suzanne were going to miss the event he was planning. He hosted many planning meetings, promoted the dance, and stored countless decorations for our Knights' benefit. It took hours of decorating and prep to make a very nice party come about. Plus... He took on the duties of Warden and has promised Dan Schwartz that he will take the 4th Degree next year. Thanks Jim!
December 2014
Chuck Burkart

Outstanding job with the Mentorship Program, and with the Knightly News.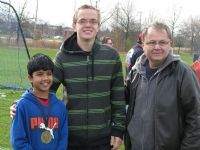 November 2014
Clare Jerabek

Great job on the Soccer Challenge!! Council, District and Regional!!
October 2014
Todd Schremser


FAMILIES OF THE MONTH
June 2015
Tom & Joann Casey

Tom and Joann have always been active in council activities and represent our parish and council well. They are active members of both the Knights and the Cathy Darin Crusaders. They donate portions of their income to our council from their travel agency business booked by brother knights & their families. They are a veteran family as Tom has served our county in Vietnam. Tom has been a mentor to Grand Knights and officers throughout District 26, and Joann has allowed this without maiming or killing him, although she yearns to move out of state! Thanks Tom and Joann, for all you do!!
May 2015
Tim & Elaine Rogers

Tim and Elaine work very well together when they are out at a council function, dinner or ceremony representing our group. They both work very hard at this in their own way. This award is not always about how much you do together for our Order, but sometimes it's about what you sacrifice together in order to do it! Tim has always been involved in many Knights' activities, positions and parish events. Elaine has been having a rough go of it lately. Through these trying times the Rogers family still maintain a very great presence in our council. Thank you Tim & Elaine, for all you do!
April 2015
Rick & Julie Peabody

Our honored couple has been active with our council in many events and can be found at mass, serving as Hospitality Ministers. They ask if they can be of service for most events, most recently serving at the Dinner Dance, Fellowship Fish Fridays, and the Michael Franzese project. Rick has been a big producer for fund raising by securing ads for the Fish Dinner Ad Booklet, and heading up and putting in the time to sell coupon books for Carson's Days. He is known as the shirt guy for our council, so if you need one, you can just ask our Family of the Month honoree. Thank you Rick and Julie, for all you do!
March 2015
Joe DiGiovanni Family

The DiGiovanni Family is very dedicated to the parish, to the Knights, and to each other. They volunteer for many events, their love for each other shows, and is infectious to us all when we are lucky enough to work beside them. Their volunteer spirit doesn't stop with the Knights, as this family serves our parish and community will with fine conduct and manners. Whether it's as alter servers, Boy Scouts, or helping with the Fellowship Fish Dinners, it's easy to see why this fine (and fun) Knight, Pastoral Council member, and his family, is our Family of the Month. Thank you Joe, Marlene, JT and Chris!!
February 2015
Dan & Beth Schwartz

Dan and Beth have taken on a lot of responsibility and hard work and they seem to really enjoy the results and the fruit of their labor. As co-chairpersons of the 2015 Valentines Dinner/Dance, they re-purposed the Olympics theme from last year into a new look for this years dance. And as far as we know, they are still talking to each other. Talented, creative and a great team working together and using their home as a storage area for our council's behalf.... all this just before our 4th Degree Exemplification in which Dan had a lot of running around to do! For all you do.... Thanks Dan and Beth!!
January 2015
Alan & Judi Francis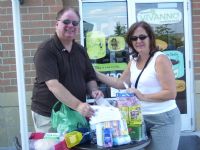 November 2014
Norm and Eva Bishop

Total commitment to the ID Drive. Able to leap tall buildings in a single bound.
October 2014
Glenn and Bernie Domovic