KNIGHTS OF THE MONTH
July 2017
Christopher Biggio


November 2015
Ray Pelletier

The council owes Ray a big thank you for stepping up to the plate in assisting in the various council activities especially with the officers meetings.
June 2015
Sebastian Nocita


May 2015
Alberto Gonzales


April 2015
Manny Dela Cruz


March 2015
SK Dominic Descala


February 2015
Bill Wasserburger


January 2015
Fabio Villaquiran


November 2014
Patrick Westerlund

Big thank you for all the hours you spend helping at Mass and with the Council
October 2014
Richard Medici


September 2014
Sebastian Nocita


August 2014
Wayne Babchak

Thank you for the efforts with the NASCAR events. We are looking forward to the events comming up.
FAMILIES OF THE MONTH
July 2017
Mick & Brenda Constantino


November 2015
Hector & Sonya Vicuna

Hector and Sonya have been instrumental in making the Live Christ Share Christ a big success as well as keeping this program going.
June 2015
Chris & Sharon Sellman


May 2015
Michael & Mary Gorts


April 2015
Ray & Rose Troik

With outstanding leadership and contributions to the Ladies Auxiliary.
March 2015
Rich & Mary Medici


February 2015
Frank Fuchs


January 2015
Vickie and Vince Gorski


December 2014
Rob & Gloria Donoghue


November 2014
Sam & Maria Patino

We thank Sam and Maria for all the work they do for our Parish, our Council and our Community.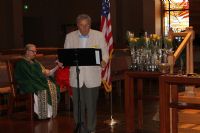 August 2014
Les Lisicki

A big thank you to you and your wife for all that you do for the Council and the Parish.