KNIGHTS OF THE MONTH
May 2019
SK Brother Garry Hawco

Sir Knight Brother Garry Hawco for his leadership and management of our Fish Fry program this year. We held 3 events this year capped off by Good Friday. This program is a major contributor to our Councils bottom line and this allows us to support our parish building fund as well as our many charities. Brother Garry quietly goes about his business and through his leadership we continue to get the help we need as well as the support we secure from our parish. We served approx. 500 dinners this year – no small feat and for his commitment and support I am pleased to present this award of recognition to Brother Garry.
March 2019
SK Chris and SK Mark Kowalsky

For their continue work and contribution to our Council and our Parish, I am pleased to present the Knight of the Month for March to the Kowalsky Brothers – Chris and Mark. For taking on the role of co-chairs for our second annual St. Patrick's Dinner Dance as well as their continued support as members of our Council and important roles on our Executive. Br. Chris is one of our Trustees and has served as our Grand Knight, and Br. Mark has served as our Council's Advocate for the last 2 years, continues to support our Youth Group's monthly dances and provides energy and enthusiasm to any project we take on.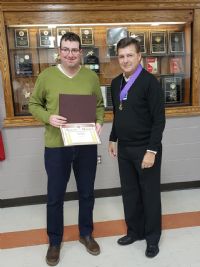 February 2019
Br Mark Dandelon

Brother Mark Dandelon for his work in chairing our Council's Basketball Free Throw and helping at the Regional Championships. We had 31 children from both parish schools participate this year – the largest turnout in recent memory for this event which we didn't even run last year due to a lack of support and interest. A very nice turnaround this year under the leadership of Brother Mark!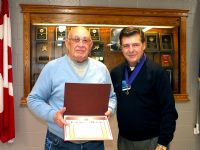 December 2018
Brother Ron Meloche

For his continued contribution and support Ron Meloche has been presented the Knight of the Month Award for December, 2018. At events such as our Parish BBQ, Fish Fries, and following every General Meeting, Brother Ron has made every effort when called upon to work in the kitchen for us. Remarkable commitment, and support for our Council and love for our Parish. A well deserved award for a real great Knight!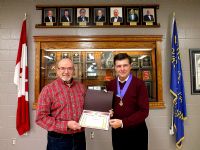 November 2018
Terry Bachmeier

I would like to recognize our PGK Terry as the Knight of the month award for a couple of very good reasons. As most of you know I am away from the city for most of the months of June through October. While most of this time is 'down time' for our Council, Terry stayed the course to ensure a smooth transition of responsibilities took place between the two of us. Beyond this, I cannot say enough about the diligence, commitment capped by many phone calls and emails to the Ontario State and Supreme Offices to overturn their original position to not award us Star Council for the last Fraternal Year. This is a Council Award that less than 20% of Councils receive, and I know Br. Terry felt strongly on behalf of all of us to ensure that the powers to be had a good, second look. With the help of our own PDD Mario, and with the support and intervention of our current DD Alan Sims, we received confirmation that Supreme overturned their decision and that we are a Star Council. I saw the many emails, letters and constant follow up Terry put into this, and this is a testament of his deep conviction towards our Council, and the well being of our members. It is with pleasure that I present our PGK Terry with the Knight of the Month Award for November.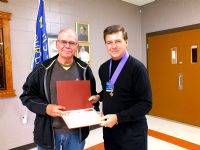 October 2018
Brother Murray Harris

Knight of the Month Award – October 2018 Presented to Brother Murray Harris In the last year, Brother Murray has assumed the role of our lead in supporting our Parish Youth Dances which are held here the first Friday of the month from September through June. Brother Murray has also assumed the responsibility of managing our parish breakfast this year. This provided some relief for our Treasurer Br. Jonathan, and Brother Murray's organizational skills and 'hands on' approach to getting the job done is already evident after only 1 breakfast. Brother Murray also played an active role in supporting our Parish Family Day in early September by attending all pre planning meetings and was the lead in the purchasing of the food which fed approx. 400 members of our Parish. For his continued support of our Parish, and our Council I am very pleased to present Brother Murray with the Knight of the Month Award for October, 2018! Marc J. Morneau, Grand Knight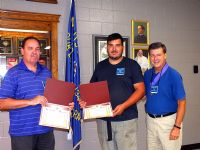 September 2018
Thomas and Robert Brownlie

Our Knight of the Month for the month of September goes to the team of Tom and Robert Brownlie. They co-chaired this year's Parish Picnic and Family day event which drew close to 400 people from our parish community. This effort stated in June and required a lot of organizing and pulling some 40 workers together to make the event a success. While in the middle of this effort, Brother Robert took the time to get married - so congratulations again to the Father - Son Team of Tom and Robert.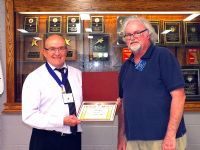 May 2018
David Blain

The Knight of the month award goes to Brother David Blain. Brother Dave acts as our Council's Membership Chair, and is the lead contact on our retention Committee. We have achieved 175% of our membership quota as assigned by Supreme under Br. Dave's watch and this alone is worthy of recognition. Brother Dave also has become a member of the St. Joseph's Partners and helping our at GH home by cutting the grass and doing yard work this summer. Congratulations Brother Dave for a well deserved reward!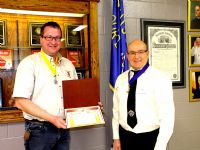 March 2018
SK Br Mark Kowalsky

Our Knight of The Month, this month it is Sr Knight and our Advocate, Mark Kowalsky. Brother Mark has been a stanch supporter of our council and it's activates. He is usually one of the first to offer to help when and were ever it is needed. He has been consistent with the clean up after our youth dances usually bringing his two children with him. Mark takes his roll as a husband, father, parishioner very seriously and is a true model of a Christian man who lives his faith right on his shirt sleeve for all to see. Mark is our council's Advocate and has been diligent to learn his responsibilities and quick to act on them. He is the co-chair of our first St. Patrick's Day Dinner Dance on March 17th. As a successful business man in our community and owner of Beaver Ice, Mark puts God first and leads his employees in morning prayer before starting their day. And his company makes Damn good coffee.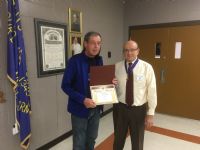 November 2017
Dennis Sylvester

For his tireless efforts in support of our Council, and our Parish Brother Dennis has been awarded 'Knight of the Month' in November, 2017. Grand Knight Terry is shown presenting Brother Dennis with his Certificate of Appreciation.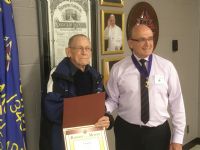 October 2017
Keith Brown

Our Knight of the month award recognizes a brother Knights considered to exemplify the values taught by our Church and our Order and who have made a particular contribution to their parish, community or council. We recognize here the Knight of the month in the current year, chosen by the Grand Knight. Although new to our Council, this Award is widely presented by Councils and Brother Keith is certainly deserving of this award.
FAMILIES OF THE MONTH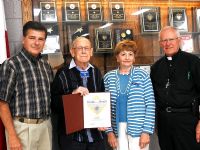 June 2019
The Brown Family

I am pleased to present the Family of the Month Award for the months of April and May to Brother Keith Brown and his wife, Denise. The Brown family is no stranger to volunteerism and this presentation is being made not for a specific program or project, it really exemplifies and recognizes the on-going support our Council and Parish receives from them as a team! Brother Keith and Denise work hand and hand at every breakfast, fish fry – that's a lot of hours at each of the 8 events we hold between September and April. Brother Keith works with our Chairman (Br. Murray Harris) to ensure the support staff is in place and also tends to a number of supplemental duties such as cleaning the oven, fryer etc., following each event. This allows our Chairman to focus on food purchases, ticket sales etc, a significant relief and help. Denise is always there in apron and hairnet, working in the kitchen, doing dishes, cleaning up or serving. They have been both doing this for years now, Brother Keith joined the Knights 12 years ago, it's remarkable that at age 87 he can keep up this pace! Beyond this support, they are also active within the St. Vincent de Paul Society, and Brother Keith continues to volunteer on a weekly basis at St. Clair College where he once taught and is a regular at OLGH. I know everyone will join me in congratulating Brother Keith and Denise Brown in receiving this well-deserved Award.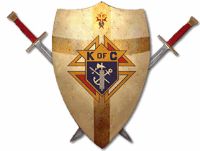 January 2019
Lorne and Christine Clark

I am pleased to present our Family of the Month Award to Lorne and Christine Clark. Volunteerism is something certainly nothing new to the Clark family. In October we had nobody to chair our Children's Christmas Party and Lorne when asked, agreed to do so. With the help of Christine the word got out and we had a record number of children, parents and grand parents attend this year – over 200 which almost tripled our event from last year. There was a lot of organizing, countless phone calls, emails to be answered not to mention the extended and countless trips to the a number of stores to do the shopping needed to run this event. There is no better place to put our time than with the children and young families of our parish community. Lorne and Christine, for your valued and appreciated service to our Council and Parish Family, I am very pleased to present to you this small token of appreciation.