KNIGHTS OF THE MONTH
December 2016
Matt Sykes

Most of you know Matt works for Meadows Farms Nursery as a project manager. Because of his job, we do not see Matt much in the summer. However, Matt is our secret weapon, in the winter. Matt has put in a lot of hours every Sunday for all of our Food drives, as well as Tree Sales. Last year, there were many times when Matt came to sell trees and he stayed with me for an entire day. Whenever I need something, I know that I can count on Matt to get it done. Matt has stepped up this month to provide the Nativity cutouts for the tree stand.
November 2016
Craig Radcliff

Our Worthy DD has worked tirelessly to manage our first food drive for the St. Lucy project. Craig has meet with the leaders of the project, FRVW, and even Art Bennett who is the head of Catholic Charities to make this happen. Additionally, Craig has made multiple deliveries of food from HTC to the warehouse over the last two weeks. We now have over 12,300 lbs. of food, and were the largest contributor to the project in its history.
October 2016
Craig Pryor

Knight of the Month, October 2016. Craig has been working very hard behind the scenes as our Worthy Treasurer, updating the council website, and providing email blasts to the Council. Thank you Worthy PGK Pryor for all you do to keep the council running.
August 2016
Frank Carissimo

Frank single handedly planned, organized and implemented our first Summer Sendoff for College students and those going into the military. This event was a huge success, and will be continued every year. Thank you Frank for taking this on, and making it a great Success.
July 2016
Rich Bohmer


FAMILIES OF THE MONTH
December 2016
Mario Olivera and Sons

Mario joined the Knights with me 5 going on 6 years ago. We attended all of the degree ceremonies together at that time. Mario has been faithfully serving the United States Air Force. He has recently retired, and I have already a huge increase in his giving of his time to the council. Mario and his sons have faithfully come to tree sales for the last 5 years. Every year Mario brings his boys on the day after Thanksgiving to unload the truck of Christmas Trees. This year, he beat me to the truck! When I got to the Church at 8:30, Mario was already there unloading trees. Thank you Mario for your dedication to the council.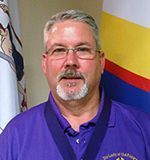 November 2016
Scott and Denise Rose

Scott and Denise came to all of the masses and sold out the Knights Christmas cards. This was a great idea to have them at all of the masses. Also, as it turns out, the cards were well received, and will become a new function for future years. We will also make the cards available in the Christmas Tree Shed.
October 2016
Scott and Denise Rose

Family of the Month, October 2016. Scott and Denise have been very active recruiting members at the membership table. I would also like to thank the two of them for helping to prepare 22 boxes of meals for the House of Mercy!
August 2016
Ed and Kathy Schulze

Ed and Kathy have been very involved in the 4th degree since Ed's Knighthood. Kathy is also on the Ladies Council of the 4th Degree. They both were a great help, and stayed late into the night working at the People's Banquet in Woodbridge. Sarah and I would like to take this opportunity to thank them for their help with the dinner. We served 150 meals!
July 2016
Scott and Denise Rose