KNIGHTS OF THE MONTH
July 2020
Rafael Pubillones

for his volunteer contributions to the Church and Mass including but not limited to Sacristan duties and Rafael is also enrolled in the Diaconate Program. Nomination was unanimously supported by the Leadership Team.
June 2020
Multiple Recognitions

Recognized for serving as Ushers for reopening of Weekend Masses: Jim Gold, Stu McFadden, Sam Buscetta, Russell Schutte, Joe Mulherin, Bill Twohig, Harold Egler, Bob Bowen, Kevin Cooney, Dennis Preston, and Tom May
May 2020
Fr. Julian Cardova

Father Julian Cardona for all that he is doing for the parish.
April 2020
Fr. Ray Powell

He's worked very hard to provide support to the parishioners during the Covid 19 lockdown o Video-ing daily Mass o Continues to hear confessions o Set up Flock Notes so he can communicate with everyone
March 2020
Dan Hanlley

- Boy Scout Leader for our parish troop - First Responder for Tellico Village; completed basic EMT training - Cooks for International Food Fest - Participates in Friendship Kitchen - TN State Director over Community - Usher - Mowing team member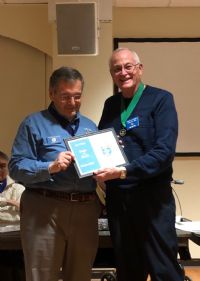 January 2020
Filosi Joseph

Council leadership chose Joe for his efforts in chairing a very successful 20th Anniversary Dinner Dance.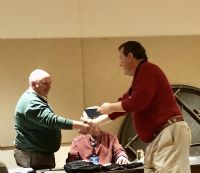 December 2019
May Thomas

Excellent work managing the successful Fall Membership Drive which yielded 5 new Knights.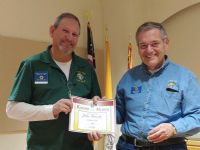 November 2019
John Manczko

Awarded Knight of the Month of November for John's tireless work managing the day to day activities of the highly successful fruit fundraiser. This first time fundraiser exceeded our profit expectations, thanks in large part to John's efforts.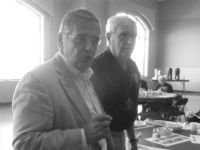 October 2019
Bob Joyce

Bob is very active member of the Knights. He attends many of our meetings and events and also works many events. He recently ordered 30 cases of fruit to support our MR Foundation fundraiser! Bob is also very active at St. Thomas. He leads the Homebound Ministry and distributes the Eucharist to homebound individuals every week. Bob is also a past Parish Council member.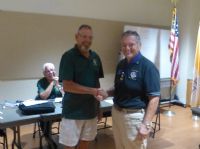 September 2019
John Manczko

John Manczko, SK, PGK, was selected as Knight of the Month for September 2019 for all his work on re-vitalizing the council website and social media accounts.
August 2019
James Gecsei

Jim Gecsei was selected as Knight of the Month for August 2019 for his chairmanship of the International Food Festival for the past 3 years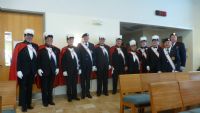 July 2019
Last Honor Guard in old regalia blank

Long time Sir Knight Larry Van Dooren's visitation and funeral Mass held Saturday, June 29 at St. Thomas the Apostle, Lenoir City. Last time wearing the old regalia uniform.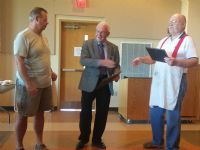 August 2016
Mark Werner and Ken DeBoer


July 2016
Ed Valente

For his planning and preparing the meals for the Catholic Engaged Encounter couples.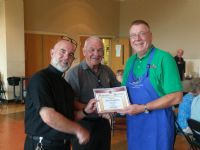 June 2016
Jerry Dougherty

For his planning and efforts in the council membership drive. The Drive succeeded in qualifying the council for the STAR Award.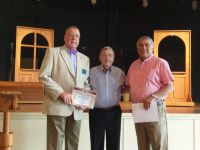 May 2016
Jerry Dougherty

KOM Jerry Dougherty on left, DGK Ray Mouse center w/ Ed Valente right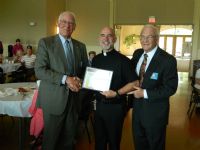 April 2016
Dan Hanley

As the only council representative in support of the Special Olympics games. The date was changed on short notice due to bad weather and no other volunteers could make the event.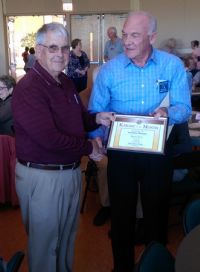 March 2016
Larry Finneran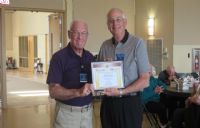 February 2016
Jim Gecsei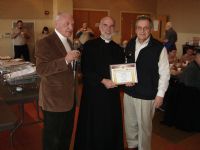 January 2016
Joe Filosi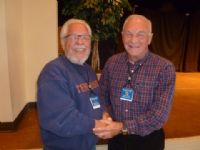 December 2015
Dennis Preston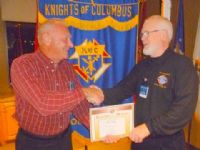 November 2015
Bill Twohig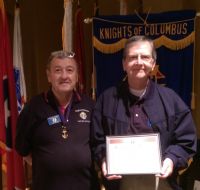 October 2015
Bill Waskelis

Outstanding editor and management of The Knights Herald Newsletter.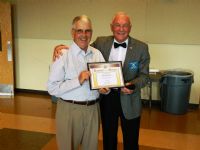 September 2015
Larry Finneran

Publicity Chairman - getting the word out to the public about our council activities.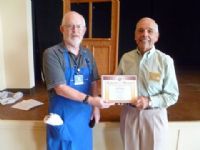 August 2015
Mario Catani

Chairman and Organizer-In-Chief of the Parish's classroom restoration project - Summer 2015.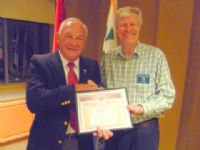 July 2015
Bo Carey

It is with great pleasure we recognize Bo Carey as our July 2015 Knight of the Month. Bo, who was recently elected an officer in our council as Recorder, has long been involved with Parish activities. You can usually find him playing an instrument with the choir, or performing with his band at our social functions. Few people know of his unselfish and generous contributions to our fund raisers, and people in need. Bo recently showed his generosity by making it possible for us to procure a double settee for Fr. Antonio, our past Associate Pastor. Those working the project acknowledged his generosity and Fr. Antonio's pleasure when it was delivered. Bo Carey most deserves his selection as the July 2015 Knight of the Month.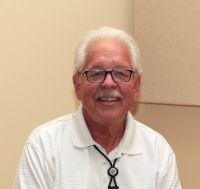 June 2015
Dennis Preston

"If you want something done, ask a busy person" is an old saying that rings true with Dennis Preston. Like the commercial of the "Eveready Bunny" this knight is always in motion. He seems to have the knack to volunteer for the tough jobs. The council received a recent request to provide support to the wife of an incapacitated brother knight. The house and grounds were in complete disrepair at a time in which she is trying to sell the house. Dennis was asked to take the lead in forming a team that would investigate and make repairs. His team comprised of approximately thirteen people which included nine knights, three non-knights and one lady. He assigned taskings as well as accomplished considerable work himself. Our brother Knight and his wife are ecstatic with the effort put forth by this team due to Dennis' leadership abilities. It is an honor to select Dennis Preston as the Knight of the Month for June 2015.
April 2014
David Breen

David Breen is ever present in supprt of St. Thomas the Apostle Catholic Church and the upkeep of the facilities and campus. He possesses a thorough knowledge of the Parish's electrical, water works, and structure construction. He is a tresured asset to the maintenance and well being of our church. David's involvement and knowledge, alone, has saved the Parish incomparable dollars that would have to be paid for an outside source to research, analyze, and make repairs. He has the St. Thomas "blueprint" in his head.
FAMILIES OF THE MONTH
July 2020
May, Tom & Sharon

Br. Tom and Sharon May who both have been continuing to volunteer a considerable amount of their time to Cleaning the Church (Sharon), Ushering & Knights position as Chancellor (Tom). Nomination was unanimously supported by the Leadership Team.
June 2020
Manczko, John & Penny

For their efforts to bring live streaming of the Mass to parishioners via Facebook and procedural video development. Also recognized Brother John with his efforts in enhancing audio quality on the audio.
May 2020
Patrick & Dinah Noone

Patrick and Dinah Noone for all that Patrick has done for the Council and Dinah for her work in the parish.
April 2020
Dennis & Diane Preston

Dennis is involved in about everything with the Knights o Pancake Breakfast Chair o Mowing Teams o Pasta and St. Patrick's dinners o Retention Chair o Fish Fries o Past Grand Knight o Dennis is an usher and Eucharistic minister o As held committee posts for the TN State Council for 15 years - Dennis was recognized by Tellico Village in April for his volunteer work as groundskeeper for an hold cemetery in the Village, or over 10 years - Diane is a member of Council of Catholic Women; has held many offices - Diane set up the dining hall for Pancake Breakfasts for years - Diane was an avid golfer at Tellico Village
March 2020
Gene & Jean Kray

- Gene is our recorder, and volunteered to do another hitch this year to fill a gap - The Krays are very social folks in the Parish and always happy to see you - Honoring a couple who have long served their parish and the Knights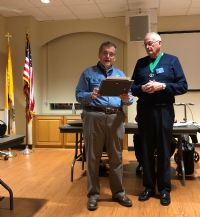 January 2020
Jim & Paula Gecsei

Jim and Paula Gescei have been faithful servants of our parish for many years. Jim, the immediate Past Grand Knight leads the Rosary before Mass on weekends and has served as chairman of our parishes International Food Festival. This past Christmas he was invited to act the role of Joseph in our Hispanic group's La Posada presentation. Paula is an active participant in the St. Thomas Council of Catholic Women and helps with baking cookies, cooking and delivering meals with our Friendship Kitchen Ministry. In their free time they help with their 2 year old grandson while their daughter is at work.
December 2019
Kelly, Jack & Shelia

Jack & Sheila have been coordinators for more than 15 years of our council's Holidays Meals program which entails delivering hot meals to needy folks and shut-ins on Thanksgiving and Christmas mornings. Last Thanksgiving, more than 50 meals were delivered. This task involves making sure the meals are prepared and packed, delivery routes are set for 4 - 5 stops, in close fashion and drivers are solicited and assigned. We are blessed that Jack and Sheila are willing to share their holiday time for the benefit of others.
November 2019
Sheldon, Curt & Kay

Curt is our council's Life chairman and actively participates, leading by example. His wife Kay, is the current president of our parish Women's Guild, They are both Extra Ordinary Ministers of Holy Communion. Curt and Kay recently lead our parish through the 40 Days for Life campaign, as requested by Bishop Stika, whereby parishioners gathered across the street from the Knoxville Planned Parenthood clinic, leading folks in saying the rosaries. They faithfully go there weekly, of their own choosing, to pray for an end to abortions. They are very active with St. Vincent DePaul. They both teach our parish teenage youth on Thursday evenings. They have been participants in the Washington, DC March For Life for many years and are currently planning the trip in January 2020.
October 2019
Schutte Family

Russell leads our council's MR/ID Drives and quarterly food packaging joint effort for our county residents struggling to make ends meet. He is also our Council Lecturer and Community Programs Chairman. For our parish, is an Extraordinary Minister of Holy Communion and an usher. His wife Karen is active in the Parish Women's Guild, serving as treasurer and also sings in the choir. Together Russell and Karen deliver holiday meals for the needy, help with council breakfasts and dinners and assist in Special Olympics. Their daughter Kody is an Extraordinary Minister of Holy Communion and also enjoys giving her time for Special Olympics. In the past, she has helped with taking participants to Atlanta, GA so the could participate in the regional games. She is following in her parent's footsteps, which is a measure of her parents' Catholic values and leadership.
September 2019
Mouse, Ray & Beth


August 2019
Finneran

Larry and Katie Finneran were nominated for Family of the Month of August 2019. They are the foundation of the St. Vincent Society at St. Thomas the Apostle Parish. They are the leaders of the group and the mentors all others look up to. The couple are active in our parish dinners such as the Italian Dinner and our Irish Diner. They are also active members of our 4th Degree Assembly. Larry's working career experience of operating small-town banks makes him a natural fit working with people and networking in our rural community. He knows how to find the resources to solve issues and help people. Larry and Katy also know how to network with other similar community groups and churches in the county to assure families get what they need. Katy is a past leader of our parish Women's Guild. Not only do they attend Mass together, they also spend their free time at the Church tending to their mission.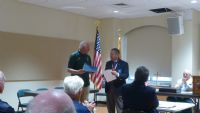 July 2019
Hanley

To Don & Alice Hanley for Don's life saving EMR skills for Tellico Village
July 2016
Russell & Karen Schutte

For their combined efforts in supporting the Pancake Breakfasts and dinners sponsored by the council.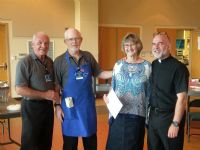 June 2016
Bill & Kathy Twohig

For planning and executing the Spring & Summer social activities.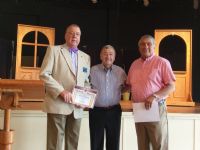 May 2016
Ed & Pat Valente

Jerry Dougherty left, DGK Ray Mouse center and FOM Ed (& Pat) Valente right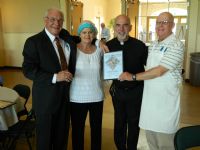 April 2016
Stu and Jan McFadden

For their involvement with NPH and support of other Knight's activities.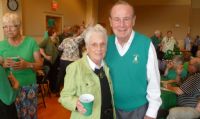 March 2016
Steve & Pat McAvoy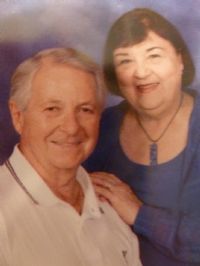 February 2016
Harold & Joyce Egler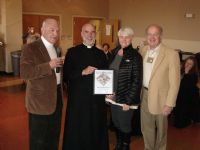 January 2016
Rich and Barbara Comiso


December 2015
Chuck and Terry James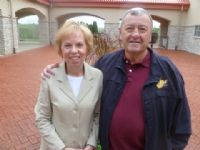 November 2015
Ray & Beth Mouse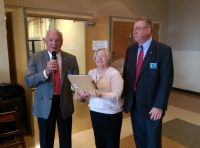 October 2015
Jerry & Mary Dougherty

Sponsorship and support of the Catholic Engaged Encounter program - 22 years.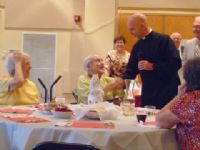 September 2015
Chet & Mary Kwiatkowski

Support and Management of the Polish Dinners over the past five years.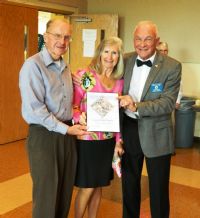 August 2015
Terry & Betty Camilleri

Support and Management of the MR Drives over the past two years.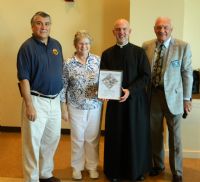 July 2015
Ed & Pat Valente

For their dedication and continued involvement at our Parish events we nominate Ed and Pat Valente as the Family of the Month for July. Their involvement in the function and management of our parish kitchen, and participation in the social activities sponsored by our Council is noteworthy. At many of our parish functions involving social events, such the monthly Pancake Breakfast and the quarterly Engagement Encounter dinners, they can be found in the kitchen; one is managing the kitchen volunteers, the other is hard at work preparing the meals. Pat normally does a myriad of jobs, and is always helping where the need is the greatest. It is very rare that you would not find this family hard at work in support of our Council activities. Their committed dedication allows the members of our council to relax and enjoy the fruits of their labor. It is with great pleasure to acknowledge their contribution to our Council by awarding them the Family of the Month for July 2015.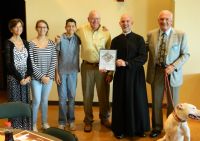 June 2015
Kevin, Mary Beth, Maggie & Luke Cooney

Family of the Month June 2015 Kevin, Mary Beth, Maggie, & Luke Cooney Since joining the St Thomas Parish in June 2008, they, as a family, have been involved in the youth activities conducted by our parish. The most recent noteworthy activity in which the Cooney family was involved, was the parish Spring Fling Picnic. Kevin, with help and advice of his family, planned, coordinated and conducted an outstanding day of festivities. They ensured there was plenty of delicious food and drink for all, and games to keep the youngsters busy. A petting zoo, bumper room, and water slides were a few of the games and activities for the children. The mouth-watering meals were prepared on-site, with the pork cooking overnight under the vigilance of experienced cooks. The Youth Group and Boy Scouts were on hand to make sure the campus was kept clean, and provide other assistance where needed. The whole family pitched in making this a wonderful event that brought the parish community together, young and old. It is with great pleasure that we select the Cooney family as the June 2015 Family of the Month.
June 2014
Dan & Allis Hanley


May 2014
Ed & Pat Valente


April 2014
Curt & Kay Sheldon

Curt and Kay Sheldon have consistently made importatnt contributions to St. Thomas the Apostle Church and the Dioceses of Knoxville. They are leaders in the Tennessee Right to Life and every year accompany our youth to the Washington Walk of Life. Together, they are leaders in the Cursillo movement's three days of religious instruction. They continue to be involved in various men's and women's weekend activities. Additionally, Curt is the team lead for the Friendship Kitchen and assists in the preparation for the Eucharistic Adoration activities. Curt is also on the team for the upcoming Men's Weekend in October. Kay has served as a past president of the St. Thomas' Women's Guild.