COUNCIL PHOTO GALLERY
Select Another Gallery
Spelling Bees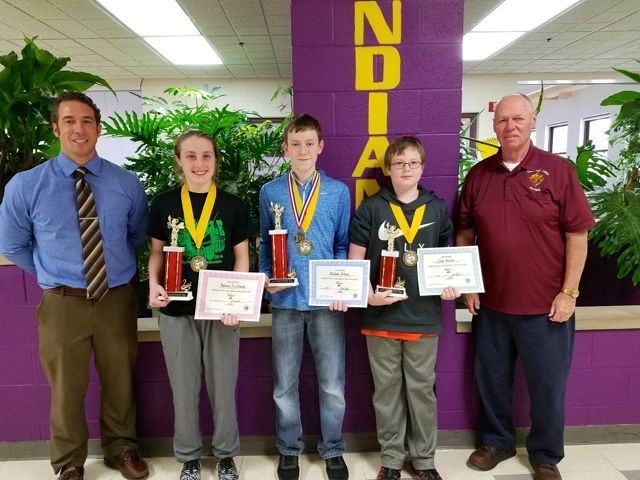 2017 Regional Contenders - The top three spellers in the CJHS All-School Bee will advance to Regionals March 18, in Aviston, Illinois.
From l-r CJHS Principal Dustin Bilbruck, 2nd place finisher, 8th grader Madison Szczblewski, 1st place finisher, 8th grader Nathan Hilmes; 3rd place finisher, 7th grader Cody Mueller, and Past Grand Knight and Spelling Bee Coordinator for K of C Council #1382, Paul Kauling. UPDATE - Once again we had success at the regional K of C spelling bee. Madison Szczeblewski was the second place winner and Nathan Hilmes won third place. Cody Mueller also participated but went out in the 8th round. FINAL UPDATE - Congratulations to our two Carlyle Jr. High students who represented our council at the State K of C spelling bee. Nathan Hilmes was the third place winner. He is the son of Bruce and Stacy Hilmes and grandson of our member, Bernie Hilmes. Madison Szczeblewski was the fourth place winner. She is the daughter of Jay and Dana Szczeblewski and the granddaughter of our member, Joe Timmermann. We have had students participate in the state finals before but these are the highest winners that we have had. Congratulations also to their teacher, Patti Tate and Carlyle Jr. High school.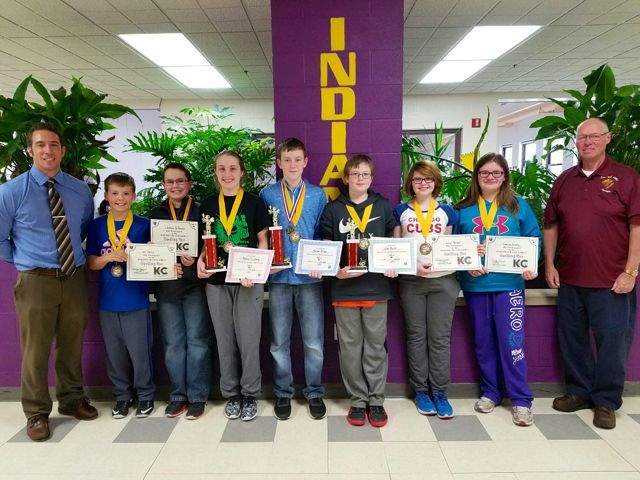 2017 Spelling Bee Finalists - The annual Carlyle Junior High Spelling Bee sponsored by the Knights of Columbus of Carlyle was held on Friday, February 3. Grade level competitions were held, and 2 finalists from each grade level advanced to compete in the All-School Bee. Seen l-r CJHS Principal Dustin Bilbruck, 5th grade finalist, Wil Harris; 7th grade finalist, Jackson Hoffmann; 8th grade finalists Madison Szczblewski and Nathan Hilmes; 7th grade finalist Cody Mueller; 6th grade finalists Lizzie Morgan and Lauren Gentry, and Past Grand Knight and Spelling Bee Coordinator for K of C Council #1382, Paul Kauling . Not pictured was 5th grade finalist, Ryder Schwahn.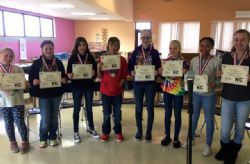 Spelling Bee 2018 Participants Participants in the 2018 K of C Spelling Bee in Carlyle on Feb. 13 were as follows, left to right: Grace Edler, Faith Weaver, Kaylyn Rakers, Radly Scales, Jordon Kleiboeker, Abi Linton, Derissa Whitfield, and Liz Ford.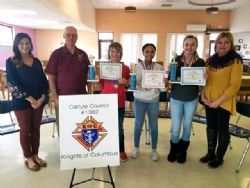 2018 Winners. This year's spelling bee at Carlyle Junior High School was held on February 13, 2018. The contestants from 8th Grade - Liz Ford and Derissa Whitfield; 7th Grade - Abi Linton and Jordan Kleiboeker; 6th Grade- Radly Scales and Kaylyn Rakers; 5th Grade- Faith Weaver and Grace Edler. It took 16 rounds to determine the top 3 students who will attend the Regional Knights of Columbus Spelling Bee in Aviston. ( The date has not been determined yet) The First Place winner was 8th grader Liz Ford, Second Place was 8th grader Derissa Whitfield, and Third Place was 6th grader Radly Scales. Pictured left to right: Lindsey Fark, Pronouncer of the Words; Paul Kauling, Spelling Bee Chairman for Council 1382; Radly Scales, Third Place winner; Derissa Whitfield, Second Place winner; Liz Ford, First Place winner; Natalie Siever, Spelling Bee Monitor for Carlyle Junior High School.