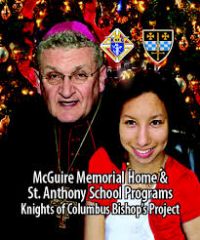 The Bishop's Project
TO DONATE: CLICK ON PICTURE TO THE LEFT. Thank you!
In 1959 the Most Reverend John J. Wright, then bishop of Pittsburgh, commissioned the Pittsburgh Chapter of the Knights of Columbus to embark on a program to help children with intellectual disabilities, especially the children at the St. Anthony's School for Exceptional Children. In 1964, the McGuire Memorial Home was added to the Diocesan facilities for children with intellectual disabilities and became associated with the project.
The Saint Anthony School Program serves students with developmental disabilities ages 5 through 21 years old. Each child is given an educational program specific to his or her abilities and opportunities to learn social skills. In overseeing the education of these students, the St. Anthony Inclusive Educational Program welcomes them into typical elementary and high school communities while specialized care they need is also provided. Students between 18-21 attend our vocational program at Duquesne University, University of Pittsburgh, and the work site of Carlow University. This program provides students with the opportunity to work on social, vocational and community based skills in preparation for life after school. Several students work in a variety of jobs including housekeeping, child care, clerical and hospital work.
McGuire Home is "the house built on hope" to more than 90 of God's "special children and adults with profound physical and mental disabilities. The Felician Sisters who operate this residential home in New Brighton have taken this pledge, "We commit ourselves to providing a compassionate, healing environment, contributing to human dignity and growth, where the mentally and physically challenged may experience the gift of life through our eyes, through our ears, through our hands and our heart and with nurturing love." McGuire offers a full range of medical, educational, and therapeutic services, as well as an adult education program
TO DONATE: CLICK ON PICTURE ABOVE. Thank you!