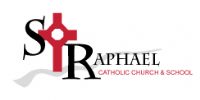 St Raphael
Our mission as a people of God is to affirm and love, to forgive and accept forgiveness, to listen, prayerfully discern and speak out. We are called to comfort, to challenge,
to participate, to welcome, to evangelize, to teach and to heal. The Spirit empowers 
us to continue this commitment to the St. Raphael Faith Community and to the world.