Charity Unity Fraternity Patriotism
Lead With Faith Protect Your Family Serve Others Defend Life
In today's world, many Catholic men are looking to fulfill their desire to spend meaningful time with their family, to serve their community and their Church, and to grow in their faith. Joining the Knights of Columbus provides these men and their families with faith resources, volunteer opportunities and activities that accomplish these goals. If you are such a man who is dedicated to making a difference, then membership in the Knights of Columbus is for you. A portfolio Shield of top-quality life insurance, long-term care, and annuity products are exclusively available to members and their families.
View Invitation Be the Difference Be A Knight Answer the Call
I'd like to Join or request more info Join Now
---
---
Why the Knights of Columbus?

Christopher Columbus and Fake History

Five Myths about Columbus

Why Columbus Sailed
---
Stay connected to parish and faith community events.
Most of our parishes are using various types of social media such as Facebook, YouTube, Twitch and Pod Casts to reach out and stay connected to you along with signup so t attend mass in person..
St. Raymond, St. Emily, St. Thomas and St. Cecelia
Checkout their links above to learn more and stay connected with them.
---
For the health and wellbeing of our members and their families, all in person Council activities and meetings are canceled for the foreseeable future.
Until such a time as we can resume our normal meetings and activities, all Officer
and Council Meetings will continue via a virtual conference method.
Communications will be sent to you via email and our monthly news letter.
Pray during this period and keep yourself and your families safe and well.
Leave no Knight or Neighbor behind. If members of our council or community are elderly or have underlying medical conditions ensure that they have enough food and their medications refilled. Those not being recommended to isolate themselves due to illness, age or underlying conditions should consider giving blood.
May God bless you, and keep you and your loved ones healthy and safe!
For those of you watching mass from at home
Here is a prayer Pastor Fr. Scott of St. Raymond's wrote to say just before communion begins:
---


---
Knights of Charity
From putting coats on kids to helping victims of natural disasters to protecting Christians in the Middle East, the Knights of Columbus were true Knights of Charity in 2018.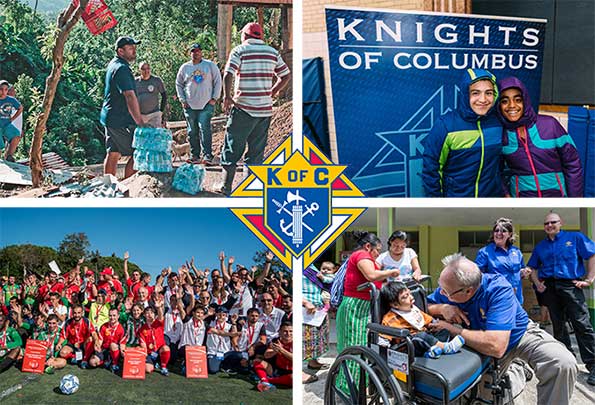 Make a Donation and Support Our Good Works!
Make Check Payable To: Mount Prospect KofC Council #6481
Indicate Donation Type: Persons with Intellectual Disabilities, SPREAD, Seminarian and Vocation Support, Coats for Kids, Confirmation Rosaries, Keep Christ In Christmas, Culture of Life, Christmas Wreaths, Youth Activities and Recognition, Christian Refugee Relief, Food for Families, Other.
Mail Check To: Mount Prospect KofC 6481 311 Country Club Dr Prospect Hts IL 60070
Seminarian Support - Keep the Faith Alive
"Keep the Faith Alive," is our Order's vocations initiative and has a number of programs based on prayer and designed to reach the hearts and minds of young people, as well as to provide financial support during their years of seminary training or religious formation. Please help us to support them and pray for them.
Supporting Individuals with Intellectual Disabilities
This annual event supports our Parishes SPRED - Special Religious Development Ministries and local organizations: Mount St. Joseph, Illinois Special Olympics, Clearbrook, Riverside Foundation and Misericordia. Street corner and storefront donations go to support local organizations, donations collected before and after mass at the five parishes we support go support their SPRED Ministries.
Confirmation Rosaries
Each year rosaries with a carrying pouch are blessed by the Bishop presiding at the Confirmation and distributed by the Knights of Columbus Honor Guard to the Confirmandy after receiving their Sacrament.
Christmas Wreaths and Decorations Sale
Sales of these traditional Christmas decorating favorites go to support our council and the parish.
Keeping Christ In Christmas
We are pleased to offer two ways in which we can remind others of the true meaning of Christmas.
Proceeds from the sale of these items go to support our Seminarians in their journey
to become our future spiritual leaders as parish priests.
Youth Activities and Recognition
Our annual Free Throw Competition, Spelling Bee, Keep Christ in Christmas Poster Competition and the Catholic Citizen Essay contests are for boys and girls in middle school.
These programs provide an athletic outlet and encourage the values of sportsmanship and healthy competition, help to develop competency over vocabulary, reading and writing and encourage today's youth to become citizens grounded in their faith through creative writing.
Corporate Communion Raffle
Knights and their families gather together at a designated Sunday each year to pray together and celebrate the joy of the Gospel. Following the mass they enjoy a meal together. After the meal, the raffle tickets are drawn and the winners are announced. The proceeds go to support the council activities,
Food for Families
Provides families access to nutritious food. Although the economy may have improved in some areas,
many families still need food assistance. In fact, some councils have seen families who previously
donated to food pantries more recently come to the same pantries to receive donations.
Love Life, Choose Life, Defend Life, Pray For Life
78% of women who see an ultrasound of their babies choose not to have abortions.
Here's what abortion was like in the United States before and after the landmark
Supreme Court case, and where it may be headed next. view the video
Coats For Kids
When families struggle to clothe their children with warm coats in the winter, councils help meet this basic need.
Donations collected for this program are used by councils to purchase new winter winter coats for these children.
Christian Refugee Relief
Christians are at risk in areas all around the globe. The Knights of Columbus has responded with the Christian Refugee Relief Fund, which provides humanitarian assistance, primarily in Iraq, Syria and the surrounding region.
---

Five Reasons to Pray the Rosary
1. The Blessed Mother gave us 5 Promises, if we prayed the rosary. 2. To Obtain World Peace.
3. Time to reflect on the Gospel mysteries. 4. Spiritual Healing. 5. Prayer Works! More Info
Hear God's Voice through Popular Music
Click Here to Visit Our Video Gallery for More Music videos
---
Pope Francis - A Man of His Word
No matter what divides us, his words unity us. Pope Francis embarks on a personal journey
to present his work of reform and answer today's global questions -- from his deep concern for the poor and
wealth inequality to his involvement in environmental issues, social justice and calls for peace. More Info
Since his election to the papacy, Pope Francis has inspired millions by urging us to embrace Mercy,
ultimately revealed in the face of Christ. Now comes an extraordinary new film on this powerful
message that brings hope, healing and forgiveness to a broken world. More Info
Honored with two Emmys at the 58th annual Chicago/Midwest Emmy Awards More Info
---
Please Visit Our Frequent Supporters
ABT BlackFinn Buffalo Wild Wings Busse Auto
Cumberland Bakery Discount Tires Dunkin Donuts
Emerson's Eric's Barber Shop Gail's Restaurant
Giacomo's Grease Monkey Lube Millie's Hallmark
Jameson's Restaurant Jewel Food Stores
JImmy's Restaurant Johnny's Kitchen & Tap
Katie's Kitchen Le Peep Little Villa Restaurant
McDonalds Millie's Hallmark Mr. Beef & Pizza
Mrs. P and Me Panera Bread Pesche's Flowers
Salerno's Italian Restaurant Sports Cut Barber Shop
---