5750 Club
The 5750 Club has requested a that a Notification to "Elect the Members at Large for the Corporation" following the June Business Meeting be posted on our website to facilitate notification of the 5750 Club Corporation membership. A list of the Nominees is available in the Members Only section at this link: Members Announcements
---
Funding Request
American Wheelchair Mission
A Motion for over $500 was made for the American Wheelchair Mission. This request can be reviewed in the Members Document Library or by clicking this link: American Wheelchair Mission
---
Congratulations to the 2021/2022 Officers
The following slate of Officers were elected for the upcoming Knights of Columbus fiscal year 2021/2022. The new officers will be assuming their roles in July of 2021. We all congratulated them on their new positions and are grateful for their willingness to serve their Brother Knights. Let us all do what we can to support them in building on this successful year in making the next year achieve even more.
Grand Knight: Richie Mediano
Deputy Grand Knight: Cesar Anchiraico
Chancellor: Raymond J Faunt
Recorder: Joseph E. Ortman
Treasurer: Daniel Y. Andu
Advocate: Steven M. Bow
Warden: Emmanuel Obasi
Inside Guard: Tom Welsh
Outside Guard(s): David J. Alexander and Eduardo Leordo
3rd Year Trustee: Charles Wheeler
2nd Year Trustee: Fernando P Roja
---
Columbian Award
Council #5750 has earned the Columbian Award for the 2020-2021 Fraternal Year. This award is given annually to councils that demonstrate excellence in the council's programming achievements and charitable outreach. To earn this award the council #5750 conducted a minimum of four programs in each of the four program categories: Faith, Family, Community, and Life.
---
Celebrating 100th Birthday
On Wednesday April 21, the Grand Knight presented Brother Knight Mr. Edward R. Ettner, Sr. With the Honoree's Certificate in Honor of his 100th Birthday at his home.
---
All are welcome to join us for this informative evening! Wednesday, May 12th at 7 p.m.
Guest presenter Bob Abbate, General Agent will be speaking about:

- How to create guaranteed income for life
- 401K, IRA and Roth IRA management
- How to maximize trusts & special needs trusts
- How to develop your market risk comfort
- How to create a portfolio that works best for you
- Ways to position your assets to minimize payments, fees, losses and maximize income
- How to create tax efficient strategies for preserving your nest egg
- Government and military retirement income strategies
Did you know the Knights can help our members with all this?
RSVP: abbatekofc.com/events


---
Exemplification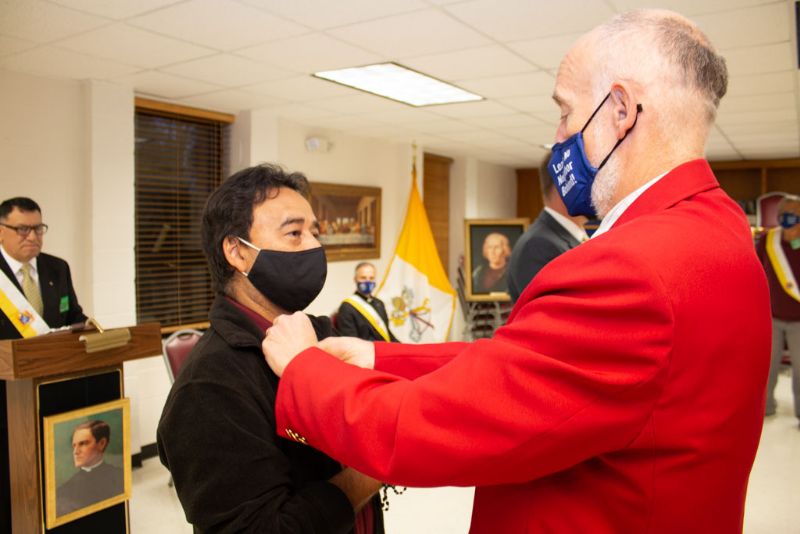 On Thursday April 15th, Council 5750 welcomed three new brothers into our Council. All us of welcome these new Knights into our Order and wish them great success on their journey with us.
Photo's of the ceremony are available in the Photo Gallery or via this link: Exemplification
---
Congratulations to the
Family of the Month
March 2021
The Zalaya Family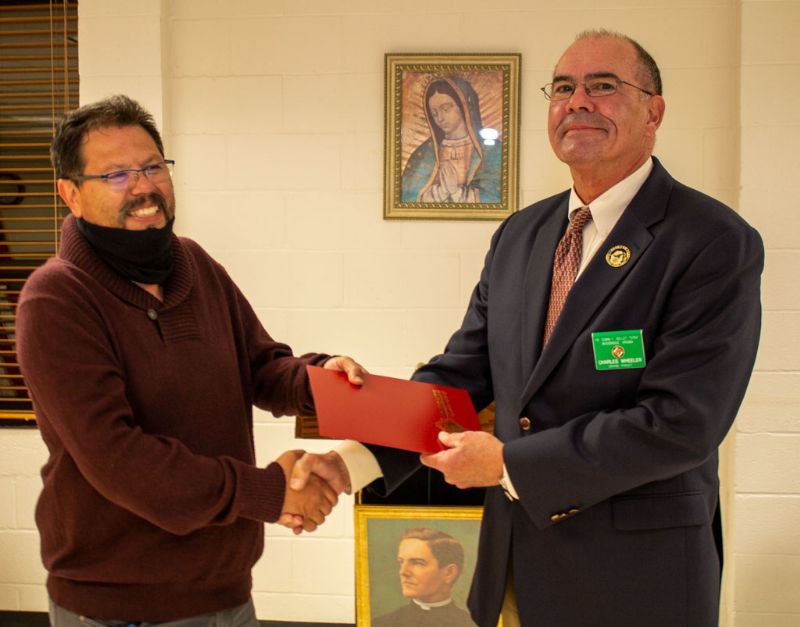 Council 5750 takes pleasure in designating the Zalaya family as the "Family of the Month" for February 2021. The example you have set by living out, as a family, your Catholic faith and through your participation in and support for your parish and school activities in an inspiring demonstration of the Domestic Church in action. the Domestic Church - the family - plays a key role in sanctification because it is the primary place where we practice the coming top intimately love other persons and learn to live out the Catholic faith in families, parishes and community. This has a ripple effect and can change the world.
Thank you for all you do for Our Lady of Angels Parish, for St. Thomas Aquinas Regional School, and the community, but most of all thank you for giving us a strong example of what it means to be a Catholic family.
---
A Helping Hand
An elderly Parishioner need help with maintenance and repairs to the family home. Several members of the Council dedicated their time and efforts to get that accomplished.
A big "Thank You!" goes out to all those who were able to help.
---
Recognition and Farewell
to
Past Grand Knight Steve Moore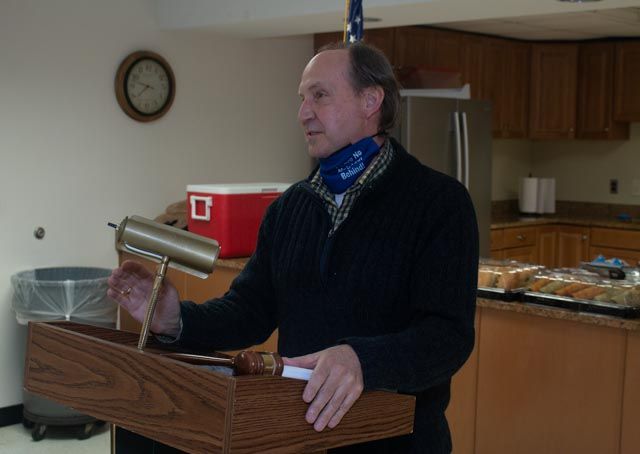 On Thursday, March the 18th, Council 5750 recognized Past Grand Knight Steve Moore for the many contributions he has made to this Council. In addition to being being inducted as a Past Past Grand Knight, PGK Moore was given a fond farewell as he prepares to leave the area. PPGK Moore reflected on his many years with the Council, in addition to being Grand Knight twice, he was also the long time Treasurer for the Council. He has been an active member and contributed to the success of this Council in many ways.
Council 5750 wishes PPGK Moore the best of luck in his future endeavors and thanks him for all he has done for the Council and the Parish.
Please Click here for Pictures of the Evening: PPGK Moore
---
Nominations for
Family of the Month
The Council is seeking nominations for Family of the Month (FOM). I would certainly guess there is no shortage of deserving families. You may nominate families not associated with the Knights of Columbus as long as they display devotion to one or more of the following: promoting Christian family values, supporting community or school activities, participation as a family in the sacramental life of their parish. Please pass your nomination to Grand Knight Chuck Wheeler. Nominations can also be done via this website in the "Members Only" section, please click here: Nominations
---
JOIN THE KNIGHTS
If you are a Catholic man, in good standing with the Church, the Knights of Columbus needs you in our ranks. Council 5750 serves the parish of Our Lady of Angels. Join us as a new member and help us help our parish in charitable action. If you are already engaged in doing great work at our parish, do it now as a Knight! Join two-million other members worldwide. We do not do bingo anymore; instead, we are focused on projects at OLA and are open to new ideas that new members can bring in. You can now join on-line. Join now and become a brother Knight by going to kofc.org/joinus. Please email us at: KofC5750@gmail.com that you have joined or if you need more information. Vivat Jesus!
---
ÚNETE A LOS CABALLEROS
Si eres varón Católico, en buena postura con la iglesia, los Caballeros de Colón te necesitamos en nuestros rangos. El Consejo 5750 sirve la parroquia de Nuestra Señora de los Ángeles. Únete a nosotros como nuevo miembro y ayúdanos a ayudar a nuestra parroquia en la acción caritativa. ¡Si ya estás comprometido en hacer gran trabajo en nuestra parroquia, hazlo como Caballero! Únete a los otros dos millones de miembros mundialmente. Ya no hacemos más bingo; en cambio, nos enfocamos en proyectos en OLA y estamos abiertos a nuevas ideas que los nuevos miembros puedan traer. Ahora puede unirse en línea. Por favor únete ahora y conviértete en un hermano Caballero. Envíenos un correo electrónico a: KofC5750@gmail.com si se ha unido o si necesita más información Vivat Jesus!
---