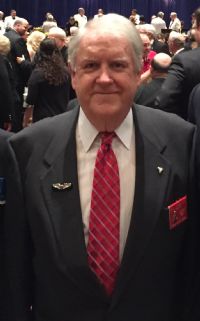 McMullen, William Edward "Bill" age 80, passed away peacefully in Dallas on December 7, 2017, surrounded by his family. He was born in Philadelphia, PA, and raised in Aurora, IL, where he attended Marmion Military Academy as a member of the Class of 1955. Bill went on to study at DePaul University and the University of South Florida.

Bill worked a long career in Data Processing and Information Technology for Illinois Bell (Chicago), Honeywell Aeronautical (Tampa), TICOR (Los Angeles), Dallas Power & Light, Texas Utilities, Cutler Williams, COMSYS, IMI Consulting, and MSS Corp (Dallas), before retiring in the early 2000's. He later went on to be President of the Energy Plus Club, a group of retired energy sector professionals from DP&L and TU Electric. From 1985-1998, he served on the Mayor's Committee for Employment of the Disabled in conjunction with El Centro College. From 1987-1997, he served as a member of the Business Advisory Committee at the University of North Texas.

Bill married his sweetheart Barbara Ann Kremenek and settled in Dallas in 1969. They had two sons Ryan Christian and Sean Gregory and built a life around them in Dallas. Bill's truest passion in life was his sons. He supported them in each and every endeavor as a coach, mentor, and friend and he bragged often that the bond they shared was created because the three "grew up together," lovingly calling them "The McMullen 3."

Bill was a proud Irishman and strong in his Catholic faith. He was very involved in the Dallas Catholic community and St. Monica Catholic Church. Bill is a past Stephen Leader of the St Monica (SM) Stephen Ministry and a member of the SM Choir, SMS Dad's Club, Helping Hands Funeral Committee, Welcoming Committee, Bread Ministry, and he served as a Extraordinary Minister of Holy Communion for many years. Bill was recognized for his service to his Parish being named one of St Monica's Inaugural "Volunteers of the Year." He truly was a man who lived by example through his faith.

Bill became a member of the Knights of Columbus (K of C) in the 1950s. He reactivated with K of C Council 5052 in the early 2000s and was named "Knight of the Year" of that Council in 2008. He was Founding/Charter Grand Knight of St. Monica Council 5656, a Council he was immensely proud to call home. Bill was later named as 5656's Inaugural "Knight of the Year" to recognize his efforts in establishing the Council and solidifying its infrastructure and membership, which his Brother Knights have continued to carry forward as one of the strongest Councils in Texas. Bill was recognized as the 2009 "Person of the Year" by the Dallas Diocesan Chapter of K of C due to his active involvement in his Parish, his K of C leadership and outstanding recruiting efforts for new members. Bill later served as Faithful Navigator of the Notre Dame Assembly #2144 and as the District Deputy for District 85 for the Dallas Diocese overseeing the well being of four K of C Councils. Bill was a born leader and actively involved in every K of C activity. There were four activities he would never miss, and those included Pro-Life events, volunteering with the Special Olympics, and serving as a proud member of both the 4th Degree Exemplar Team and as a Color Corp member for the 4th Degree Knights.