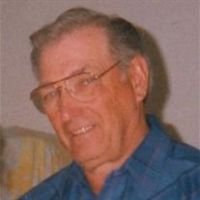 Joseph "Joe" B. Twehous, 82, of Jefferson City passed away on July 11, 2015 at his residence. He was born July 20, 1932 in Jefferson City the son of Martin H. and Celeste A. (Rackers) Twehous, both of whom preceded him in death. On February 6, 1954 he was united in marriage to Lois "Kay" Brodd in San Francisco, CA. She survives of the home.

He attended St. Francis Xavier and St. Peters Catholic Schools. Joe served his country in the United States Navy from 1952 to 1956. During this time he served four tours in Korea and served aboard the USS Bremerton. He was a member of the Cathedral of St. Joseph, was a past Governor Pacifica Moose Lodge # 1944, holds a fellowship degree and is a member of the Legion of the Moose, member of American Legion Post 5, VFW in St. Martins Post # 35, Knights of Columbus Council # 12992 Fourth Degree, past president of Eagles # 2693, a member of the Missouri Cattleman's Association and Piedmontese Cattle Association of America.

Joe was a barber for five years in San Francisco and a construction contractor in San Francisco for twenty-one years until 1982. In 1983 he and his wife moved to Missouri where he was a cattle farmer and part owner in RTR Real Estate Inc. He was active in Vitae Caring Foundation and he was one of the leaders in Operation Tyler. Joe had the privilege of going on the Honor Flight in 2014.

Joe is survived by his wife Kay and daughter: Donna K. (Stephen) Brunk of Jefferson City, brother: Frank (LaVerne) Twehous; grandchildren: Nichole Smith of Jefferson City and Joseph E. (Marlene) Twehous of St. Peters, grand daughter-in-law: Tammy Munoz; great-grandchildren: Brittany Smith, Caleb Morgan, Cedie Munoz, Malaina Munoz and Bailey Meador. Joe was preceded in death by his son: Larry Twehous; grandson: Jamie Smith; brothers: Walter Twehous and Harold Twehous and sister: Mary Gratz.