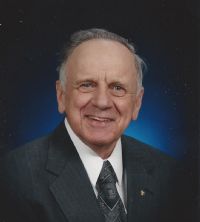 Clarence Frank Hoelscher, 88, of Jefferson City, died Wednesday, October 7, 2015, at St. Joseph Bluffs.

He was born on October 25, 1926, in Osage Bend, Missouri, the son of the late Aloysius Frank and Catherine Marie Suthoff Hoelscher.

He was married on October 5, 1948, in Taos, Missouri, to Mildred Frances Toebben with whom he celebrated sixty-seven years of marriage and who survives at the home.

A United States Army veteran of World War II, Mr. Hoelscher owned Hoelscher Construction Company from 1958 to 1991.

He was a member of St. Joseph Cathedral; Fourth Degree Assembly of Knights of Columbus; American Legion; Fraternal Order of Eagles; Habitat for Humanity; and was past chairman of Public Water District No. One.

He was a past board member of Resurrection Cemetery and the Home Builders Association.

Mr. Hoelscher was an avid Cardinal fan, card player, and fisherman. He and his wife travelled widely having visited all fifty-states, every major league baseball stadium, Europe, and the Vatican. He especially enjoyed his home at the Lake of the Ozarks.

Other survivors include seven children, John (Debbie) Hoelscher, St. Charles, Missouri; Charles (Wanda) Hoelscher, Eugene, Missouri; Fred (Pam) Hoelscher, Jefferson City; Mary (Mike) Swenson, Jefferson City; Emily (Mike) Nesheim, Manahawkin, New Jersey; Cindy (Matthew) Soule, Kansas City, Missouri; and Mike (Sherry) Hoelscher, Jefferson City; twenty-one grandchildren; thirty-six great-grandchildren; three sisters, Dorothy Veit, Jefferson City; Catherine (Herb) Bruemmer, Jefferson City; and Lucille (Richard) Welschmeyer, Freeburg, Missouri; one brother, Irvin (Shirley) Hoelscher, Osage Bend, Missouri; and one sister-in-law, Martha Toebben.

He was preceded in death by one sister, Sr. Rose Virginia Hoelscher; two brothers, Bernard and Andrew Hoelscher; and brothers-in-law and sisters-in-law, Clarence Veit, Jr., Edmond and Alma Rodeman, Edgar and Delores Rodeman, Wilfred Toebben, and Herbert Toebben.