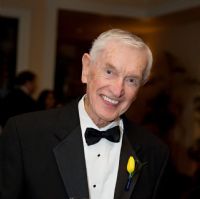 We are sad to hear of the passing of our Brother Knight, Joe Worrall. Many of us have crossed paths with Joe in the parish as he participated in the ministries he was active in. He will surely be missed. Here is the obituary from H.D. Oliver Funeral.

Joseph Arthur Worrall went to be with our Lord March 31, 2015. He was born on June 3, 1927 in Central Falls, RI. He was preceded in death by his wife of 62 years Theresa, parents Ashton and Charlotte, brother Kenneth, son Gary, and grandson David.
He graduated from Central Falls High School in 1945. He attended Rhode Island State College (University of Rhode Island) from 1949 to 1951 where he was a member of Sigma Chi Fraternity.
He entered the U.S. Navy in 1945 as a Seaman Recruit and retired in July 1972 as a Lieutenant Commander.
He was a member of St. Gregory the Great Catholic Church where he formerly served as Head Sacristan, Minister of Communion, Lector, member of the Parish Council, member of the Liturgy Committee, the Men's Club, St. Benedict Council and Fr. Michael J. McGivney Assembly of the Knights of Columbus.
He is survived by sons Douglas and wife Joyce of Virginia Beach, Paul and wife Suzanne of Virginia Beach, Mark and wife Susan of Norfolk, daughter-in-law Andrea of Egg Harbor Township NJ, grandchildren Christopher, Kristen, Colin, Graham, Bryan, Joseph, Sarah, Michael, Ashton, Madelin, Logan Elizabeth, great-grandsons Owen, Evan, Dylan, and Gabriel, great-granddaughters Annie, and Eleanor.