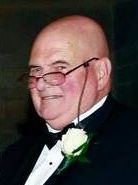 Sir Knight Furman passed away on 27 November 2014. He was a member and past officer of Potomac Council #9259, a member of Holy Trinity Assembly, and a former KofC Agent for the Ulmer Insurance Agency.
REED F. FURMAN
Born on 08/21/1941
Departed on 11/27/2014
Resided in Stafford County, VA
Reed F. Furman, 73, went home to his Lord, on Thanksgiving morning, Thursday November 27, 2014.

He was the beloved husband of 50 years to Frances Furman, loving father of four sons, their spouses, one daughter and two foster children, and proud grandfather of six. During his life Reed was known for his strong faith and dedication to family. The Navy will remember him for his six years of service. His brother-in-law will remember Reed as his big brother. The community will remember him for his tireless work with the Knights of Columbus, St. William of York Church, St. Francis of Assisi Church and OAR, a nonprofit criminal justice agency. Over the years Reed was ground operation manager for TWA, a Knights of Columbus insurance agent, and he happily worked at Wegmans up to the day before he last hospitalization.

The viewing will be from 6 to 8pm Wednesday, Dec. 3 at Covenant, 1310 Courthouse Road, Stafford, VA 22554. A Mass will be celebrated at11:30 a.m. Thursday, Dec. 4 at St. Francis of Assisi Catholic Church, 18825 Fuller Heights Rd, Triangle, VA 22172, followed by a motorcade to Quantico National Cemetery. All are invited back to lunch at Reed and Fran's home to celebrate Reed's life.

In lieu of flowers, the Furman Family asks that donations be made to Mountain View Nursing Home, 1776 Elly Rd, Aroda, VA 22709, for their devoted care for the elderly. For more info contact Eldon Hochstetler at 540 717-2115 /eldon@mvnursing.net.