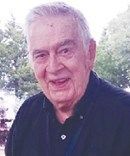 J. William "Bill" Marx, age 92 of Dallas, TX passed away on February, 16, 2018. Bill was preceded in death by his wife of 67 years, Luella. He was born June 23, 1925 in Adrian, MI to Joseph and Helen Neumaier Marx.

Bill was a family man first, a WWII veteran who served with the 3rd Armored Division- 36th Armored Infantry. He was an employee of General Motors Corp. for over 35 years, Life Member of Ambucs, President of the Advisory Council at the Walnut Hill Rec. Center, a Precinct Chairman for the Republican Party, President of the Holy Name Society at St. Monica Parish and active member of Saint Monica parish. Bill Loved to golf, play tennis and square dance. He was a member of the Texas Square Dance Association, Right Angle Squares.

Bill is survived by his children: David and wife Bonnie Marx and family of San Antonio, TX; Mary and husband Glen Rice and family of Blanchard, OK; William and wife Paula Marx and family of Coppell, TX; Deanna and husband Mark Bryan and family of Garland, TX; Laurie Sanders and family of Enumclaw, WA; Rosanne and husband Doug Kawakami of Easton, MD; 18 grandchildren and 10 great grandchildren.

Visitation will be from 5:30 pm to 7:30 pm on Monday, February, 19, 2018 at Sparkman/Hillcrest Funeral Home, 7405 W. Northwest Hwy., Dallas, TX 75225. A Mass of Christian Burial will be at Saint Monica Catholic Church, 9933 Midway Road, Dallas, TX 75220 on Tuesday, February 20, 2018 with a reception to follow at the church. Entombment will follow the reception at Calvary Hill Cemetery Mausoleum, 3235 Lombardy Lane, Dallas, TX.