Host Council: St. Gianna Knights of Columbus Council #14561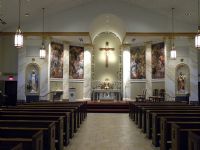 Combined 1st, 2nd & 3 rd Degree Exemplification will be @ 6 PM (after the 5 PM Mass ) at St Gianna Catholic Church. If you are a 1st Degree member, you can become a 3rd Degree member by joining the Exemplification ceremony. Family & friends are invited to join the ceremony.
For more information, please call Grand Knight Chad Cornett @ 314-267-4419 or Deputy Grand Knight Dan Hasken @ 563-449-2567.