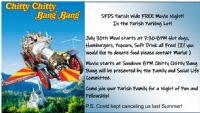 Jeffrey Warren is the Event Chairman for this event
E-mail Me

CLICK HERE to review CODE of CONDUCT - for volunteer workers

FREE MOVIE NIGHT, Saturday night, October 30th, at
St. Francis de Sales at 6 PM. (After 5 PM Mass)
The movie title is: TO BE ANNOUNCED.
A fun event for all to enjoy.
We will need Brother Knights to help with cooking hot dogs & hamburgers and set up of cones and direct traffic for the movie goers. Parking will be at the library parking lot.
We will also have a membership drive table set-up for recruitment of a few good men to join the Knights.
FOR KNIGHTS WHO PLAN TO HELP:
Please READ the Adult Code of Conduct.
AND PLEASE SEND AN EMAIL TO JEFF WARREN TO LET HIM KNOW THAT YOU PLAN TO VOLUTEER WITH THIS EVENT.
SFDS is audited annually for compliance that the adult volunteers and ministers review and understand this code of conduct.
Please email the form to anyone that needs it.
YOU do not have to print and sign and turn in.
YOU only need to read and understand it.
Please make sure that all volunteers and ministers use this and
if there is ever an issue, let the priest or person in charge know
so that it can be handled!
Thanks!