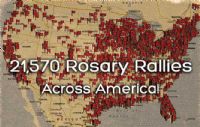 Scott Jones is the Event Chairman for this event
E-mail Me

Co-Chair: Donald Dodds

Co-Chair: Jeffrey Warren

Join us for our annual ROSARY RALLY
for healing and peace
through Our Lady of Fatima.
All are welcome!!
Dolly McNutt Plaza
12 NOON

'O my Jesus, forgive us our sins, save us from the
Fires of Hell, and lead all souls to Heaven, especially
those who have most need of Thy mercy.
LINKS:
CLICK HERE for ARTICLE from "THE PATCH"
CLICK HERE: 10 Steps for a Successful Rally
CLICK HERE for ARTICLE on 21570 ROSARIES in USA
CLICK HERE for UPCOMING SCHEDULE
CLICK HERE for www.ANF.org homepage