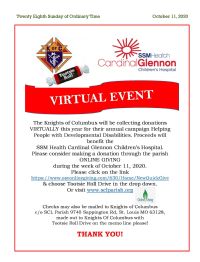 Paul Violette is the Event Chairman for this event
E-mail Me

CLICK HERE FOR PDF FLYER


The Knights of Columbus will be collecting donations VIRTUALLY this year for their annual campaign Helping People with Developmental Disabilities. Proceeds will benefit the SSM Health Cardinal Glennon Children's Hospital.
Please consider making a donation through the parish ONLINE GIVING during the week of October 11, 2020.
Please click on the link
https://www.osvonlinegiving.com/630/Home/NewQuickGive
& choose Tootsie Roll Drive in the drop down.
Or visit www.sclparish.org Online Giving
Checks may also be mailed to Knights of Columbus c/o SCL Parish 9740 Sappington Rd, St. Louis MO 63128, made out to Knights of Columbus with Tootsie Roll Drive on the memo line please!
THANK YOU!