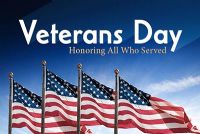 Robert Novak is the Event Chairman for this event
E-mail Me


Our St. Theresa School has requested that the Knights of Columbus honor our veterans by attending St. Theresa's Veterans Day ceremony. The ceremony is on Veteran's Day, Monday, November 11 at 1:00 pm in the St. Theresa Church.
All members are welcome to sit in a section reserved for the Knights of Columbus.
Special Instructions for Sir Knights Supporting a Color Guard Presentation
Please support a Color Guard ceremony in either 1) your military uniform; 2) the New KOC Uniform; or 3) a Coat/Tie with a gold/white ceremonial sash. Please see SK Frank Rehberg to borrow a sash at the ceremony.
You are requested to arrive by 12:45 to coordinate with the Flag Bearers and Color Guard.