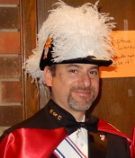 Richard Lambke is the Event Chairman for this event
E-mail Me

Co-Chair: Peter Stresino


Save the Date Oct 26 2019 The Worthy Past Grand Knight Peter Munnich is being celebrated for his hard work and dedication to our council and the Knights of Columbus.
Please join us as we celebrate and honor SK PGK PFN Peter Munnich.
Place Jimmy's Charhouse in Elk Grove Village
Tickets are $38.00 per person. Non alcholic beverage are included Stronger beverages are at the cash bar. Entree choices are part of the sign up sheet.