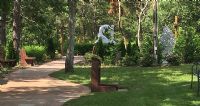 Gilbert Scutti is the Event Chairman for this event
E-mail Me

Co-Chair: John Mc Laughlin

Co-Chair: David Berenato


Knights and Families are invited for a day of fellowship and reflections at Discovery House in the Pinelands outside of Hammonton, NJ.
Father Vic will celebrate Mass at 12:30 PM followed by a BBQ and walks in the Garden of Reflection.
There is a house and pavilion in case of inclement weather.
Event is FREE with GOOD WILL OFFERINGS ACCEPTED.
Please RSVP so we know how much food to have on hand.
Saint Jude Council 6551 provided a donation of $250 to Discovery House to book this event there.