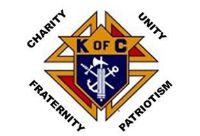 Alex Hernandez is the Event Chairman for this event
E-mail Me


Council Officers and any interested members are encouraged to attend the Officer Meeting at 6 PM.
All council members are invited to pray the Rosary at 6:30 PM.
All councils members should attend the 7 PM business meeting.
Tickets will be on sale for a 50-50 raffle (cash only); $1/ticket or 6 for $5.
Please do not forget to bring your membership card - and show it to the Inside Guard