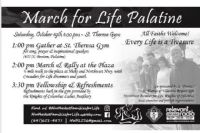 Thomas Mullen is the Event Chairman for this event
E-mail Me

2019 MARCH FOR LIFE FLYER


Be sure to attend, support and volunteer for our HGC4977 "Faith in Action" March for Life.
Tom Mullen is still looking for support for several responsibilities the Knights are signed up for. Please click TOM MULLEN to email your willingness to volunteer!
HOLY GHOST COUNCIL KNIGHTS!
WE NEED YOUR HELP TO SEND AN "EMBRACE LIFE" MESSAGE TO OUR COMMUNITY.
If you have one, please wear your Holy Ghost Council Green Shirt!
SIR KNIGHTS - PLEASE MARCH IN UNIFORM or BUSINESS SUIT w/ GOLD/WHITE SASH!
PLEASE - THIS IS A DON'T MISS EVENT!